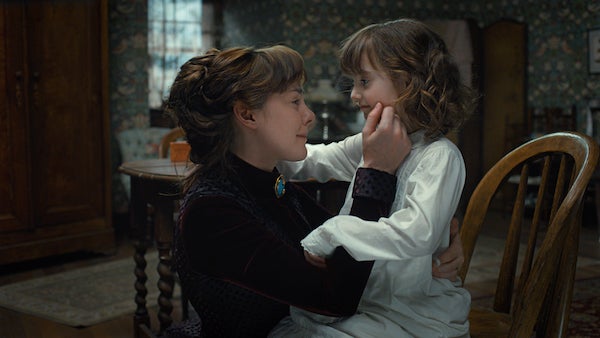 Would you fancy watching a movie that feels like a Hitchcock thriller, looks as lavishly beautiful as a Merchant and Ivory production and leaves you with the eerie feeling of a work by Stephen King? Have I got the perfect film for you!
Just as I was getting wrapped up in the unlimited resources it takes to follow this current Hollywood merry-go-round of he said, she said, I found a film to make me forget the vortex, and get back to what I love, the magic of the movies. It is Mitchell Lichtenstein's glorious looking ghost story set in Victorian England titled 'Angelica' which opens in theaters, and begins streaming on various platforms on November 17th. 'Angelica' is based on a great novel by Arthur Phillips.
American-born author Phillips uses a haunting line in 'Prague', another one of his best-selling novels: "Only later would he wonder if it had just been the untranslatable intonations of a foreigner, the inevitable cross-cultural misunderstandings lurking in tones and glances and assumptions." During these uncertain days for the entertainment industry one is left to wonder how much is lost in translation for us, the foreigners to the show business game — situations that because of time, place and people present appeared normal in that moment, and now seem oh-so-inappropriate.
But although we would need a glossary of concepts to understand the recent scandals, I found Lichtenstein's film deeply and personally understandable. Mind you, I never lived in Victorian England, was never pregnant and didn't see ghosts. Well, not that I'll admit to anyway.
Lichtenstein, to film aficionados, is a familiar face both behind as well as in front of the camera. His directorial ventures include 'Teeth' from 2007 — which on Rotten Tomatoes is described as "smart, original, and horrifically funny" — and 'Happy Tears' from 2009. Lichtenstein has also acted in various films and television series, including the 1993 Ang Lee movie 'The Wedding Banquet' and Robert Altman's 'Streamers'. His famous father Roy of course gave us Pop Art heroines with a twist, women who looked great, fit the American ideal and yet had the guts to say "no" too. An example of women in art which seems to run in the family.
The story of Angelica unfolds as shopgirl Constance (played with grace and to perfection by the beautiful Jena Malone) falls in love with Dr. Joseph Barton (Ed Stoppard, who manages a brooding star turn to last a lifetime in this film), a medical researcher who fancies himself a British gentleman, even though his family origins are Italian. They marry and soon after their Venetian honeymoon, Constance becomes pregnant. But the birth of their baby girl Angelica is difficult, so much so that her puritanical doctors (read: misogynistic perhaps) advise her against any further sexual contact with her husband. Predictably, this unbearable situation on both sides creates a dance of unspoken hatred, pent-up sexual frustration and incomprehension that will eventually lead to an ending no one can expect. I certainly didn't and was left staring, mouth open, in wonder for a good five minutes after the credits rolled by. It will also lead us through a fascinating film filled with creepy creatures, ghosts and the idea that we are all connected somehow.
Lichtenstein manages to bring together not only a wondrous cast which includes the grand dame of Broadway Tovah Feldshuh in the role of Nora and the Oscar-nominated, Tony and Golden Globe winner Janet McTeer as Anne Montague but also assembles a who's who of great talents behind the scenes.
The film boasts Dick Pope as cinematographer, whose work with filmmaker Mike Leigh culminated in the DoP being nominated for an Academy Award in 2015 for 'Mr. Turner'; costumes designed by Rita Ryack, who was of course the first costume designer to receive New York Women in Film and Television's "Designing Women" award, as well as production design by Luciana Arrighi, who won an Oscar for her work on 'Howard's End'. All wrapped up with the perfectly atmospheric score by Poland's Zbigniew Preisner, who has scored films by Hector Babenco, Louis Malle, Terrence Malick and Paolo Sorrentino's 'La Grande Bellezza'. The film is co-produced by Richard Lormand.
I caught up with Mitchell Lichtenstein via email for an interview which makes me now yearn to watch 'Angelica' again, so I can relive the magic of its setting, its fascinating story but most importantly, to try and absorb some of that unbreakable courage which his women possess.
I realize your film is based on the novel by Arthur Phillips, but were you ever tempted to set the story in modern days? I mean, at its threadbare it totally withstands the test of time!
Mitchell Lichtenstein: If the story were set in modern times, in order for Constance to be the sexual naïf that the plot demands, she'd have to have been raised in some isolated religious sect — a system outside of mainstream society. But the message of the story is that she's the unfortunate product of the conventional society of her time, and the tragic outcome can be blamed in part on the repression of women in that mainstream society. To place the blame rather on an extreme, outlying religion or cult would obscure the correspondence with today's conventional society — our own patriarchy — that continues to repress women.
How did you manage to bring together such a talented cast and crew? And how did you decide on the individual actors to play the leading roles, including the legendary Tovah Feldshuh?
Lichtenstein: I just reached out personally to some of my favorite artists, and was lucky that they responded well to the script and to me — and had a gap in their schedules at the time we were going into production.
Tovah has an intensity of focus and projects, an almost animal drive that I thought was perfect for Nora, the maid who successfully navigates the treacherous terrain of her lowly station to secure a stable future for herself.
Jena Malone was working in, I believe, Hawaii at the time we were casting, so I wasn't able to meet with her. She volunteered a videoed reading of a couple of scenes, and I was completely taken with her performance. Charismatic, convincing in the period, and heartbreaking.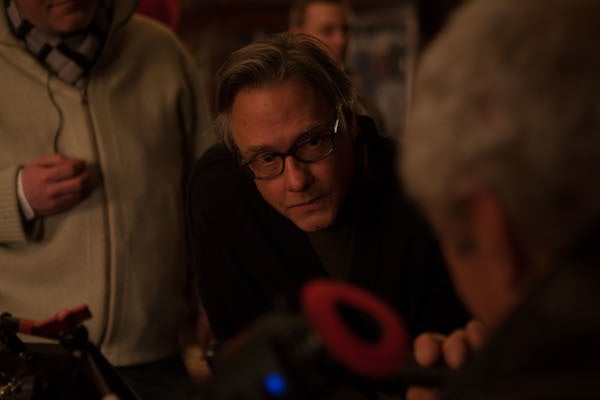 And here's why I decided to have Jena play both the lead role of Constance and Constance's adult daughter Angelica: I give the final and very important moment to Angelica, and knew we would have spent very little screen time with her as an adult — just a few scenes before flashing back in time, and then more than an hour before returning to her. I hoped that the audience would feel subconsciously more connected to the character because they had been on a long journey with the actress. I felt that their sympathies would rub off on this other character.
When I first read Arthur's novel, I found myself picturing Janet McTeer in the role of Anne Montague, so I really never considered anyone else for that part. I asked an actor friend who had recently worked with her on stage if he would introduce us. Janet is everything.
The most difficult role to cast was the husband, Joseph Barton. Hard not to make him an ogre in our eyes. Ed manages to avoid this, while still being true to the character's streak of Victorian rigidity. And Ed is one hundred percent truthful in everything he does on screen.
I'd always loved Dick Pope's work, and studied what he had done with films of a similar period: 'The Illusionist' and 'Topsy-Turvy'. I asked an editor friend who had worked with him to make an introduction. Working with him was an education.
With Luciana Arrighi, honestly, I thought she was just too legendary to approach. It was her agent who suggested she might consider the project. I felt in such good hands with Luciana. Sometimes I wasn't sure what I wanted in a scene, and she told me that John Schlesinger had always said to her: "Just do something fabulous." So I started saying the same. And she did.
Rita Ryack and I are old friends, we were at Yale Drama School together, and she designed costumes — very witty costumes! — for my first movie 'Teeth'. She had never designed 19th century before, and I knew she'd do something genius. Her costumes tell the story all by themselves.
Encouraged by my luck in luring these greats to the project, I dared to reach out to the legendary Zbigniew Preisner. His score is intense, unexpected, and — appropriately enough — haunting.
Who have been your influences in making cinema?
Lichtenstein: Probably the biggest influence is David Lynch, specifically 'Blue Velvet'. The theme of loss of innocence resonates with me; it's been a theme in all three of my movies. And in Lynch's film, the contrast between the main couples' innocence with the lurid evil in the world they uncover is devastating. He does something similarly fascinating in 'Mulholland Drive'.
There is this wonderful line in your film, "two women together can withstand anything". And this theme of women helping each other through to the end. Where does this insight come from in your own life?
Lichtenstein: Like a lot of gay boys, growing up I related more to adult women than to adult men. My parents separated when I was quite young, so the adults in the house were women — my mother and her female friends. Adult men were exotic creatures who swooped in for special occasions, but weren't a part of — or necessary to — everyday life. The women got on very well without them, thank you.
The women in all of my films wind up happily (or darkly happily) without men: the three women in 'Angelica'; Dawn in 'Teeth' is for the first time on her own; and the sisters in 'Happy Tears' aren't literally without men, but the men who were so problematic in their lives are neutralized in various ways.
And now lets talk about sex. What I admired in your film is that you don't shy away from the sexual tones and undertones, in any way, shape or form, and yet you never delve into the vulgar or stray into the "Masterpiece Theater" genre. How did you manage such a balance?
Lichtenstein: What I liked most in Arthur's novel, and what I thought would translate well to film and make it exciting to a modern audience, was that the sexual tones that in Victorian novels (like 'The Turn of the Screw') are deeply submerged, are here out in the open. We don't expect to see such bursts of overt sexuality in the context of this sort of "costume drama", so to get the balance you describe, it's crucial to depict the 1880s period as authentically and believably as possible so that those sex moments have impact.
My artistic motto is "Context is Everything".
When you watch films, what do you like to see in cinemas and what can you watch at home?
Lichtenstein: I'd say that the experience of almost any film is better in a cinema than at home, if only for the way a theater focuses one's attention.
And finally, how would you describe yourself to someone who doesn't know you?
Lichtenstein: Thoughtful, wry, of two minds about almost everything.
This post was published on the now-closed HuffPost Contributor platform. Contributors control their own work and posted freely to our site. If you need to flag this entry as abusive,
send us an email
.