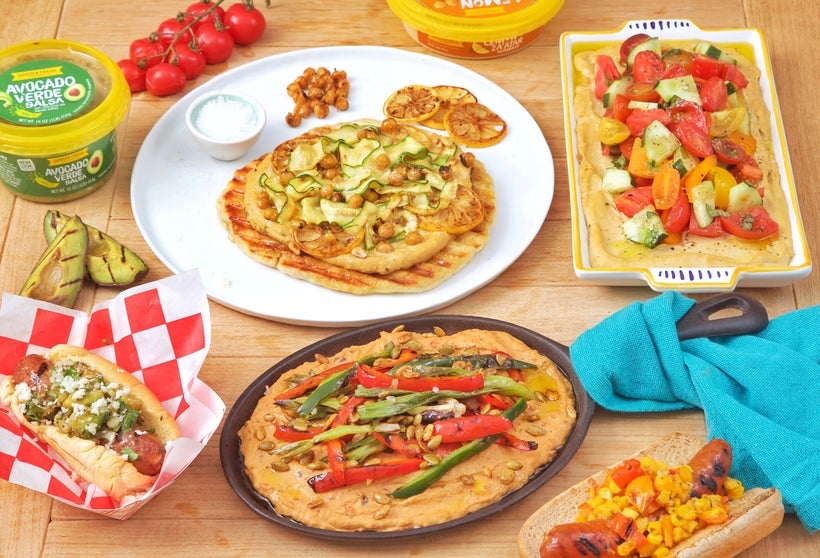 When it comes to summer entertaining, especially as we head into peak grilling season, our party menus could use a tune up. We tend to get stuck on traditional hot dogs and hamburgers with the usual store-bought ketchup, yellow mustard and sweet pickle relish. While those classic flavors are no doubt inviting on a summer day, changing them up brings new flavor and excitement to the party table.
For my July 4th celebrations and summertime gatherings, I like to break from tradition and use three different kinds of hot dogs and sausages, choosing a chorizo and a chicken dog to go alongside a jumbo beef frank. I opt out of the usual squishy white buns and pair them instead with sturdy whole wheat, soft tender potato and buttery brioche "top-splits" or lobster roll buns. I get most creative and have the most fun, though, making sweet, spicy and cool relishes with refrigerated salsas from the grocery deli section. I get inspiration for party dips and appetizers from the deli, too, using prepared hummus to create crowd-pleasing starters.
Lori Taylor, owner of The Produce Mom and mother of two boys agrees. "When I entertain particularly during the summer, I head straight to the fresh produce and prepared foods section. Quick grabs, like prepared salsas, ripe avocados and bags of sweet peppers, help me kick start recipes and add exciting, fresh flavor to everything I make without having to put in a ton of effort," Taylor explains. "As a busy mom, that's a huge time savings, and I always get a kick out of serving up new dishes that my family and friends dig into and devour."
Salsa and Hummus as Building Blocks
Salsa is more than just a container to crack open and put on the table with some chips – though that's certainly delicious. It's a secret weapon in the kitchen to pull out and use as a flavorful, quick base for many recipes. Because refrigerated salsa is already macerated in vinegar and other acids like lime, it just needs a few added fresh ingredients and a touch of sweetener, like honey, natural agave or sugar, to become a delectable topping for hot dogs and more.
Hummus, just like salsa, now comes in many flavors and combinations, from time-honored favorites to bold and creative with various heat levels, such as Garden Fresh Gourmet's new salsa inspired hummus. While easy enough to plop down on the table and serve right away, hummus can be a canvas for so much more. My rule of thumb is to let the key hummus ingredients, like red pepper, chipotle or lemon, guide my kitchen creativity when making starters that I know guests will want to dive into as soon as they arrive.
Relishes, Dips and Starters - The How-to
Here are quick relishes, dips and appetizers you can make from refrigerated salsa and prepared hummus. One relish is a bit sweet, one has a little kick, and the other is creamy and fragrant. The dips and starters are as easy to make as they are playful and fun. These ideas are meant to be guides rather than full-on recipes, providing simple instruction and leaving lots of room for personal interpretation.
Relishes Made from Salsa: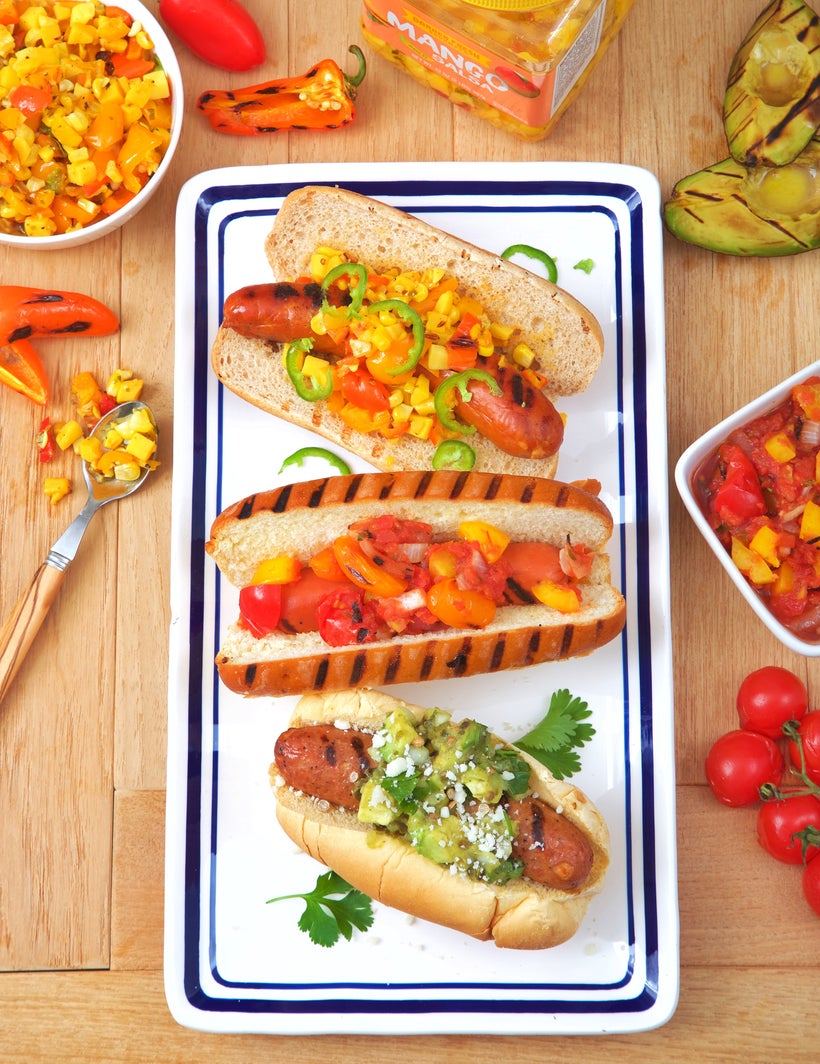 Mango, Sweet Pepper & Corn Relish
A cup or two of a fruity salsa, like mango mixed with a few grilled and chopped mini sweet peppers and an ear of yellow corn grilled and cut off the cob. Tossed together with a teaspoon of honey, a splash of olive oil and a few twists of black pepper. Serve on grilled chorizo with some thin pieces of fresh jalapeno.
Cherry Tomato Yellow Pepper & Red Onion Relish
A cup of organic restaurant style salsa stirred together with a handful of grilled and halved cherry tomatoes, a few rings of grilled and chopped red onion, and half a teaspoon or so of sugar. Drizzle in a little extra virgin olive oil and a pinch of sea salt, a dash of chipotle powder if you like some heat. Spoon generously over a jumbo beef hot dog.
Summer Insalata with Grilled Olive Bread
Half a container of avocado verde salsa gently folded with half of a grilled and chopped avocado and some diced sweet onion. Add a tablespoon of crushed coriander seeds and a few tablespoons of finely chopped fresh cilantro. Season with salt and cracked black pepper to taste. Top a grilled chicken hot dog and finish with some bits of cotija cheese.
Dips and Starters Made with Hummus:
Grilled Zucchini and Lemon Pizza with Crispy Chickpeas
Pat out fresh pizza dough to 8" round and ¼" thick and place on a hot grill; flip when it turns golden and grill the other side. Peel half a zucchini, coat with olive oil and place on the grill; turn with tongs as soon as grill marks appear. Crisp a handful of chickpeas in a hot cast iron skillet along with several thin slices of lemon; remove both when crunchy and charred. Slather Lemon Za'atar Hummus or Original Hummus on the pizza. Top with the lemons, zucchini and chickpeas. Drizzle with olive or lemon oil. Sprinkle with salt.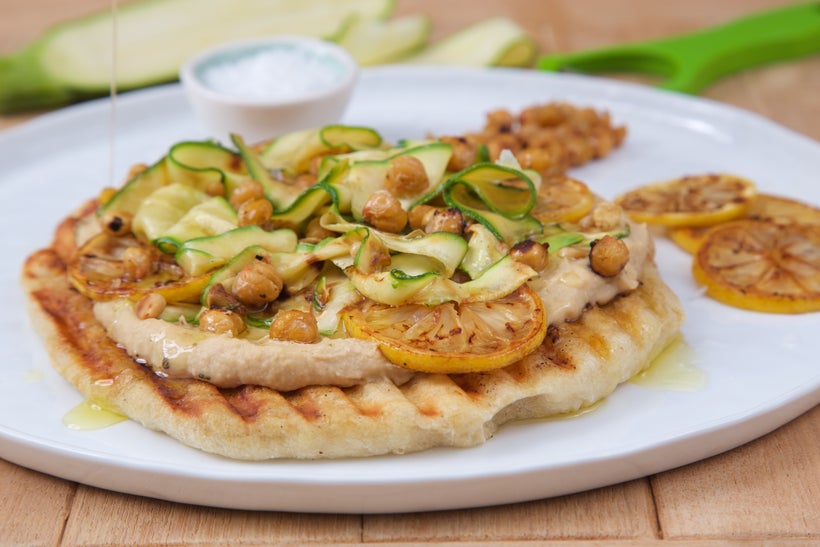 Grilled Fajita Dip with Chipotle Toasted Pumpkin Seeds
Get a cast iron skillet hot on a grill or cooktop. Thinly slice half a poblano and red pepper and toss in olive oil along with a few green onions; add to the pan and cook until slightly charred. Toast a couple handfuls of pumpkin seeds and mix with chipotle powder and sea salt until coated. Spread Chipotle Adobo or Poblano Corn Hummus onto a serving plate or fajita pan. Top with grilled vegetables and pumpkin seeds. Drizzle with extra virgin olive oil. Serve with tortilla chips.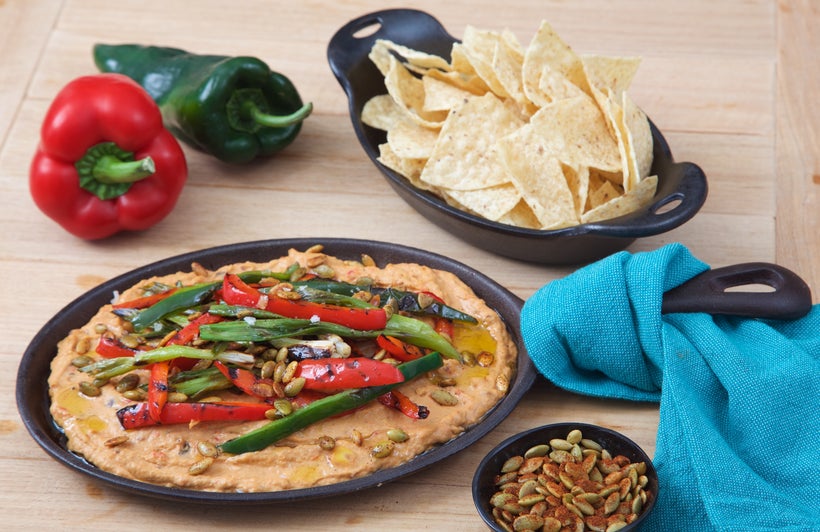 Summer Insalata with Grilled Olive Oil Bread
Cut up a few ripe tomatoes and a small cucumber and toss together with chopped fresh basil, champagne vinegar and extra virgin olive oil. Lay Roasted Garlic Hummus in the bottom of a dish. Place the salad on top. Season with flake salt and freshly cracked black pepper. Serve with grilled pieces of Italian bread brushed with olive oil.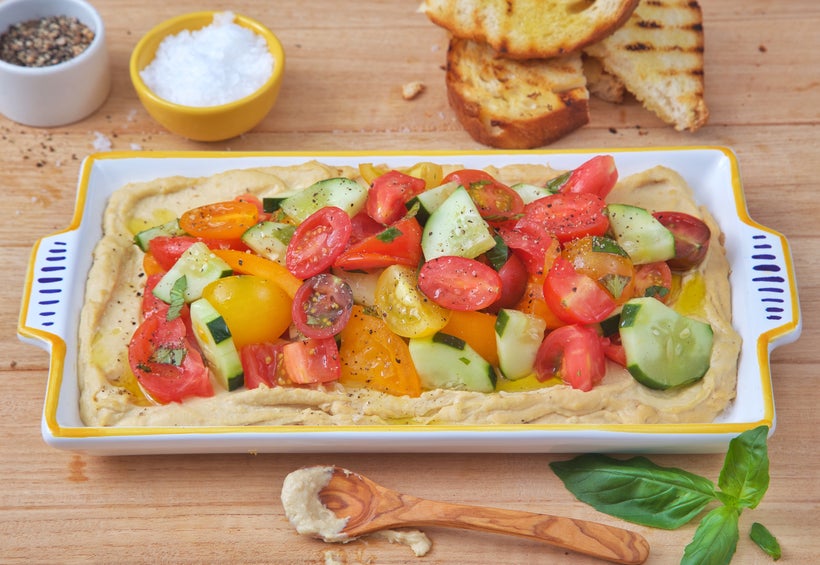 This post was published on the now-closed HuffPost Contributor platform. Contributors control their own work and posted freely to our site. If you need to flag this entry as abusive,
send us an email
.