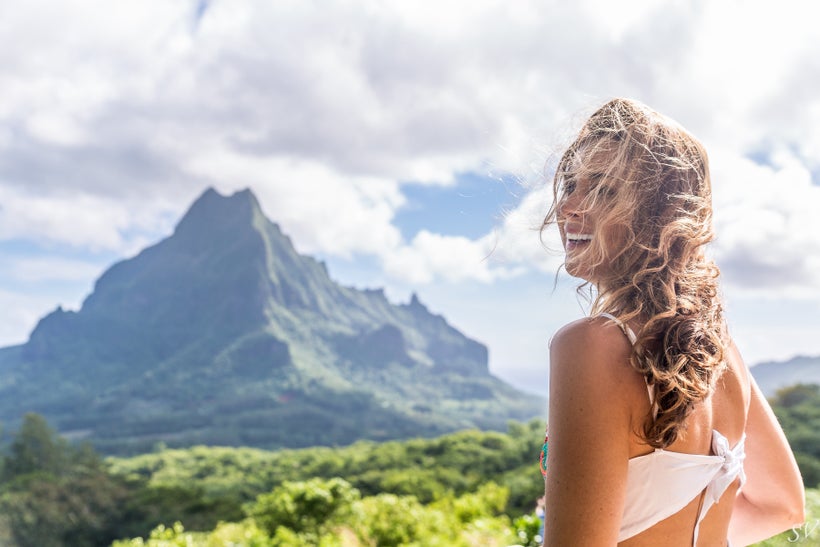 Most people dream of Bora Bora as a honeymoon destination. But it's so much more than that!
Tucked in the South Pacific Ocean with more than one hundred islands—including the magical Bora Bora, Tahiti, Mo'orea, and The Marquesas—French Polynesia is truly magical and one of my favorite places on earth. Surfers love it because it has some of the best waves in the world and the snorkeling and diving are equally impressive. But with so many islands to choose from, planning can be overwhelming. No matter who you're traveling with, here are seven tips to make your Tahitian adventure truly incredible.
1. Stay On The Private Island Of Vahine
Known as Motu Tu Vahine, or "Island of the Woman", Vahine Island Resort is one of the best private islands in the world. Totally secluded, with a long dark mahogany dock lined with tropical shells and antique lanterns, you'll feel like Swiss Family Robinson on your own private island. The difference? You'll be treated to 5 star meals from a famed French chef and can dine in candlelight with wonderful service and craft coconut cocktails. A member of the prestigious association of "Small Luxury Hotels of the World," Vahine has everything to make your stay unforgettable – including no extra cost activities such as parasailing, paddle boarding, kayaking and snorkeling in the coral gardens.
2. Stay At La Tahaa Overwater Bungalows
If there is one thing you can't miss in French Polynesia, it's stay in an overwater bungalow. These bungalows allow you to view the huge amount of marine life living below you including sharks, rays, tropical fish and sometimes even dolphins. Jump straight from your room into the out-of-this world aqua water at a stunning island resort called Le Tahaa – one of the best island resorts. Their bungalow suites give you the feeling of being suspended over the mesmerizing lagoon, leaving you fully immersed in paradise as you experience exquisite views of the sunsets, Coral Gardens, and neighboring islands. The owners of this five-star resort have worked hard to maintain the authentic vibe and culture of the Polynesians, making the resort very sustainable. The resort – a favorite with celebrities – is also renowned for its world-class spa, which perfectly complements the relaxing vibe of the bungalows.
3. Take A Paul Gaughin Cruise
You could spend months—and a fortune—trying to see the top islands in French Polynesia your own. This is why a cruise is the perfect solution to save you time and money, and the Paul Gaughin cruise line is considered one of the best in French Polynesia. This award-winning, local small-ship cruise is renowned for its fine service. The high crew-to-guest ratio, expansive rooms with amazing ocean views and balconies, gourmet dining inspired by a top Parisian chef, a luxe spa, a pool, a fitness center, and live entertainment make sailing a dream. Varied itineraries ensure you will see a wide variety of Polynesian culture, heritage and beauty while sports such as kayaking, windsurfing, paddle boarding, and scuba diving are available when docked. This can also be a more cost-effective option than flying to each island individually.
4. Do a Photo Shoot With SV Photograph
No one can capture the beauty and magic of your Tahitian adventure like award-winning photographers Samuel and Virgine Wiss. Their photos are more than images: they are stories that capture moments in life so incredibly well. They're a joy to work with, and will immediately put you at ease in front of the camera. And their stories about working to rescue abandoned dogs across the island will warm your heart. To book visit: (http://www.svphotograph.com/)
Bora Bora's snorkeling is some of the best in the world. Home to hundreds of dazzling fish, dolphins, turtles, reef sharks, rays, and other marine life, the wonder and majesty of the underwater world has never been more accessible. And you can explore it right from the decks of the Paul Gaughin ship! Snorkelers at all levels – from beginner to experienced – can find an environment to suit their needs. Just strap on a mask, fins, and snorkel, and disappear into tropical deep. Before you know it, you'll be part of their world!
6. Sample Irresistible Tahitian Cuisine
With such a remarkable abundance of lush plant and marine life, it's hardly a surprise that traditional French Polynesian cuisine is so delicious! The islands are renowned for their fish, so start with ia ota – fresh raw fish marinated with lime juice and coconut milk, so fresh and delicious it melts in your mouth. At least once, make sure to experience a tama'ara'a – Tahitian feast – to savor fall-off-the-bone roast meats straight from the himaa (a traditional oven dug into the ground). Finally, no Tahitian meal is complete without the sweet taro root pudding known as poe. Get your poe flavored with pumpkin, banana, or papaya, top it with coconut sauce, and savor the sweet bliss of island life.
7. Visit The Marche de Pape'ete
There is no better place to put your finger on the pulse of Polynesian life than at the capital city's bustling Marche de Pape'ete. Men and women come from all over the island to sell traditional handicrafts, including dazzlingly-colored sarongs, necklaces, hats, baskets, and more. And if browsing the beautiful souvenirs works up an appetite, no problem! The market also hosts vendors who sell tropical fruits, vegetables, and cooked snacks. If you can't find the perfect gifts for friends and family back home, you're just not looking hard enough! Marche de Pape'ete has something for every taste.
This post was published on the now-closed HuffPost Contributor platform. Contributors control their own work and posted freely to our site. If you need to flag this entry as abusive,
send us an email
.