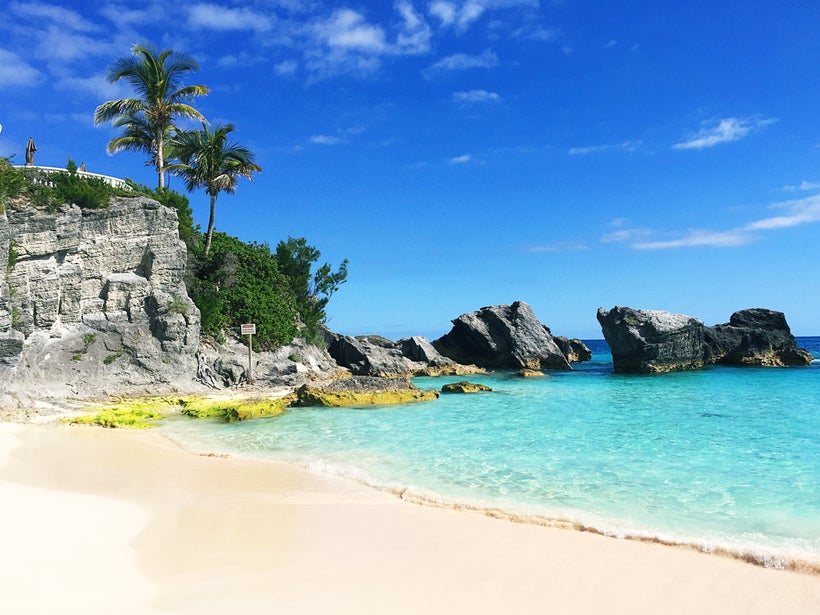 Bermuda has long been known for its pink sand and postcard perfection, but the 21-square-mile isle has never had more experiences worth traveling for.
For one, the 35th America's Cup is in full swing on the island and it's drawn sailors from around the world and spectators to match, plus it's gotten the attention of those watching from afar who haven't been to Bermuda but are now doing frenzied searches for flights.
And those hunting for airfares will find themselves in luck because Bermuda's also never had more flights bringing people from abroad. JetBlue recently upped its flights to Bermuda from seasonal to year-round out of Boston, and will extend them through the winter out of New York after a 47 percent increase in demand last year—and because it knows the island's onto something. For East Coasters, the short two-hour flight means Summer Fridays can easily translate to Bermuda long weekends.
Whenever anyone's onto something, it means it's time to get there before the masses are wholly in on the secret.
Here are seven experiences every traveler in Bermuda should have.
Sample the island's best fish sandwich
Fish sandwiches are a culinary staple in Bermuda and many places will boast about having the best, though the best comes from one that doesn't boast at all. Art Mel's Spicy Dicy is both known for its mostly word-of-mouth marketing and its behemoth fish sandwich that locals regularly traverse the isle for. The tucked away take-out spot in a residential neighborhood outside of Hamilton, Bermuda's capital city, has no room for eating in and hardly room for more than 10 people at a time. Here, it's little about ambience and all about taste. The fish—which is often snapper—comes hot and freshly fried in flour and secret spices, with adornments including tartar sauce and optional coleslaw, which all comes served between two slices of toasted homemade raisin bread. To enjoy it as the locals do, wash it down with a Barritt's Bermuda Stone Ginger Beer and begin the inevitable process of plotting when you'll taste another.
See the sunrise over Horseshoe Bay
Bermuda's waters come in their very own hue of blue quite unlike any other island, and add to that the pink sand—which gets its color from tiny red marine organisms called foraminifera that get washed ashore, mixing with the sand to help give it that blush tone—and it's little wonder why Bermuda is one of the world's most colorful locales. One of the best places to see this play of color is at Horseshoe Bay, easily Bermuda's most famed beach and one that consistently makes world's best beach lists. To see Horseshoe Bay in all its glory, do what most don't: head there to catch the sunrise. Besides beating the crowds and having the beach to yourself, you'll be able to bask in the beauty of how Bermuda wakes up.
Stroll the isle's first settlement in St. George
Spain may still be kicking itself for bypassing Bermuda when it happened upon it first, but once the English claimed it, they had no plans of leaving and so started building a town in the 1600s they called St. George. Today, the town is a UNESCO World Heritage Site and retains a lot of its original characteristics, like streets just wide enough for horse and carriage transport (cars pass but it's a tight squeeze) and some of the island's oldest candy-colored buildings. A stroll will take you down streets named for British monarchs or for the trade practiced there, like Printer's Alley, and past forts and churches like St. Peters, the oldest surviving Anglican church in the West.
Take a dip in Tobacco Bay
It's possible that there's no water clearer than at Bermuda's Tobacco Bay. A perfect stop to follow a St. George stroll, Tobacco Bay's crystalline water makes for some of the island's best snorkeling, with coral and brightly colored fish to behold. Rock formations have created a cove, making the beach calm and shallow. There's a beach bar onsite and when dusk settles in, so do the bonfires and live entertainment, like reggae on Saturdays and soca on Sundays. The Bay's also got a story: it served as a smuggling port, key in aiding the Guy Fawkes planned Gunpowder Plot, a failed attempt to assassinate King James I. Note: the early bird gets the empty beach here, and crowds can ramp up on the weekends.
Bike the Bermuda Railway Trail
When you finally wade out of the strikingly turquoise waters, Bermuda's got lots to do on land too. Like bike the island's Railway Trail, which was once an actual railway used to tote materials and people from one end of the island to the next, since cars were banned to keep the so called "Isles of Rest" restful (even today, Bermuda prevents tourists from renting cars to keep the number of vehicles on the road to a minimum, though visitors can get around by scooter). Today, those biking the 18-mile Railway Trail can take in flora, fauna, sea vistas and views of the island from Scaur Hill Fort and Park. Fantasea Diving and Watersports can set up a tailored bike tour of the trail.
Do a Dark 'N' Stormy crawl
Spare time in Bermuda should be spent taste-testing the island's unofficial, official drink, the Dark 'N' Stormy. The cocktail, made with Gosling Black Seal rum (the dark) and ginger beer (the stormy) is served in all manner of establishments from down-home to high-brow, and finding a favorite is almost as fun as drinking it. For one of the best in Bermuda, make your way to the island's new luxury boutique hotel, The Loren at Pink Beach. From the bar that accompanies the property's Marée restaurant, you'll get a perfectly concocted version of cocktail, which you can sip overlooking waves lapping at Pink Beach below.
Catamaran round the island
Bermuda may be thought of as a single isle, but it's actually made up of 138 islands and islets, some inhabited, most not. Some Bermuda residents even have summer homes on smaller islands off of the main island. One of the best, and most luxurious, ways to get a lay of the land is by sea, preferably in a catamaran. With companies like Seasplash Bermuda, you can charter one with friends, cruising around sipping Dark 'N' Stormies or Rum Swizzles, then getting out to snorkel (all gear comes with the charter) before landing on deck to soak in the Bermudian sun while the sail flaps in the breeze.
This post was published on the now-closed HuffPost Contributor platform. Contributors control their own work and posted freely to our site. If you need to flag this entry as abusive,
send us an email
.