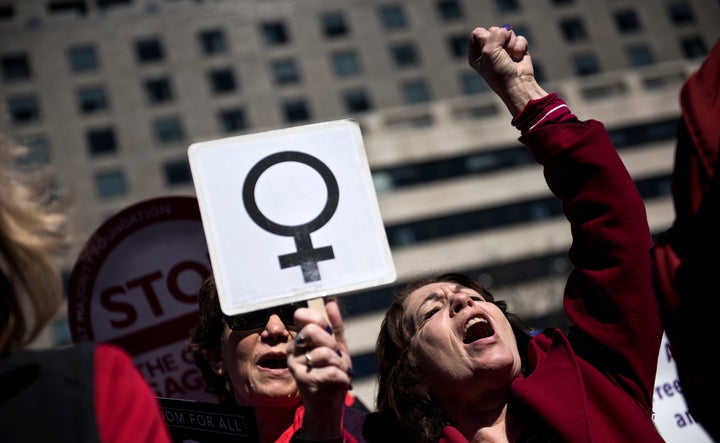 The legislation would effectively allow states to discriminate against women. Under the AHCA, states are allowed to waive the former Obamacare requirement that insurers cover people with pre-existing conditions. Anything from being a survivor of sexual or domestic violence, to having had a C-section or suffered from postpartum depression could now constitute as a pre-existing condition. This means that if you're deemed to have one of these pre-existing conditions, your insurance company could charge you more.
Women's rights organizations from around the country sent out some strongly worded press releases that illustrate just how bad this bill could be for women. From Planned Parenthood to the Feminist Majority Foundation, women's rights leaders made it known that this bill could punish women simply for being women. 
Below are a few of the most passionate responses to Trumpcare from leaders of feminist organizations around the U.S.  
1. "This is the worst bill for women's health in a generation." ―Cecile Richards, President of Planned Parenthood
"This is the worst bill for women's health in a generation. This disastrous legislation once again makes being a woman a pre-existing condition; 'defunds' Planned Parenthood; guts maternity coverage; strips 24 million of their health insurance; lets insurance companies charge people with pre-existing conditions exorbitant rates; forces new moms back to work shortly after giving birth; and reduces access to contraception. In short, this bill makes it harder to prevent unintended pregnancy, harder to have a healthy pregnancy, and harder to raise a family. Alarm bells should be ringing in every house across America." 
2. "We should all be furious." ― Sonia Ossorio, President of NOW New York
"Republicans can vote against us, but women will be sure to vote against them in 2018. This vote is seared into the public record and will have repercussions for every lawmaker who voted to put people's lives at risk. We should all be furious." 
3. "The suffering will be widespread, needless and cruel." ― Ellie Smeal, President of The Feminist Majority Foundation
"If this bill is signed into law, the suffering will be widespread, needless and cruel: hospitals will close, middle class families will go bankrupt paying healthcare costs, and women will be charged more than men for coverage that doesn't even guarantee maternity care. We will fight this bill in the Senate with every fiber of our being. Women will not go back." 
4. "Shame on those selfish men." ―Janette Robinson-Flint, Executive Director of Black Women for Wellness
"This government is very deliberately laying the groundwork for conditions that will harm women; in fact, everyone who is not rich, white and male. Black Women for Wellness calls on our senators to protect the health of our country. Health is a community issue, a societal concern; the bill passed by the House miserably fails to realize that reality. Shame on those selfish men."
5. "Today's vote is a declaration of war on women." ― Shaunna Thomas, Co-Founder of UltraViolet
"Make no mistake: Today's vote is a declaration of war on women... Today's vote by Republicans sends a cynical message to survivors of rape and gender-based violence: 'You're on your own.'" 
6. "[The AHCA] is destined to create chaos in our nation's health care system." ― Andrea Miller, President of The National Institute for Reproductive Health
"By ramming through the horrendous American Health Care Act (AHCA), the U.S. House of Representatives has launched a cruel attack on the health and well-being of women and families that is destined to create chaos in our nation's health care system." 
 7. "This health care bill is a blatant attack on reproductive justice." ― Marcela Howell, Founder and Executive Director of the National Black Women's Reproductive Justice Agenda
"The AHCA would not be a temporary setback; it will imperil Black women's and women of color's health, rights and economic security in the long term. This health care bill is a blatant attack on reproductive justice."