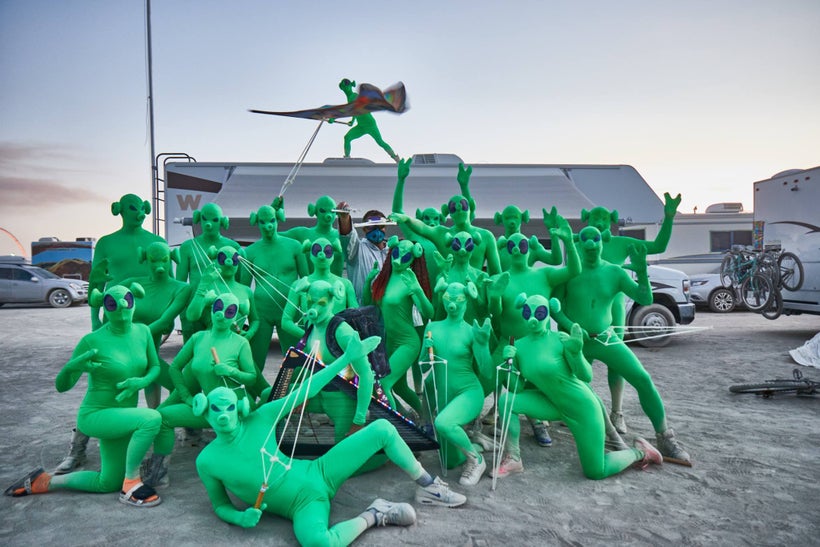 Tens of thousands of people gathered in excitement for this year's Burning Man festival, which took place on August 27th in Nevada's Black Rock Desert. The nine daylong annual festival is best known for its "whiteout sandstorms," eclectic and revealing fashions, and its massive and unique art installations spread across "The Playa." This year's Burning Man artwork theme was "Radical Ritual".
From startups founders to fashion models, Burning Man attracts a wide range of "Burners," people who are enthusiastic about experiencing one of the most moving, spiritual and unforgettable experiences of their lives.
One of these people is Dmitry Volkov, an owner of Social Discovery Ventures, investor and organizer of the OraculeTang camp at this year's Burning Man festival. The OraculeTang camp has been featured by Business Insider as one of the most incredible art installations at this year's Burning Man festival.
Four large, inflatable figures of green aliens, ranging from 4.5m to 12m tall, appeared on the playa of Black Rock City. They were meant to represent the sacral objects for all the aliens and the Burners who believe in the existence of extraterrestrial life, and who worship alien civilizations, believing in their wisdom and power.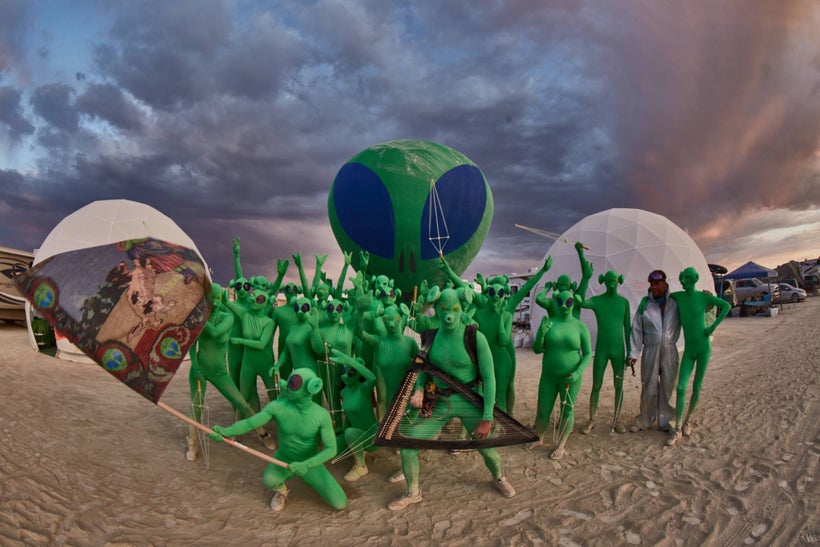 I had the pleasure of interviewing Dmitry to learn more about Burning Man and the idea behind the OraculeTang camp.
Q: Who are you and what do you do for a living?
My name is Dmitry Volkov and I'm an entrepreneur, investor, philosopher and contemporary art collector. I have been involved with both business and art most of my life, and I find both to be very essential.
At the age of 12, I was invited to participate in a musical called Shooting of the Dan McGrew, which was staged on Broadway. I am still surprised this happened, but I guess it was just luck that I was on Broadway at such a young age. The Iron Curtain had just dropped and an American choreographer came to Moscow looking for talented children. I passed a dance competition and 8 months later found myself in New York City. It was a shocking experience in comparison with living in Moscow.
My performance career didn't end after my Broadway debut. I was also invited to star in the Russian blockbuster The Red Mob. I played the son of an Afghanistan veteran who was fighting against corrupted cops. Up until the age of 18, I participated in a youth theatre, traveling all over the world. Everyone was expecting me to continue my career in acting, but ultimately I chose to study philosophy and history as my major in university. Maybe I was reading too much Dostoevsky and Tolstoy?
Doing business has also always excited me. I started my first company with my partner at the age of 14. It was Perestroika and everybody wanted to start a business, including me. We decided to make a recruitment agency for teenagers. The idea was simple: most adults have jobs and money, while most teenagers don't have jobs or money. We found these teenagers jobs and took a commission. The idea was a bit too radical and perhaps we didn't know a lot about the legal aspects of hiring teenagers, but it worked. A reporter wrote about us in a story in Moskovski Komsomoletz, one of the major papers. As a result, we got hundreds of calls. The business picked up, but we eventually had to stop because our parents got concerned about us skipping school.
I could finally focus on business after I graduated though. I loved computers, so I started to look for opportunities in IT. Fortunately, one of my acquaintances in the U.S. proposed that I take on coding work. I didn't know how to code, but found some talented young people who did. When the job was done, I had already found more customers, mostly in Europe and the U.S. We clearly had an advantage – the software engineers in Russia were making around 25 percent of what an average engineer was making. One of the biggest customers was an online dating platform. Customers were really happy with the cost and quality, so we didn't have issues finding more work. At the moment, I manage about 500 software engineers in Moscow and about 100 in Minsk, Belarus.
The business was always cash-positive, so I have been investing for many years. My recent investments include Academia.edu, which is a social network and content aggregator for scientific papers and Harbour University – a university that specializes in computer science and a boot camp for world programming and BitFury – one of the global leaders in the blockchain development.
Despite this, I have never given up my interest in philosophy and art. I defended a Ph. D. in Philosophy 10 years ago, wrote a book on D. Dennett's theory of consciousness, organized a few events including a conference on a boat in Greenland with Daniel Dennett, David Chalmers, Derk Pereboom. These are very big names in the philosophy of mind world.
I'm currently completing another book on free will and a narrative theory of moral responsibility. The idea is that in a deterministic world you are responsible for an action in the basic desert sense, only if you believe you are. Meanwhile, I have also been supporting art. For some years I have been a patron of the Tretyakov Gallery, Garage Museum of Contemporary Art and various performances. I'm mostly fascinated by Technological art.
Q: What brought you to Burning Man? How many times have you visited The Playa?
I had heard about Burning Man many times and had seen some really intriguing photos from the festival. I became certain that I wanted to go when visiting my friend and philosopher, D. Dennett. One of Dennett's friends is a long time Burner, and he shared the story of Burning Man with me as well as his experiences out on The Playa. His enthusiasm inspired me to go, and I knew I wanted my contribution to be an artistic one. I'm always looking for alternative perspectives and I adore contemporary art. l also have a passion for the desert. So, Burning Man is the perfect way for me to bring these interests together.
Q: What inspired you to build the OraculeTang camp and what does it represent? You organized this camp together with Andrey Bartenev — how did you two meet and what did each of you bring to the execution of this camp?
I never considered Burning Man to be a festival for just entertainment. To me, Burning Man always seemed to be the perfect opportunity to contribute; to do something interesting and perhaps extraordinary. In 2015 we brought a gigantic robotic orangutang – OraculeTang. He was both an animal and a robot. The idea was to build a non-organic, intelligent animal that could communicate with humans. Oleg Kulik, a performance artist, was my partner for this project. He was the creative director, while I managed the technical side.
However, during the project, we unexpectedly changed roles. Oleg became interested in artificial intelligence and soon he was adding more and more requirements for the "computer brain" of OraculeTang. The scope was too expensive and even impossible to build, but we eventually agreed on "some minimal requirements" otherwise OraculeTang would have never have seen The Playa.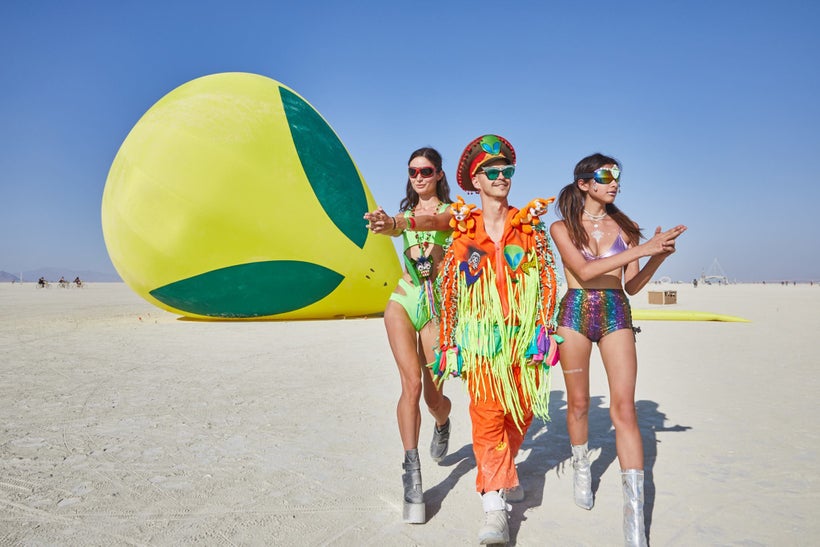 This year, we went with a different theme – Aliens. Andrey Bartenev came up with the concept. I was initially resistant. What would aliens have to do with the festival? But upon reflection, I realized that it was actually a great fit for the mission of the festival.
This year's Burning Man theme was all about radical inclusion – where people with different and alternative lifestyles come together and embrace each other's differences. So, naturally, it was time for radical inclusion to include Aliens. They are the most different and distant creatures from us.
We decided to build 4 large, inflatable sculptures and make 50 alien suits. Despite the extreme heat, partners, and friends put them on these suits and participated in an alien parade. I was carrying the alien flag, Andrey was our commander and a soloist from the Bolshoi theatre played an electronic harp for our aliens to march to. During the performance, I actually felt like I was an alien and that our parade was very important. The "alien parade" had an amazing reception made up of thousands of Burners and we were even included in the Business Insiders' rating of the wildest and most incredible art during this year's festival.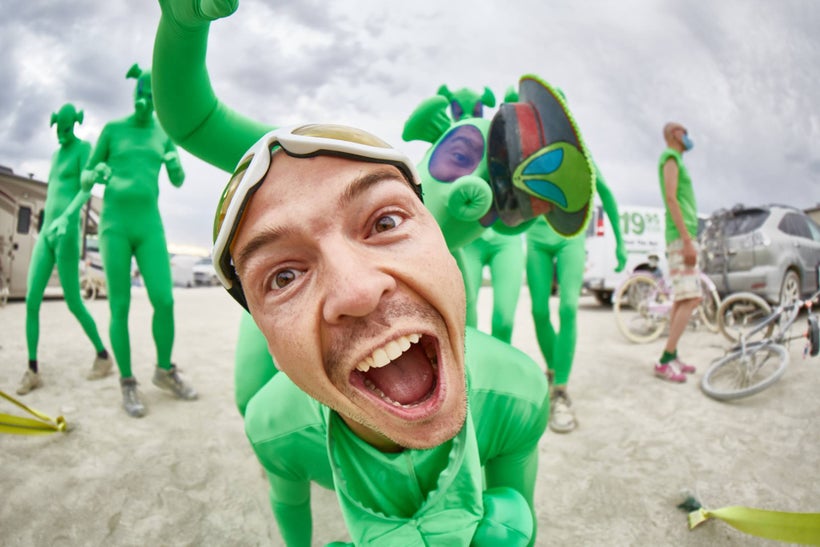 Overall, I was very happy with our success, but there were so many other incredible works of art featured on The Playa. For instance, I loved the "Tree of Tenere" created by artists from San Francisco. It featured a wonderful story - what these people built was absolutely amazing.
Q: What is your objective for next year's Burning Man festival? Why do you think Burning Man is so popular in the tech community?
I'm resting now and currently don't have an objective yet for next year's Burning Man. However, I'm certain that I'll return. Each year at Burning Man, Burners greet you at the border, saying "welcome home". This may sound a bit strange, given that this home only exists for a week each year. The second time I went to Burning Man though, I really felt the connection. And, I do consider myself a resident of the Black Rock City now. I guess the dust of The Playa does get deep in to you. indeed, Burning Man is a great place for tech entrepreneurs. To design the future, you really need to stretch your imagination and Burning Man is a perfect environment for this.
Q: I heard you had recently met Dalai Lama. How was this experience and has it given you any new visions?
This relates to one of my philosophy projects. For many years, I have tried to contribute to developing bridges between philosophers in Russia and Western analytic philosophers. The Greenland conference I organized in 2014 is an example of this.
The project I am doing with Dalai Lama is an attempt to stretch our hand to the East. Buddhists have developed a lot of very valuable ideas in ethics, as well as metaphysical ideas, like the concept of self as fiction. I think this is both interesting and worth exploring further.
I also support Dalai Lama's idea of Buddhism as secular ethics. I was deeply impressed when the religious leader of Tibetian Buddhism announced that he fully supports science, encourages critical thinking and the reexamination of religious beliefs. And, I do think he really means it.
This post is hosted on the Huffington Post's Contributor platform. Contributors control their own work and post freely to our site. If you need to flag this entry as abusive,
send us an email
.