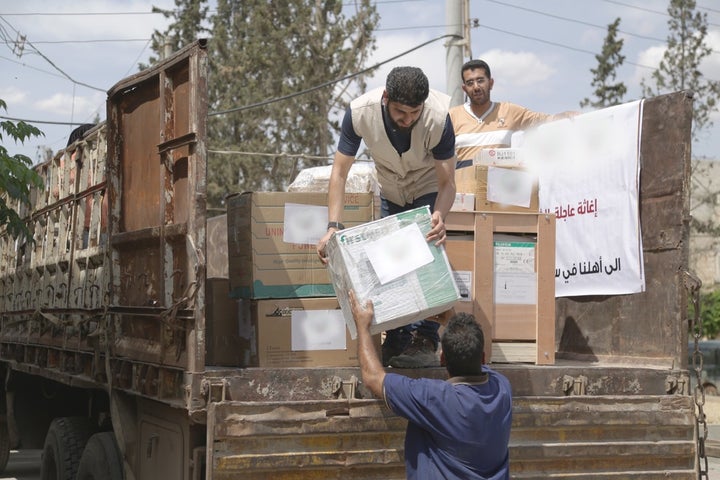 As the brutal Syrian conflict enters a seventh year, the entire region is struggling to cope with this unprecedented humanitarian crisis.

To mark the sixth anniversary of the conflict, I and Islamic Relief are joining a broad coalition of aid agencies in amplifying the voices of those we do not hear from enough – the brave Syrian aid workers battling to save lives in the most challenging of conditions. I am handing over my blog platform to a member of our Islamic Relief team deep inside Syria, to share what life is like on the front line and to re-emphasise the need to act now to end the crisis.

A first-hand account from Maher Shaar, Islamic Relief Syria aid worker:
"Every morning I am facing a humanitarian mission more difficult than the previous day as the situation deteriorates and the Syria crisis becomes more complicated. Working as a field supervisor with Islamic Relief inside Syria has made me understand the suffering of families and people who have been forced from their homes, especially the injured.
In my second month with Islamic Relief, I had to deliver medical aid to hospitals in the countryside. When we reached the area, we heard the sound of bombing and I started to worry.
A doctor told me attacks had intensified that day in the northern part of the rural area surrounding Aleppo. We did not have enough time and we had to move as quickly as possible to deliver the medical aid to hospitals. When there are attacks, medical needs increase.
Delivering the aid with jet fighters in the skies above us and amid the sounds of nearby explosions was terrifying. I asked myself a question: Should we continue or move back? It was the first time I have felt so close to death.
It was like a difficult exam for me. I remembered the calls for relief and the urgent appeals we received from clinics and hospitals for urgent medical needs.
In my previous visits, I had seen the empty shelves where supplies of basic drugs needed for life-saving surgery had run out. With me I was carrying all these items that could mean the difference between life and death for the injured. My hesitation and fear would deny thousands of injured people treatment and healing.
I realised that there are two things we cannot put at risk - our lives and the lives of others. Doctors told us to be cautious. On our way, we passed through towns that were once full of life and happiness but we saw them as ghost towns, with no life because everything had been destroyed. Cities have changed as if a huge flood has damaged everything.
We reached our destination, and it was a great feeling to be safe with the other people. I cannot forget how the medical staff in each clinic and hospital welcomed us with big smiles but we had to rush inside the hospital to avoid the jet fighters. Inside, I heard the cries and the groans of injured children and elderly people. It was such a great relief for everybody there that we had arrived, bringing the required medication and drugs.
I saw countless numbers of injured people inside the hospital.
On our way back, we felt more secure but we had to continue our mission to alleviate the suffering of the families. It was a difficult journey. The good feeling was that we made it to the hospital – a hospital that receives big numbers of injured people. We left the area hopeful to return again to find it a revived place, with no more killing and pain."
Despite international efforts to assist those affected by the conflict, 13.5 million people are still in need. Approximately 4.9 million are living in areas that are besieged or hard to reach, making our relief missions ever more difficult. There are 1.75 million children – 5% of the population – who are out of school and growing up without an education.

Six years of war have claimed over 400,000 lives in Syria and displaced over 10 million people. Islamic Relief is calling for an immediate end to the hostilities to allow the distribution of humanitarian aid to those who need it most. We are calling on politicians to stop the killing, stop the power games and get serious about negotiating peace.

Join us and other aid and human rights organisations today as we join together and stand #WithSyria.
BEFORE YOU GO