As Valentine's Day approaches, are you dreading all the effort that is required for this annual day of love? Maybe you have a date planned and don't know what to wear, haven't got time to buy anything or just plain can't be bothered with it.
We could have just the answer for you -- ditch the date and have a night in with the dog.
5 Reasons Your Dog Could Be a Better Date for Valentine's Day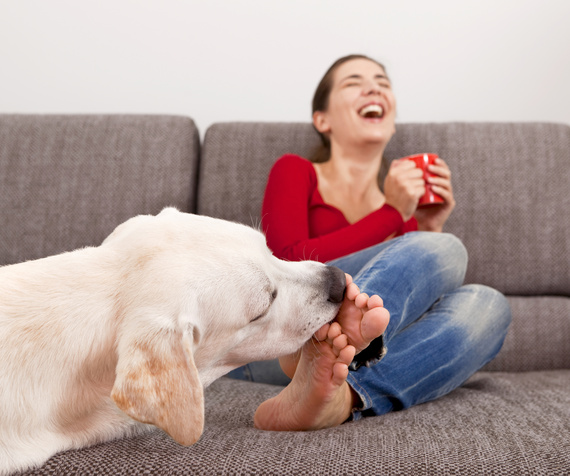 You don't need to get dressed up for your dog.
Admit it, you love hanging out at home in your PJs. But when it comes to Valentine's Day your date is probably going to expect you to make an effort and put on something a little bit sexier than a pair of fleecy PJs with teddy bears on. But your dog -- well he is going to love those fleecy PJs. Something he can cuddle up against that's nice and soft and cosy. And he won't judge you if you spill ice cream down the front of them either.
Less 'prep' time for a date with your dog.
Shaving, plucking and waxing -- it's all part of the routine for going out. You can't wear that little black dress if your legs are like a forest from the winter. But after a day working do you really want to tackle that jungle in the hopes of a night of passion. Your dog has no interest in whether your legs are hairy or not, in fact, he would expect you to have hairy legs as that makes you just like him. Who wouldn't love an owner that is so connected to the world of dogs.
No need to order a salad!

You're on your date, dressed in that little black dress with knickers that suck you in so much you can't breathe. What do you order to eat? It has to be a little lettuce leaf, as that's about all you can fit in without bursting right? Not quite the fun night out enjoying gorgeous food with the one you love! But if you are home with your dog you can pig out on your favorite food while you breathe freely after every mouthful. Your dog will not judge you for eating ice cream and pizza, in fact, they will sit right by you while you do it in case you need help finishing it.
No need to make compromises

Being in a relationship is all about compromises. Or so they tell us. But when it comes to choosing a movie to watch wouldn't you rather just watch the one you want? Be honest, you don't really want to watch that action movie that he's been dying to see. What you want to do is put on Bridget Jones Diary for the 100th time and eat ice cream. Your dog always agrees with your choice of movie; in fact, they want you to choose the movie every time.

There are no expectations
When your date goes in for a hug or a peck on the cheek it is likely that they are hoping for a little bit more. Who can blame them when love is all around them. But when your dog comes to you for a cuddle they actually just want a cuddle, unless you have food and then they are probably trying to get some of that. Cuddling up with your dog on the sofa knowing that there are no expectations to get sexy later on sounds like the perfect end to a perfect day.
Night in with the dog or night out with a date -- you decide?