ART AT VIACOM presents another great show in its lobbies at 44th street with some amazingly beautiful molded frescoes by Mexican muralist and painter Marela Zacarias. I love this artists' work! Her show, Echoing Forms is impressive in its ability to sensually exact beautiful pieces by casting sheets of mesh into sensuous folded blankets, by using plaster and polymers and are so exquisitely executed and rich in texture and strength, it is a pleasure to look at the work.
If you missed her debut on ART 21 she explains her technique as well as her many inspirations from fellow muralists. After shaping the molded sheets and setting them to dry she then tapes and subsequently paints a variety of glowing colors into her geometrical atmospheric masses, defining spectacular 3 dimensional murals which display life and form, rich with movement.
Viacom has two lobbies one of which has a wall which shows her long colorful designs in traditional muralesque systems, while in a window above the entrance, three playful looking shapes dance overhead playing delightfully with our eyeballs. They are blue, green and red molded round smooshes of draped fabric turned into sculptural mobiles that seem almost like candy and are rendered smooth and tactile like the skin of a dull apple.
In another lobby several shapes are portrayed as if they were aliens just planted on the walls like fabulous barnacles. A child's tricycle seems to be almost in transit, as it too is draped strategically, for a little person might be beneath the gray silhouette about to take off.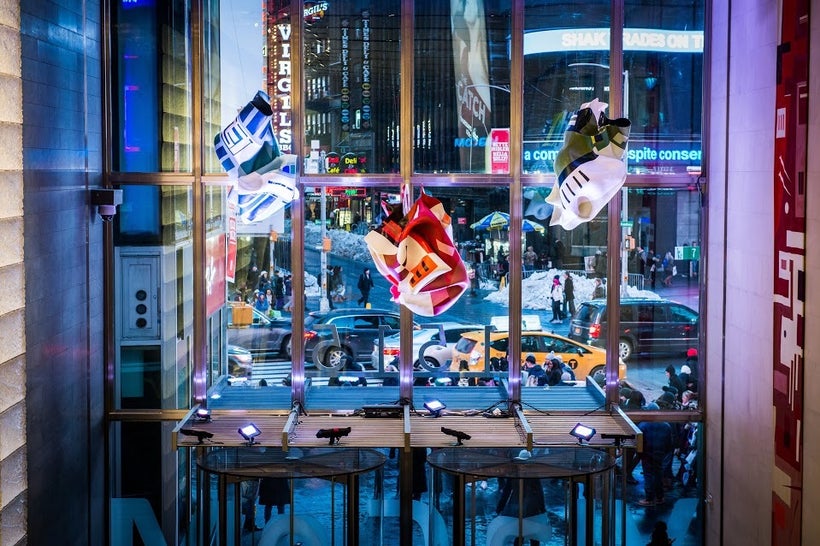 Zacarias, whose work was formally adorning the grand entrance at the Brooklyn Museum and is influenced by Diego Rivera and Alice Trumball Mason, is a non-political sculptural muralist; her work is refreshing and alive; a theatrical and elastic vision of 3D mural plurality…This is a very enjoyable show which has an invigorating feel, married to lively colorful rich features and shapes.
This post was published on the now-closed HuffPost Contributor platform. Contributors control their own work and posted freely to our site. If you need to flag this entry as abusive,
send us an email
.