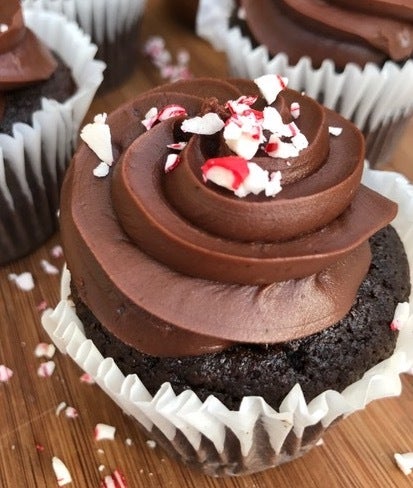 The holidays are never an easy time for those of us who can't (or shouldn't) consume sugar. There are more bad food options than good, and let's face it...Santa Claus isn't being good eating thousands of cookies, so why should we?
Whether you are watching your weight, or diabetes stops you from grazing dessert tables, you still need a little "some somethin" to keep you in the holiday spirit.
I've baked with sugar substitutes for years. The outcome is often not so tasty. This year I decided to search for low sugar options instead of sugar free. I reached out to Betsy Opyt, health food aficionado and founder of Betsy's Best for a few recipes I could make from home. Below are a few of my favorites!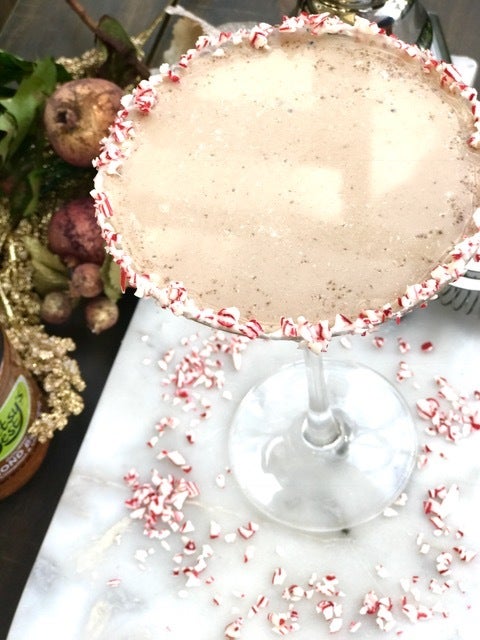 CHOCOLATE PEPPERMINT MARTINI - (200 calories 10g carbs , 2 g protein 1 g sugar)
1 oz vanilla vodka. 1 oz Bailey's Irish cream
1 oz Kahlua or other coffee flavored liqueur
1 oz almond milk. 1 tsp Betsy's Best Almond Butter
1 drop peppermint extract Melted white chocolate for rim
Coat rim of glass in white chocolate and dip in crushed peppermint. Mix all liquids into a martini shaker with ice and shake. Make sure to shake hard enough to mix the almond butter into the liquids. Strain and serve!
SWEET POTATO CHOCOLATE FROSTING (As shown above 5g of sugar per serving)
1 large sweet potato, baked and peeled 1 T coco powder
1/3 c melted dark or bittersweet chocolate 2 T Betsy's Best Gourmet Almond Butter
1 tsp vanilla 8 drops liquid stevia
1 T coconut oil melted if needed to thin
Bake sweet potato in oven until soft. Make sure to bake long enough to ensure it will blend well. Peel the sweet potato and place in a mixing bowl. Add the rest of the ingredients except for the oil and blend well with a hand mixer. This can also be placed in a food processor or blender to ensure the right consistency. If the frosting is too thick you can add the oil to thin to your liking. Add to your favorite cake or cookie or eat right out of the bowl with a spoon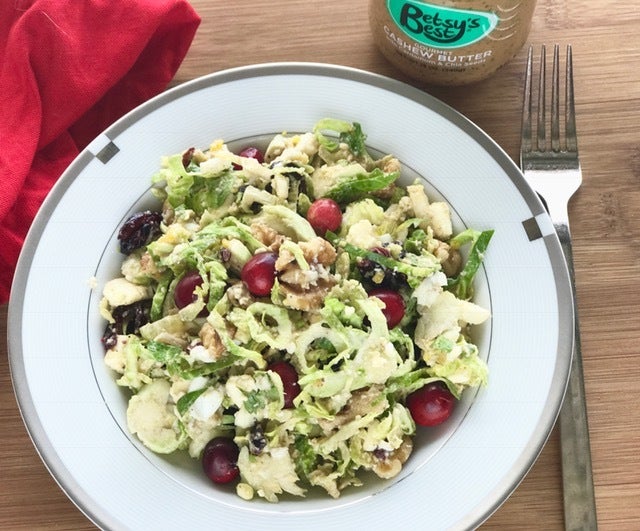 BRUSSEL SPROUT CHOPPED SALAD
(6 servings per dish. 1 serving = 1 cup)
218 calories, 7g protein, 11.5 carbs, 3.5g fiber, 3.5g sugar, 16.5g fat, 65.6 mg cholesterol, 290mg sodium, 385m,g potassium, 56,g Vitamin C
2 hard boiled eggs, peeled and chopped. 1 pound of Brussels sprouts, shredded
⅓ cup toasted walnuts, chopped ½ cup dried or fresh cranberries
1-2 ounces goat cheese, crumbled
2 tablespoons apple cider vinegar ¼ cup olive oil
1 teaspoon honey 1 tablespoon Betsy's Best Cashew Cardamom Butter
1 teaspoon Dijon mustard 1/4 teaspoon garlic, minced
½ teaspoon sea salt ¼ teaspoon freshly ground black pepper, more if needed
Make the dressing by placing apple cider vinegar, mustard, garlic, Betsy's Best, salt and pepper in a jar and stirring with a fork to combine. Add the olive oil to the jar, cover tightly and shake the jar until everything is well combined. You can also place all ingredients together in a blender to combine.
Add the toasted walnuts, cranberries and half of the chopped eggs to the shredded Brussels sprouts in a bowl and drizzle with the dressing. Gently toss until combined. Let the salad sit at room temperature until the sprouts slightly soften and the flavors combine, about 15 minutes.Toss the salad again to redistribute the dressing. Taste and season with salt and pepper as needed.
Transfer to a serving dish, top with the remaining eggs and crumbled goat cheese.
For more great recipes, check out her website at. Betsy's Best
This post was published on the now-closed HuffPost Contributor platform. Contributors control their own work and posted freely to our site. If you need to flag this entry as abusive,
send us an email
.