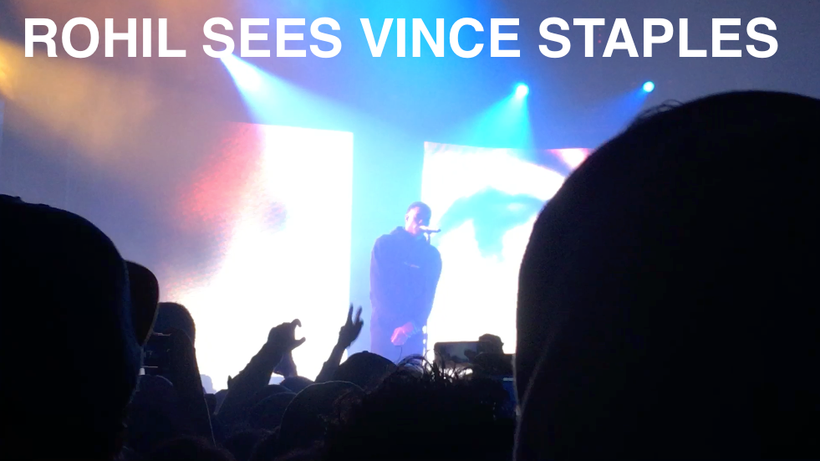 "Win a chance to meet Vince Staples after the show!" That was the first thing I heard before being handed an iPad with green 'Fresh Empire' logos on it. I was just three simple questions about anti-smoking, a wheel-spin and a raffle ticket away from meeting one of the most prominent young voices in music.
1. Does smoking only affect the lungs - True or False?
Obviously false, it can also affect blood circulation, which means it can affect circulation to the penis - I don't know a lot about health and safety, but I do remember reading that somewhere and it stuck. So, clearly, I have no performance anxieties.
There were two more questions left. I nailed 'em. Then it was onto the spinning wheel. Nailed it and received a 'Fresh Empire' snapback, you know, something I wouldn't be embarrassed wearing.
I got my raffle ticket and was ready. Ready to meet a soon-to-be icon in music. I was feeling tremendously confident in my odds.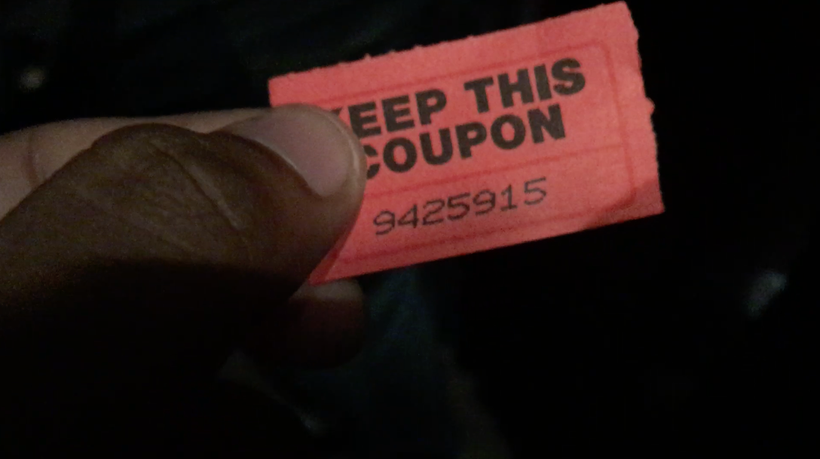 It was at this moment that Kilo Kish took to the stage.
Kilo swayed violently back and forth, chucked a red telephone and destroyed a briefcase while seemingly experiencing ALL the emotions. Her facial expressions rapidly changed from gaunt and fearful to overwhelmingly preppy, while people in the crowd either shouted, 'Yaaaaaaas queen!' or cautiously mumbled to each other, 'This is so cool… right?... right?'
There were two other standouts - a member in the crowd playing 'The Binding of Isaac' on the Nintendo DS and another person who was straight up reading a book. Not an e-book. A physical book. He brought a book to a concert. I found this man fascinating, the thought of bringing an activity to an activity was baffling. He was the real show. Vince Staples had some competition.
Kilo finished up her set and while I didn't quite understand all of it in the moment, the energy she brought was phenomenal. She committed fully to a polarising stage presence - and the music was interesting and different, geared towards dramatic performance art. I especially enjoyed a moment where she burst out in an insane laughter that seemed to go on for a full minute. She made powerful choices, you gotta appreciate that.
For some reason during the wait for live music, they played 'The Life Aquatic with Steve Zissou' in reverse. It's a movie starring Bill Murray and Owen Wilson, directed by Wes Anderson.
Then I thought: how great would it be if Vince Staples wasn't even here - and instead, Bill Murray came out and just rapped a full Vince Staples set with no explanation!?!? Like, committed to performing a full show... it would be life changing.
Eventually, the lights hit the stage and a beat started to play. There was no Bill Murray but Vince Staples did walk out to a screaming crowd filled with love... and around 34 assholes that couldn't help but violently push through the crowd like a traveling mosh pit.
Vince Staples gave an incredible performance, his delivery paid a meticulous attention to his beats. I'm referring to his emotional beats for the songs. There were highs and lows which he Segway'd back and forth through seamlessly. He got the crowd hyped for his energetic tracks like BagBak and Loco. He subdued and became still for the moments in his wavy, dreamy songs like Summertime - as if to float.
There are moments in Vince's music that are very contemplative and reflective. Vince made use of his posture and was selective of when he'd burst into full energy, this made those contemplative moments more impactful on stage.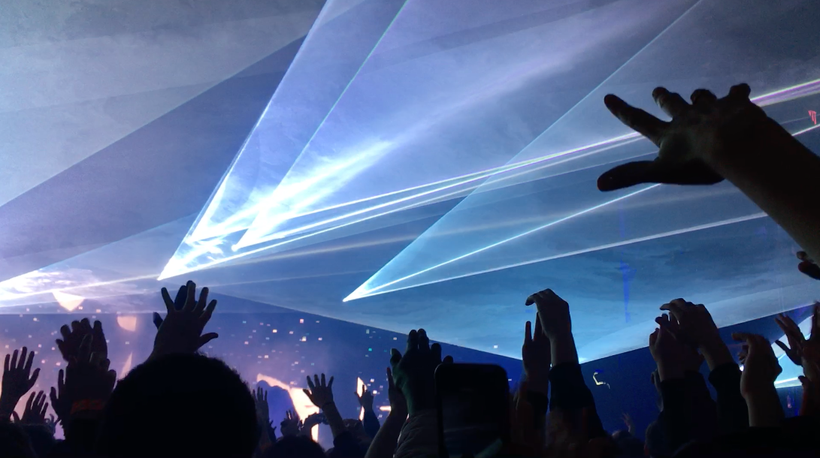 The screen behind him played a thoughtfully curated collection of impressive animations that were in keeping with the songs they were mapped to. Including visuals of a shark just about swim up behind him and swallow him whole, during more aggressive songs which underlined a fear of being attacked.
During his song 'Hands Up' the lights flashed violently - red, blue and white as if being pursued by the police, also a fitting commentary on the current relationship between police and minority groups in America. The visuals were immersive and were in service to the music.
I'd like to comment on the smoke machines but I really couldn't tell if there were truly any smoke machines... or if we were all just engulfed in a cloud of weed and cigarette smoke. Which I suppose is fairly ironic given the massive anti-smoking campaign that was also taking place at the show.
The were several conversations with regards to the crowd at the show. An argument was made that a lot of the people in attendance couldn't connect to commentaries about race within the show, having not had the first-hand experience. I found it an interesting argument. What exactly are you connecting to in the music, if these are not stories you're familiar with in your own life? Do you even understand the lyrical content?
It is something that stayed on my mind for most of the night, and ultimately the argument seemed to make little sense. It's self-segregating. Perhaps I'm too young and naive but I still believe that if I told you a story centered around my more nuanced experiences of being brown, you'd still be able to appreciate, respect and seek understanding of it - if it's good art - regardless of whether we share the same race and ethnicity.
Another conversation being brought up was the change in Vince Staples audience and the different factors which lead to it. I've only recently become aware of Vince's music, mainly through following Earl Sweatshirt's career and hearing Vince on several collaborations.
The crowd at the live show was exactly what I expected. A fairly diverse group of faces and a lot of kids dressed in that Parsons kind of fashion. This is probably also due to the show being 16 and up and the $25 tickets, which in comparison to most shows, isn't bad.
Vince has recently been in a ton artsy-kid go-to's like having a spotlight in Dazed. He was recently in a Converse campaign. Had Stanley Kubrick references in his Prima Donna film. So, his recent exposure and output seemed to line up with the demo at the show.
I guess it is kinda cool that conversations like those were being had in the concert space. Also, cool that Vince's audience is expanding massively - because the dude puts on an incredibly well-considered, powerful show. I look forward to what he does next and I highly recommend you check out one if his live shows when he comes to your city.
Oh, also, didn't get to meet him. Admittedly I was overconfident in my raffle game. However, I did still receive a refresher on the dangers of smoking. So... STILL WINNING.
Written at 2am, after the show, not sober.
Add me on Snapchat: @rohilaniruth
This post was published on the now-closed HuffPost Contributor platform. Contributors control their own work and posted freely to our site. If you need to flag this entry as abusive,
send us an email
.