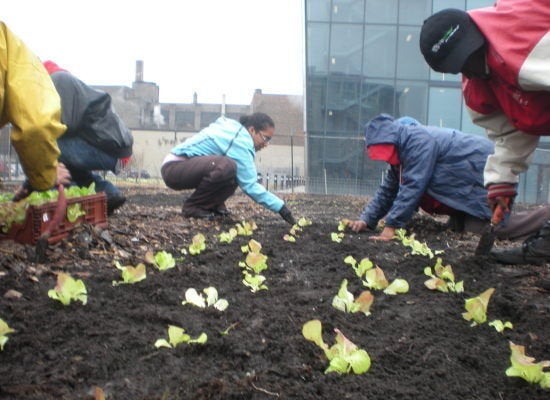 This was a monumental week for our country. On Tuesday, President Obama signed into law the Edward M. Kennedy Serve America Act, creating the largest expansion of national service in our country's history. This bill will provide opportunities for an entire new generation of young Americans to engage in meaningful public service. At a time when so much around us is in crisis, it is more important than ever that we inspire and encourage young people to serve.
The history of Service in this country runs deep, Senator Edward Kennedy remarked at the bill signing: "I will never forget the 5th anniversary of the Peace Corps where I sat with the very first group of volunteers. I asked each of them why they decided to get involved. They said it was the first time anyone asked them to do anything for their country. Today, another young president has challenged another generation to give back to their country."
Indeed, that challenge has been put forward, and the millennial generation has answered the call. Candidate Obama, filling in for Senator Kennedy at the Wesleyan commencement address in 2007, put it best when he proclaimed, "I believe with all my heart that this generation is ready and eager and up to the challenge."
This bill, which, among other things, increases the size of AmeriCorps from 75,000 to 250,000 over the next ten years, was made possible by an extraordinary coalition of organizations of which 18 in '08 is proud to be part, led by Service Nation as well as Voices for National Service and America Forward. Service Nation is made up of nearly 200 organizations across the country ranging from the YMCA to the AARP, and has been working tirelessly on not just passing this legislation but mobilizing the public and our elected officials in support of ushering in a new era -- a return to service as a fundamental institution and principle of our country. This bill is only the beginning...
There are few nobler calls than service, whether it is service to your family, your community, or your country. Service needs to once again be at the core of this country. This president's call and this legislation can serve to remind us of that.
In these troubled economic times, with a record government deficit, those engaging in service are more needed than ever. Service can fill the holes that government simply cannot. Those who serve can fix a crumbling school or be a mentor to a child...they can truly change lives. Service also can replace costly government initiatives whose goals can be executed much more efficiently and thoroughly by a group of passionate volunteers. Furthermore, most studies show that once people serve, they will continue to do so throughout their lives in different ways and forms. In short, engaging tens of thousands of new people in service is really a long lasting, much needed stimulus to our economy and society.
Today a new report came out showing that although the rate of volunteerism among young people is higher than their parents', the numbers of young people engaging in volunteerism between 2002 and 2007 was in decline. It is not in any of our interests -- national, economic, or moral -- to see this decline continue, we must reverse it together. This week marks National Volunteer Week, and in that spirit I hope that everyone can celebrate those who engage in service, encourage others to serve, and think about the ways that each one of us can contribute and give back ourselves.
David D. Burstein, 20, is the Founder and Executive Director of 18 in '08. The nation's largest youth run nonpartisan not-for-profit young voter engagement organization. The organization is based on the documentary film of the same name which David directed and produced. He is a sophomore at Haverford College in Pennsylvania.