First, three cheers -- large noisy ones -- two huzzahs and one hurrah for The New York Review Children's Collection. They have been reissuing lost and neglected juvenile classics, wonders of children's literature that a new generation of children will be dazzled by, charmed by, and God willing, read in their beautiful red cloth bindings as they encounter the pleasures of odd characters and freshly minted language which just might beat the joys of video games. These are -- I believe -- kindle proof books -- they need the touch of the paper, not the touch of a screen, the splendor of the pale colors and narrative line drawings, and the satisfaction of the hand turning page to work their magic fully. And they are astonishingly quiet and deliciously gentle, with just a dash of danger, something every child needs in their life to counteract the effects of a noisy, aggressive world.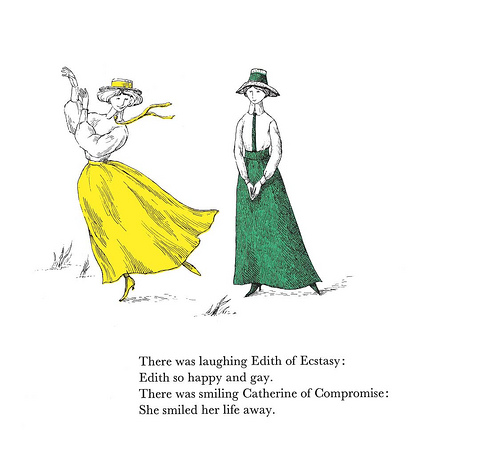 The latest of these books to be reissued is Three Ladies Beside the Sea by Rhoda Levine, a notable opera director, choreographer, and children's book author; with drawings of Edwardian maidens by the late Edward Gorey; he who gave us those wonderful line drawings of witty murderers hiding behind fancy curtains on PBS mysteries. As a grandfather of three very young girls it delights me when I find a book that can take them on a trip to a place they have not been -- and Ms. Levine's wry imagination and Mr. Gorey's powerfully epicene drawings (figure that one out) constitute a whole new country for a child to visit or for a lucky grandfather to act as tour guide. Here's what you will find there. It may not sound like much but it's like Henry James for kids with all the starch and boredom and the snobbery removed before printing.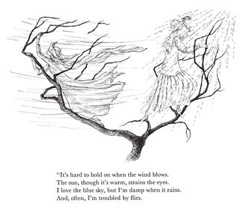 The plot: Three elegant ladies live by the sea in appropriately elegant Edwardian houses. There's laughing Edith of Ecstasy, a prisoner of her own mindless happiness, smiling Catherine of Compromise ("she smiled her life away" -- a warning to girls that there is real danger in becoming the village pleaser) and last there's Alice of Hazard -- our heroine -- who lives a dangerous life up a tree, waiting for a bird to reappear, with her feet off the ground, suffering on her exposed perch, but unable to leave it because of that wondrous bird she saw fly by.

A beauty he was, so fine and so wild
That I leapt up to herald his worth,
And only the sound of his singing
Can bring me once more down to earth.
Alice of Hazard admits to the disadvantages of her tree bound life:
It's hard to hold on when the wind blows.
The sun, though it's warm, strains the eyes.
I love the blue sky, but I'm damp when it rains,
And often I'm troubled by flies
But, alas, I am driven up into that tree
To search and to scan the wide sky.
I am looking out there for a bird I saw once
Who sang to me as he flew by.
The other ladies hope to cure her of her dangerous and inconvenient obsession with the wild bird, offering their caged birds -- but you can guess the outcome of that. No caged birds for our Alice. Will Alice hear her wild bird's song again? Or will she live her life out on a limb, waiting for the wondrous bird to reappear? It's a tree-hanger if ever there was one, all done in delicious rhymes, witty asides, and words set like fine jewels beneath Gorey's splendid illustrations. Pale green and yellow, white and black may be the only colors used -- but it's a rainbow world for these Three Ladies Beside the Sea.
This book comes alive after forty odd years, with not a bit of dust to shake off, no mothballs to air out, fresh as an ocean breeze (or at least the breezes before off-shore oil drilling) delightful and elegant (don't let that word put you off -- I don't mean fancy shmantzy, I mean stylishly fashioned, using the best words and the best drawings to tell its slight but remarkable story; a story which leaves us wondering if it is not best to live a perilous life waiting for the magical sound of the bird singing, for everything else is living like Catherine of Compromise -- who may never fall from a branch, but never hear that wild bird sing. .
This is, of course, a must for the many Edward Gorey fans of all ages, and a chance to discover the fine poetry of Rhoda Levine. I read this one to my five year old grand-daughter because it is just long enough to be engaging and just short enough to be wiggle proof, and just wise enough to set a young imagination free as a bird.

Three Ladies Beside the Sea is a reissued classic by Rhoda Levine and Edward Gorey