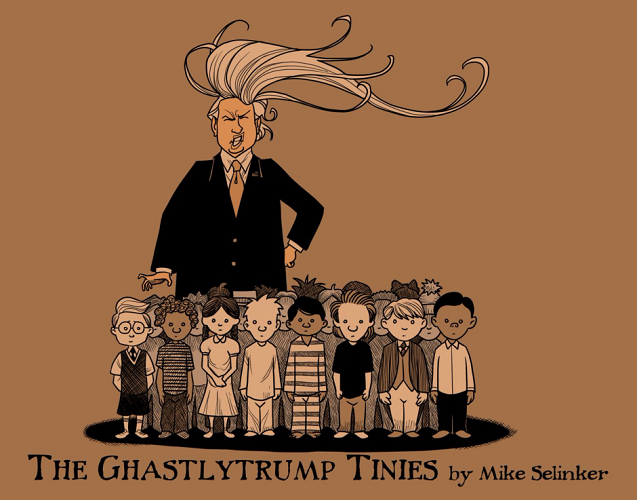 As of today, there are 11 days until Nov. 8, but who's counting?
The increasing absurdity of 2016 election-centered news is enough to make a politically active citizen feel powerless. Soon, hopefully, those feelings will fizzle out along with the bombastic slander-slinging. Until then, there's one thing that's still under our control: voting.
To encourage apathetic Americans to cast their ballots ― for his preferred candidate, and the candidate preferred by news outlets nationwide, including a few who've never before endorsed a Democrat  ― game designer Mike Selinker put together a collection of political cartoon-like illustrations in the form of an ABC book called The Ghastlytrump Tinies.
Each letter addresses one of Trump's stances ― official or unofficially inferred from Twitter rants. "A" is for "Arctic," alluding to environmentally unfriendly drilling; "B" is for "Border," a reference to Trump's thoughts on "bad hombres" running amok.
The collection is inspired by the macabre illustration style of Edward Gorey, whose book The Gashlycrumb Tinies uses the ABCs to tell the stories of 26 children's morbid deaths.
"[It's] so shocking that it's uncomfortably funny. Mr. Trump is also shocking, but maybe not in a good way. So I thought people would be shocked into awareness of why they need to vote," Selinker explained in an email to The Huffington Post. "It's kinda creepy, kinda frightening, kinda silly. You might wince, you might laugh, you might hide under your bed. Both mostly, you will breathe a sigh of relief when this nightmare doesn't come to pass on November 8."
Selinker got the idea for the book when a friend shared a Facebook post asking that friends offer one reason why he should vote for Hillary Clinton.
"And I said 'OK, here are 50,' and listed all the things I could think of for voting for Clinton: protection of abortion and LGBT rights, family leave, and so on. I thought, 'Why don't people know of all the things we will lose if Trump is elected?' Maybe it was because they didn't have a catchy way to remember it," Selinker said.
"It's more fun to read a cartoony book than be lectured."