Photos by Henry DiRocco/SCR.
A perfect embodiment of Murphy's Law, Alan Ayckbourn's nimbly paced, exquisitely staged, and well acted "Absurd Personal Singular," directed by David Emmes for South Coast Repertory's Segerstrom Stage, mines the comic potential to be found in three couples, Sidney (JD Cullum) and Jane (Kathleen Early), Geoffrey (Alan Smyth) and Eva (Tessa Auberjonois), Ronald (Robert Curtis Brown) and Marion (Colette Kilroy), who together celebrate/commiserate three consecutive Christmases.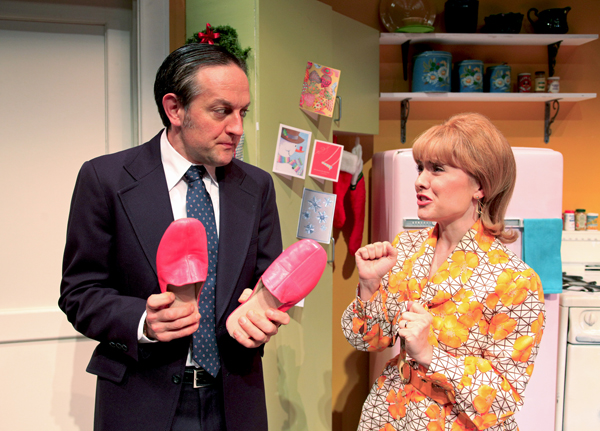 Set in the couples' three kitchens (suburban, bohemian, and posh), the story nicely flows from act to act, charting the couples' financial, social, and emotional fortunes as they rise and wane from year to year. Act One is a butter-up-the-banker-for-a-loan party. That tanks, epically. Act Two is a hasty, poorly arranged affair that would require an intervention except all the characters, except the one attempting to kill herself, are too busy cleaning the place. Act Three also would warrant an intervention except, of course, a drinking game erupts, to the delight of the person who least should play. "It's A Wonderful Life"? Hardly.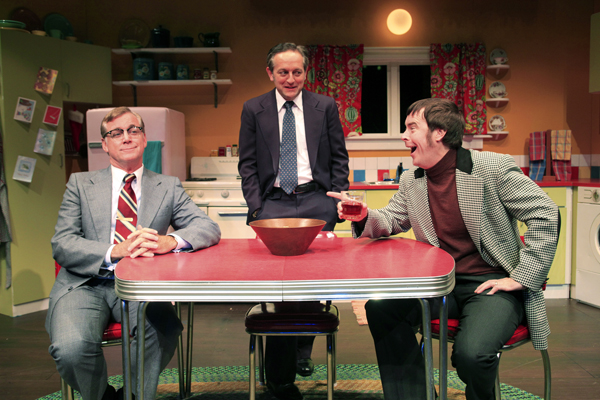 The characters are adorable, affable, and well meaning. They're also psychotic, smarmy, and bitter. Their personalities are established in Act I, in Sidney's and Jane's kitchen. Cullum's Sidney is a disciplinarian of the military sort. He's upbeat and ambitious. He's got a plan; he seems organized. His voice is stentorian, his manner authoritative. He's perfectly matched with Early's aide-de-camp Jane, who's a perfectionist (a dabber of smudges) but, unfortunately, forgets to buy tonic water, forgets to put on her party shoes, and locks herself outside in the rain. Comic mayhem ensues. Likewise with Brown's distinguished, above-the-fray Ronald and Kilroy's haughty and entitled Marion (think Jessica Walter's Lucille Bluth in "Arrested Development"), neither of whom will suffer fools gladly. Not as judgmental and prickly as his wife, who wants to leave after five minutes, he seems delightfully oblivious to what's going on around him. And finally with Smyth's tousled and breezy cad, Geoffrey, who drops peanuts on the ground to look up women's dresses and Auberjonois's world-weary, sexily languorous, and most-likely-to-kill-herself Eva.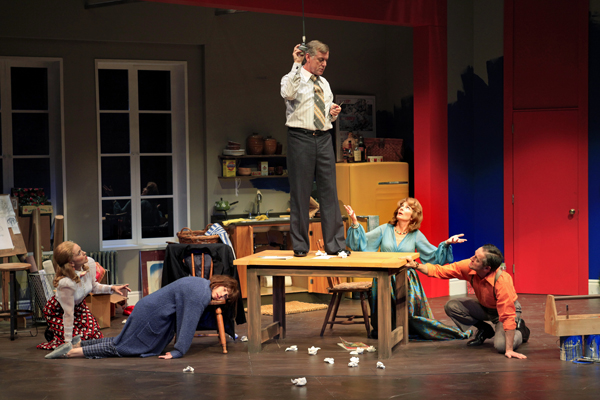 As fun as it is to get to know the characters in Act I, it's magical to watch them transform in the subsequent two acts. By Act II, Cullum and Early have done well business wise, and so comport themselves with, if not more gravity, then as least assurance and poise. Meanwhile, Auberjonois's Eva, having hit rock bottom, enacts one the funniest imaginable cries for help. She tries to kill herself by sticking her head in her oven. Does anyone tend to her? No, the incident incites Jane to clean the oven. To watch Eva Buster Keatonly try to take her life (poison, electrocution, hanging, gas) while the others potter about is one of the funniest theatrical moments I've ever seen. Finally, by Act III, Auberjonois's Eva recovers her edgy sanity but Kilroy's once haughty, imperious Marion hits the skids alcoholically, a tragedy to her but for us a comic treasure.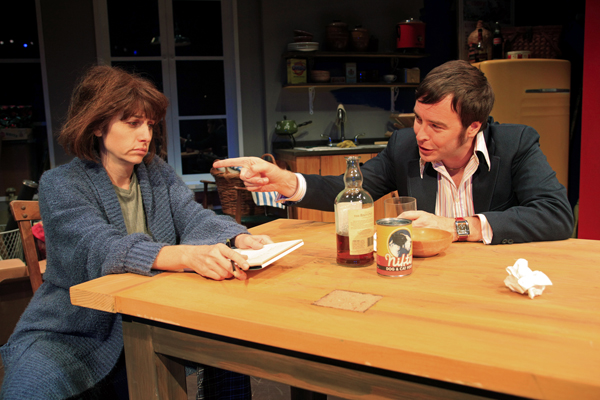 Though there's no clear resolution (it makes you ache to see what would happen on a fourth Christmas together), the production offers an evening of unbounded hilarity and extraordinary physical comedy (the non-verbal parts are the funniest bits of all), not to mention the caveat to be nice to people on the way up because you're likely to see them on the way down.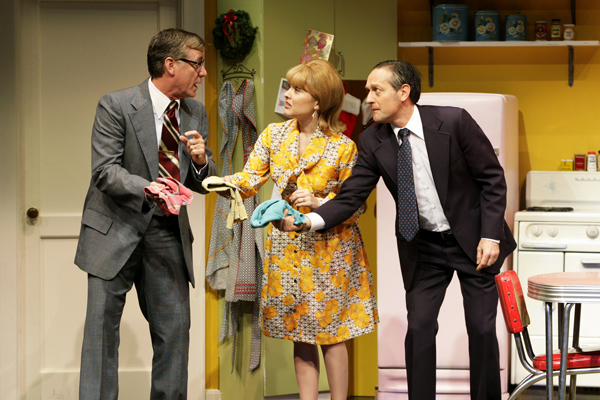 Performances are 7:30pm, Tuesday & Wednesday, 8pm, Thursday & Friday, and 7:30pm, Saturday & Sunday. The show runs until October 7. Tickets are $20 - $70. The Theatre is located at 655 Town Center Drive, Costa Mesa. For more information call (714) 708-5555 or visit www.scr.org.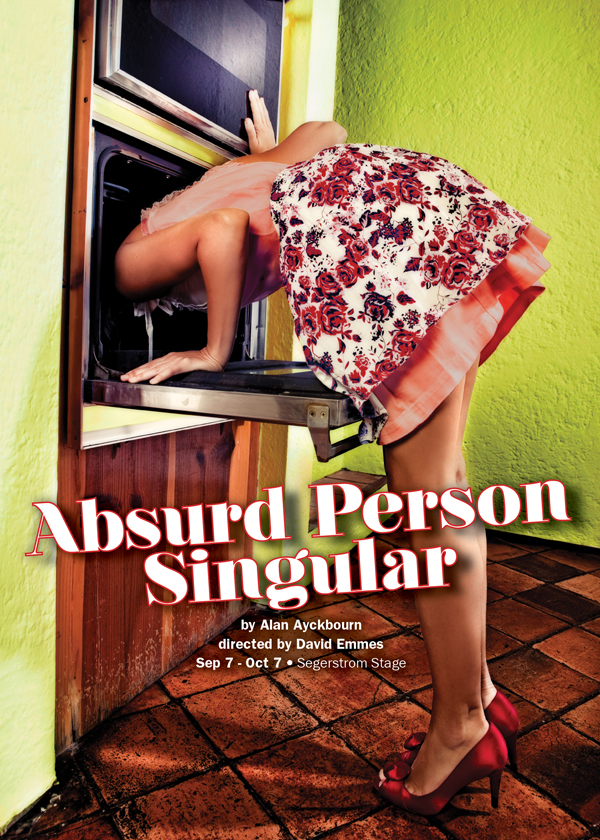 "The Last Call Lounge," The Found Theatre, Long Beach
In the Found Theatre's "The Last Call Lounge," written by the cast and directed by Virginia DeMoss, a gas station located in Last Call, Nevada (on the road to Polygamy, Utah) may run out of gas but the production doesn't.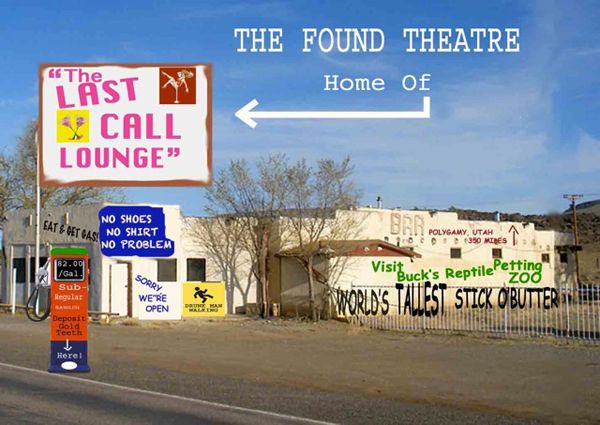 For the discriminating whistle stop guests, there's a reptile petting zoo and the world's largest stick of butter. The place is run by Buck (John Sturgeon) and Wanda (DeMoss) Breedlove. They have a daughter, Chastity Sue (Monique Hilliard), who sulks when she can't do her Lady Gaga act up on stage. Lana (Joyce Hackett) the waitress serves us - what else? - Chex Mix. Buck forgets to order gas and so the lounge piles up with people waiting for the gas truck to arrive. When a bus of performers pulls in, the result is a mixed match (mixed being the operative word) of Canterbury pilgrims performing their various shticks.
To kill time, if not each other, the guests perform. But, this being the Found, there's no curtain or Fourth Wall. Things begin before you walk in (In media res seems too posh here). Before you walk in the front door, you're asked to hula hoop. Sure, why not? There's a pregnant bride smoking a cigarette. Oh, you poor dear. Someone asks if you want your eyelashes curled. Um, no thank you. It doesn't feel like theatre; it's more like you walked in off of the dodgy part of Long Beach Boulevard on a Saturday night and, whether or not there was a performance scheduled, the characters would be doing the exact same thing. A musical equivalent would be Leonard Cohen, "Closing Time."
The performances, well, they're to die for. Paula Jean (not Dean) (Kay Richey) does a cooking demonstration, calories and cholesterol be damned. Of course she makes short order of that Stonehenge of a butter stick. "Lordy" Lovejoy (Lauren Nave) sings a hilarious gospel song. Made up like Tammy Fae Baker, she has an unusually intimate relationship with Jesus, who sits next to her in an empty chair (Think Clint East at the recent Republican convention). In mid-yodel, a pair of sisters Olga (Maureen Swaffield) and Helga (Nanci Anderson), get into a slap fight and continue to bicker for the rest of the evening. Birdy (Beverly Shields) channels Liza Minelli (channel's the proper word; her singing's too good to say she merely imitates) with a song that protests how her mother didn't get the 1955 Best Actress Oscar that went instead to Grace Kelly. Frank (Sturgeon) and Nancy (Richey) Sinatra sing "Something Stupid," made even more creepy by Frank's arthritic, lock-kneed, bug-eyed zombie performance. There's Bob Dylagain (Ron Grigsby), who claims Bob Dylan ripped off his songs. And, best of all, there's Ronny West (Grigsby) and Dottie Wells (Jennifer Moraca), a divorced country western duo who are strapped for cash and so must reluctantly hit the road together. Their song includes the memorable refrain, "There's lipstick on your butt and it's not mine."
Before reality TV and Jerry Springer, there was the Found Theatre. Since 1974 the company has served up theatrical fare that is sometimes topical, always weird, holding a mirror to our unscripted, first-thing-out-of-bed lives. Messy and inventive, scripted to be uncouth and spontaneous, it portrays unaffected people doing outrageous things. As it does here. At the end, Chastity Sue finally gets to do her Lady Gaga piece. The song? "Poker Face," something no one in the audience could hold that night.
Performances are 8:30pm, Friday & Saturday. The show runs until September 29. Tickets are $15. The Theatre is located at 599 Long Beach Boulevard. For information call (562) 433-3363 or visit www.foundtheatre.org.