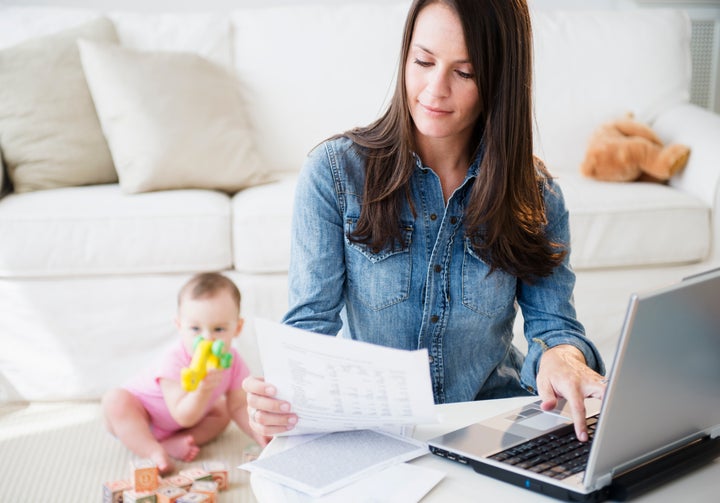 Good news for working moms: Attitudes about women working outside of the home have become increasingly positive over the last four decades, according to a new national study.
Millennials, in particular, are far more likely than their predecessors to say they believe working moms can develop strong relationships with their children. They are also far less likely to feel that preschool-age kids will suffer in any way if their mothers work outside of the home.
"Support for working moms has gone from being a minority position to being the majority one," study author Jean Twenge, a psychology professor with San Diego State University and author of "Generation Me" told The Huffington Post. "It went from losing the election, so to speak, to winning it."
Twenge and colleagues at San Diego State University used two data sets in their study: a 22-question survey of high school seniors taken annually between 1976 and 2013 and a shorter, nationally representative survey of adults taken most years between 1972 and 2012. Both surveys posed questions about gender roles and expectations within the home, as well as whether working hampers women's relationships with their children in any way.
In the 1970s, only 53 percent of 12th graders said they believed working moms could develop relationships with their children that were as warm as those with stay-at-home moms. By 2012, however, that number had jumped to 70 percent. 
Similarly, in the 1970s, 59 percent of students said they believed a preschool-age child would suffer if his or her mom worked outside of the home. By the late 1990s, only 34 percent believed that was the case, and by the 2010s, only 22 percent thought that was true.
Adults showed a similar shift in thinking.
In 1977, 68 percent said they believed a young child would suffer if his or her mother worked, but by 2012 only 35 percent did. In the late 1970s, just under half of respondents said a working mom could establish as warm a relationship with her children as a mother who did not work. By 2012, nearly three-quarters of respondents believed that was the case.
"Because these samples come from different points in time, it allows us to draw conclusions about cultural change and generational differences, unlike a study that's done at one point in time," she said, arguing the findings point toward a decisive generational shift.
Though many may not be particularly surprised by the results, "we certainly see a lot of articles suggesting that millennials are looking to turn back the clock," Twenge continued. (A report by Working Mother Media, for example, found that millennial women were more likely than Gen X-ers and Baby Boomers to agree that one parent should stay home to take care of their children.)
Indeed, the San Diego State University study, which was published in Psychology of Women Quarterly, did find that a growing minority of high school seniors have more traditional views of gender roles within marriages: In the mid 1990s, 27 percent said they felt it was best for a man to work and a woman to take care of the family, but by 2010 through 2013, that jumped to 32 percent. Similarly, the number of high schoolers who believe husbands should make the important household decisions also increased slightly, from 14 percent in the mid 1990s to 17 percent in recent years.
"[Millennials]' attitudes toward gender roles within relationships show some surprising signs of conservatism or traditional attitudes," Twenge said. "But those [numbers] are small, and it's still the minority."
"If we're at the point now where most women with young children work, and most Americans support working mothers," Twenge said, 'the next logical step would be more financial support for daycare and preschool."
PHOTO GALLERY
What It Looks Like To Be A Working Parent