Spring semester at the American University of Afghanistan started two weeks ago. There was student orientation, class registration, new books, the works. But instead of returning to class after spring break, students were returning after seven months of shutdown from an attack on campus last August that killed 15, including students and a professor.
Among the 730 students were the hundreds returning to class, relieved and happy that things were finally starting again, their broad smiles belying the trauma they experienced. One of these returning students was Rahmat Amiri, who walked onto campus using crutches after five months and several surgeries in Germany. There were also boys and girls dragging suitcases on campus from the provinces outside of Kabul, part of the incoming class of 73, one of the largest in AUAF's 10-year history.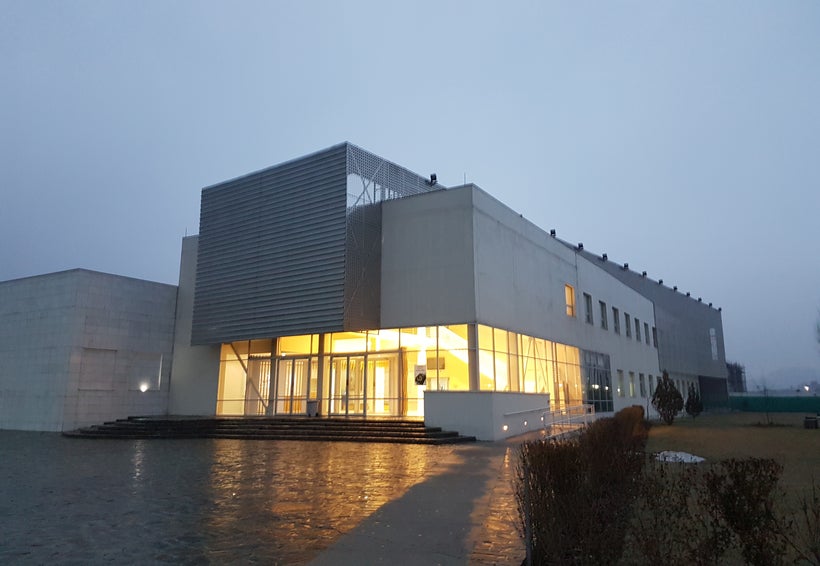 It is not hard to romanticize the quiet revolution that is happening here, the calm determination with which ordinary people are showing extraordinary courage in the face of unspeakable violence. But it also wouldn't be misplaced to be in awe of their bravery. What would be normal classrooms are the frontlines where these students, through their love for education, are exercising nonviolent resistance against violent extremism of the nihilistic kind.
And they are doing so under tight security. There are more watchtowers, more guards and 20-foot concrete blast walls – the kind of walls you erect to keep the doors open.
If Afghanistan has learned one thing since the Taliban were ousted in 2001, it is that nation-building is messy. For every step forward, there's one backward. There are disagreements, protests, elections, fraud, violence and the usual politicking. Increasingly, it has been hard to see the overall direction of the country. But students returning to AUAF is an unmistakable positive sign, a reason to believe education as a public value is running deep roots. It is an idea, to quote Victor Hugo, whose time has come.
I have often asked myself what motivates the students, faculty and staff to return when they could go elsewhere. There are probably as many answers as there are people in the AUAF community. Some students want to finish the degree that they started. Others want an American-style education and the opportunities it unlocks (AUAF has produced about 60 Fulbright scholars since it began graduating students in 2010). Yet others find value in the world-class education they get in their own country through scholarships.
Somewhere in this constellation of motivations is also a fire for resistance.
This is why Rahmat Amiri posted from his sickbed in Berlin a 1920s Udru poem written in praise of Indian independence heroes like Bhagat Singh: "The desire for sacrifice is now in our hearts. We shall now see what strength there lies in the arms of the executioner."
When you refuse to yield to fear, you render terrorism impotent.
Another student who survived the attack told me, "I lost a dear friend in the attack. He wouldn't have wanted me to give up. That would make their sacrifice for nothing."
The father of an injured student told me, "She is going to pursue her education regardless of what will happen next. My message and my family's message to those who executed the attack, and those who planned the attack is loud and clear: you cannot stop Afghans from getting an education because that is the only way forward."
These are sentiments from which I find inspiration.
Like some of our students' families, my family fled Afghanistan as the Taliban was taking over in the 1990s. We had been running away from one thing or the other much of my life, leaving home and country for safety and opportunity. And so joining AUAF – an Afghan institution offering American-style liberal arts education – was an act of patriotism that also fostered the human value of education, which has a special place in Islam. Patriotism, humane values and religious ethic – they put AUAF in the moral territory that the insurgency ironically claims to be its own.
After leaving my previous job in January, I joined colleagues – Afghan, American, Australian, Filipino, others – who had been working for months to reopen the campus and realize AUAF's post-attack rallying cry that "education will prevail."
At my new office on the third floor of the Bayat Building, I sit a few doors down from where Prof. Naqib Khpul-walk was martyred in his law class. The year before he was killed, he had written to a friend, "The terrorists want to terrorize us, we refuse to give in."
Prof. Khpul-walk's students are living his teachings. His university is rebuilding in the midst of violence, much like the country itself. The work is hard but necessary. It is certainly possible with the youthful optimism and fire of its students and the support of its international friends.
This post was published on the now-closed HuffPost Contributor platform. Contributors control their own work and posted freely to our site. If you need to flag this entry as abusive,
send us an email
.