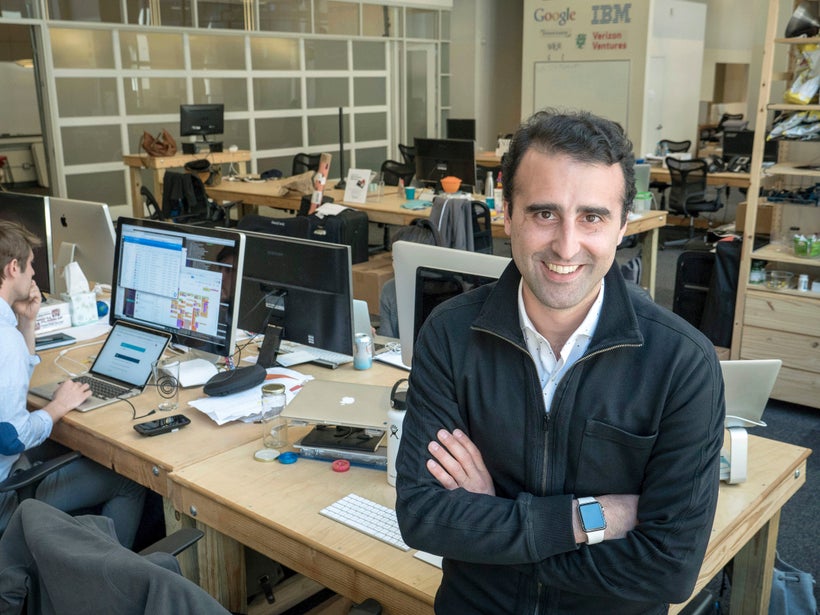 With the goal of harnessing the untapped potential of Iranian-Americans, and to build the capacity of the Iranian diaspora in effecting positive change in the U.S. and around the world, the Iranian Americans' Contributions Project (IACP) has launched a series of interviews that explore the personal and professional backgrounds of prominent Iranian-Americans who have made seminal contributions to their fields of endeavor. We examine lives and journeys that have led to significant achievements in the worlds of science, technology, finance, medicine, law, the arts and numerous other endeavors. Our latest interviewee is Alexi Gharib Nazem.
Alexi Gharib Nazem, MD, MBA, is the co-founder and CEO of Nomad Health, the first online marketplace for freelance clinical work. He is also a Clinical Assistant Professor of Medicine at Weill Cornell Medicine in New York. Previously, he led national field operations for the Institute for Healthcare Improvement's successful 100,000 Lives Campaign. Alexi trained in internal medicine at Brigham & Women's Hospital in Boston after receiving an MD from Yale and an MBA from Harvard. He also holds a BS in Molecular Biophysics and Biochemistry from Yale.
Tell our readers where you grew up and walk us through your background. How did your family and surroundings influence you in your formative years?
I grew up in an American household steeped in Iranian culture. Both of my parents are Iranian. My father was born in Iran, and my mother was born in the United States. Her father was a doctor and came to America to complete a residency in anesthesiology at the Mayo Clinic. Her parents had planned to stay only for the residency and then return to Iran, but medicine was advancing so rapidly in the U.S. that the opportunities to stay were too attractive to pass up and my grandparents never ended up returning to Iran.
My father was born in Tehran and came to the United States in the 1960s to attend college at Ohio State University. He, like my mother's family, came in search of opportunity. He, too, never left. Instead he stayed to participate in the growing technology industry as a venture capitalist.
I was born and raised in New York City. It was truly a bi-cultural upbringing. We celebrated Nowruz and Thanksgiving. We ate Persian food and American food. We cherished the centrality of the family to Iranian life while also benefiting from the emphasis on individualism and autonomy of American culture. These dual influences were very important in my life and left lasting impressions. Of course, I don't know any other way of growing up, but I do think this hybrid culture has made me a more complete and capable and understanding person than I might have otherwise been.
What has been your personal key to success? Who and what were the biggest inspirations for your career?
For me, the driving force behind everything in my life, including my career, has been an insatiable curiosity. I love to learn new things about topics both mundane and major. I find it exciting to explore and understand. I am known among friends and family to ask a lot of questions, possibly too many! At my grade school graduation, the teachers did a lighthearted roast of all the graduating students and gave each one a gift. I was given a giant cutout of a raised hand because I asked a lot of questions in class. I haven't changed one bit.
Continued learning is a great way of maintaining forward momentum. It also allows for cross-pollination of ideas and interesting associations. To me, interfaces are where exciting new ideas emerge, so it has been beneficial for me to open up as many frontiers as possible so that there are numerous interfaces.
I think I inherited that curiosity from my father. He is a tinkerer, a voracious reader, and in general a multi-talented man. As a student, he cast a wide net, pursuing degrees in biochemistry, nuclear physics, and business. He is also a gifted artist, particularly as a calligrapher. He is always trying to learn something new, and as a result he always seems to be doing something on the cutting edge.
You built Nomad Health Company to "eliminate the chaotic and inelegant healthcare staffing system of yesterday and replace it with a simple, modern platform that just works." Could you please elaborate on this?
Finding and hiring clinical staff is incredibly inefficient. It's a frustrating process that relies almost entirely on pen, paper, phone, and fax. Doctors need to fill out hundreds of pages of paper forms, many of them duplicates, every time they want to take on a new position. As you can imagine, the problem is further exacerbated when trying to hire short-term staff to cover the care gaps that are becoming more prevalent as the shortage of physicians and nurses grows. And the process of recruiting itself is highly dependent on middleman staffing agencies that use techniques that haven't changed in decades.
Nomad, by contrast, is a completely technology-driven system that allows healthcare facilities and medical professionals to find and contract with each other directly, without a third-party agency. The elimination of third parties and the addition of cutting-edge technology allows the hiring system to be faster, more effective, and much less expensive.
What is the biggest challenge that you have faced in your career?
I have been fortunate that I have not faced many show-stopping obstacles in my career. However, one challenge, especially early on, was that I tried to take an uncommon path. I wanted to be a physician entrepreneur. While I was certainly not the first person to choose that hybrid career, it was difficult to find role models I could turn to for inspiration and advice.
What do you have planned for the future of your company?
We want Nomad to be synonymous with working in healthcare. We aim for Nomad to be the primary platform used for hiring and managing the healthcare workforce. We are building a comprehensive platform that manages recruiting processes, credentialing, malpractice insurance, payroll, continuing education, and much more. Any time a doctor or nurse or other healthcare worker is looking for a job, we want their first thought to be Nomad. Any time a healthcare organization needs to hire clinicians, we want them to use Nomad.
You have co-published an article titled "Saving 100,000 lives in US hospitals" (2006 Jun). The article is about an initiative to cut down the number of avoidable deaths. In the article you also explained how campaign leaders coordinated nationwide implementation of effective healthcare interventions and documented lessons for effective spread. Could you elaborate on this?
From 2004-2006, I had the privilege of working on the Institute for Healthcare Improvement's 100,000 Lives Campaign. The goal of the Campaign was to drive widespread adoption of evidence-based techniques to reduce in-hospital deaths. These practices were simple and well-studied. For example, we promoted a "bundle" of actions that should be taken for patients on ventilators to prevent ventilator-associated pneumonias (VAP) and deaths. The bundle included basic suggestions like raising the head of the patient's bed to 30 degrees instead of keeping them flat so that stomach contents wouldn't get into the lungs and cause pneumonia. We launched the Campaign with the belief that if hospitals across the US could adopt this and other techniques, at least 100,000 hospital deaths could be prevented.
The data to support these practices had existed for decades in some cases, but their adoption was variable. So, the purpose of the 100,000 Lives Campaign was to create a vehicle to coordinate and drive widespread adoption. My role in this was as the National Field Manager. I led the construction of the "Node Network," a nationwide consortium of healthcare organizations, such as state hospital associations, nurse and physician boards, unions, and others to work in synchronized fashion to rapidly spread the Campaign's interventions.
The 100,000 Lives Campaign taught American healthcare a lot about how to make large scale change and how to do it quickly. While there are many healthcare organizations that care about this kind of work, prior to the Campaign there was a stunning lack of coordination between them. We learned that a small organization — our team was only a couple dozen people — was able to act as a coordinating force and cause effective action in thousands of hospitals across the country.
The reason we could achieve that amount of leverage was that the coordination work was so straightforward; it was just that no one was doing it! We authored simple educational documents, held teleconferences, orchestrated regular, in-person meetings between relevant local players, and sought out and codified the best practices from high-performing institutions and ensconced them as "Mentors." Most importantly, we leaned on the Node Network to assist with all this work and tailor it to specific local needs.
What are the some of the most pressing health issues today?
In advanced nations, and increasingly in developing nations as well, there is a growing burden of chronic diseases, such as heart disease and diabetes. These diseases exact enormous medical, financial, and emotional costs on our societies. More effectively managing these diseases — and better yet preventing them in the first place — is the medical challenge of our time.
You have co-published an article titled "Understanding the Use and Impact of the Online Community in a National Quality Improvement Campaign" ( 2011 Jan) .According to this article, how do organizations use these communities, and what is the impact of their use?
In the late 2000s I had the chance to work on the Door-to-Balloon Alliance, a nationwide campaign to improve heart attack care in hospitals by reducing time to treatment. Similar to my work on the 100,000 Lives Campaign, in the D2B Alliance, we were trying to harvest best practices from hospitals across the country and share them back with everyone in the network. One of the key tools for this was an online community created specifically to host peer-to-peer conversation at hospitals across the country. The article describes our study of how hospitals used this community to drive change in their own institutions. We found that despite some challenges, the community provided support in multiple meaningful ways. First, it helped spread best practices. Second, it provided a forum for so much of the nitty gritty detail about the problems and solutions associated with new process implementation. That detail and experience was just not possible to communicate via broadcast documents; an online community was really the only feasible mechanism. And third, it provided a source of moral support that was surprisingly necessary for the people leading change in their organizations.
What is the most important piece of advice you can give to medical students?
Medical knowledge is growing at an exponential rate. It is not possible to know everything. To be an effective doctor in the future, you will need to know how to find and interpret new data. Take your time in medical school to learn how to learn. In the same vein, recognize that "medicine" now encompasses much more than life sciences. Public health, economics, management, artificial intelligence, and many other disciplines are now critical to the effective delivery of care. Understanding these other areas will be required to be an excellent physician.
Can you share your thoughts on your Iranian-American identity? What does it mean to be an Iranian-American to you?
Simply put, being an Iranian-American means being both Iranian and American. It is a hybrid identity. To me, I have tried to take the best of both cultures. I have cherished the tightly-knit Iranian family and broader community as a source of support, friendship, and guidance. The culture has millennia of roots and lessons. At the same time, I have benefited from the optimism, boldness, and ambition of America.
The United States has welcomed people and cultures from all over the world, which has created a beautifully textured society that allows people like me to thrive. I am very proud of my hyphenated Iranian-American identity and am glad to be a part of this group that is so motivated, talented, and successful.
This post was published on the now-closed HuffPost Contributor platform. Contributors control their own work and posted freely to our site. If you need to flag this entry as abusive,
send us an email
.