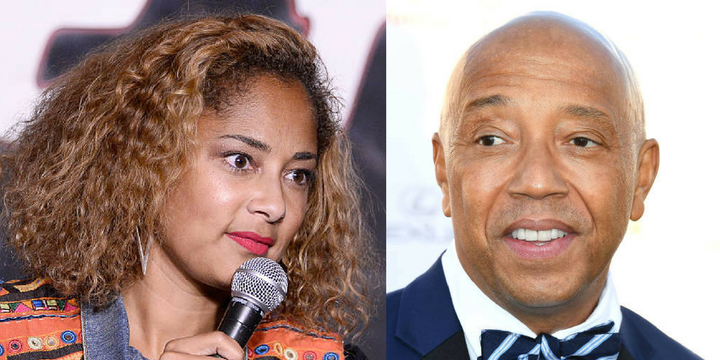 Comedian and actress Amanda Seales has a public service announcement for anyone tempted to ask a victim of sexual assault why they waited so long to say something: Don't.
"While in a very important man's office talking about working together, 'Uh, have we ever f**ked?'" Seales is seen saying in an old clip she posted on Instagram Saturday. After saying she answered "no," Seales claimed he responded, "Oh, right. Cause I would've remembered that, right?"
She spliced the old clip with a new one and revealed that the "important man" in the story was Simmons.
"You know how hard it was for me to say that," she continued. "And he didn't even assault me and I didn't wanna say that. That's how the game is f**ked up." 
Seales continued her message in her caption, explaining that "power dynamics" in a patriarchal and sexist society make it hard for people to believe they can expose harassment and assault without being unfairly questioned, especially in the workplace.
You wait because you know your vision is bigger than their indiscretion and refuse to let it derail you from your goals. You wait because you don't even want to acknowledge the f**kery for longer than you have to when you know the odds are there will be no consequences, you'll be dismissed, or worse defiled yet again and would rather get on with the positive things in your life. You wait because, especially when it's a black man of prestige, you are conditioned to not speak defamatory truths for fear it will undermine their contributions to the community. Lastly, you wait, because you don't even wanna believe it ya damn self.
Seales ended her post calling for more people to call out predatory men publicly instead of simply warning women about them behind closed doors.
"No matter how seemingly benign or intrusive, no one wants to endure this, particularly in professional settings," she wrote on Instagram. "Yet, so many of us have so many of these stories and we come to operate like a clandestine anti-#creeplifes coalition of alerting others to, 'watch out for so and so.' Let that be no more. It is not okay. It is not the culture. It is not your fault. Expose them."
Days after denying that he assaulted model Keri Claussen Khalighi, Simmons issued a statement addressing Lumet's claims. HBO has since removed the mogul's name from their "All Def Comedy Series," and J.C. Penney has pulled his clothing line from their stores.
BEFORE YOU GO