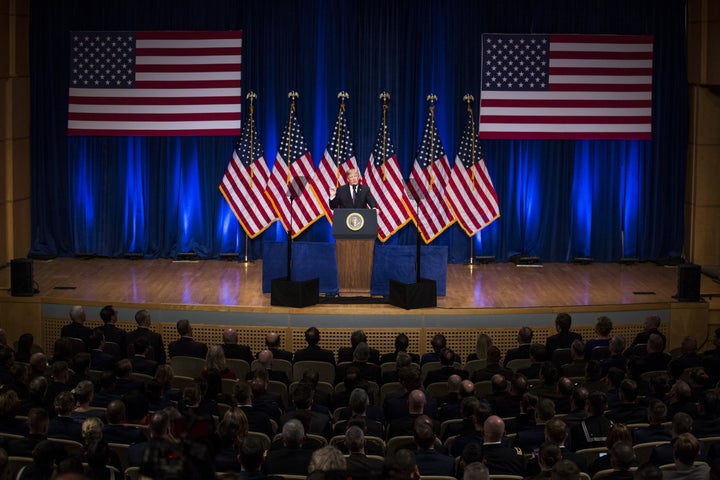 No foreign enemy could have degraded America's global standing so completely as has President Trump.
He insults adversarial foreign leaders in tweets, then melts in their presence. He changes positions based on personal flattery. He constantly parades his ignorance — of world history, geopolitics, or the implications of nuclear war. His erratic behavior and bellicose bluster provoke contempt and alarm among heads of state and the global populace. In word and manner, he is a grotesque parody of the American buffoon abroad — armed with terrifying power.
Throwing the shreds of his reputation to the winds during a recent speech at the Reagan Library, national security adviser H.R. McMaster compared Trump to Ronald Reagan, who "understood that diplomacy and military force were both important and equally vital tools of national power." This about a president who dismissed the importance of diplomats and their expertise, informing Laura Ingraham and the world: "I'm the only one that matters."
Trump believes it. He treats his own State Department as inimical, an object of suspicion and contempt. He proposes to cut its budget by 30 percent. He and Secretary of State Rex Tillerson have yet to fill nearly half of State's ambassador-level or higher positions.
He has provoked an exodus of demoralized diplomats, including 100 senior foreign service officers. The hiring of new officers has stagnated. He is gutting our capacity to formulate foreign policy or conduct face-to-face diplomacy — now, and in the future.
This is ahistorical. The post-World War II architecture of international relations — the UN, NATO, the World Trade Organization — was forged by American diplomats. Our leadership of Western democracy was sometimes fraught with error. But only a fool would deny its accomplishments, turning his back on diplomatic engagement with the world.
That's Trump. Routinely, he alienates the allies we need most to help preserve global stability and protect our national security. He recently offended Prime Minister Theresa May of Britain by tweeting racist videos from British anti-Muslim extremists. When May protested, he tweeted a rebuke to the wrong Theresa May, a British housewife.
Nonetheless, McMaster assures us, Trump realizes that Russia and China are "subverting the post-World War II political and security orders" at our expense. Really?
Under Trump's presidency, China is boldly filling the vacuum he creates. It is spending billions on infrastructure spanning Africa and Asia, on the formation of an Asian Infrastructure Investment Bank, and on a military buildup in the South China Sea. However cynically, it is embracing the role of environmental leader, promoter of free trade, and believer in global institutions.
Meanwhile, Trump repudiates American trade arrangements with friendly nations, including — remarkably — South Korea. Particularly egregious, he ripped up the 12-nation Trans-Pacific Partnership free trade deal, abandoning our allies and ceding economic dominance in Asia to the Chinese. As Susan Rice puts it, he seems bent on "making China great again."
What does Trump get for these preemptive concessions? Nothing. For all Trump's wheedling, President Xi Jinping of China withholds decisive help in curbing the nuclear ambition of its quasi-client state, North Korea. No matter — during Trump's visit to China, Xi threw him a very big parade, reducing Trump to paroxysms of pleasure.
As for Russia, Trump parrots Putin's transparent lies denying Russia's attack on our 2016 election, behaving more like a Russian asset than an American president. This despite our European allies' concerns about Russia's attack on their own electoral processes and Russia's unwillingness to help put meaningful pressure on North Korea. Elsewhere, Trump watches as Putin helps the murderous Assad regime in Syria slaughter its way to survival, while denying refuge to its survivors.
Ironically, McMaster claims that Trump, like Reagan, speaks "truth about the sufferings of people living under fear and oppression." Inaudibly — Trump barely mentions human rights, and his State Department has abandoned this subject in dealings with authoritarians.
Our policy toward nuclear North Korea is a shambles. Trump has mocked Tillerson's efforts at diplomacy, lobbed juvenile insults at Kim Jong Un, and brandished the threat of nuclear war. Absent concerted help from China and Russia, Trump has no recourse but to fall back on nuclear deterrence — or unilaterally provoke a potentially catastrophic military confrontation.
His derelictions and misjudgments spare no corner of the world. He has no coherent policy toward the Middle East, allowing Iran and Hezbollah free reign in Syria. Instead, he threatens to repudiate the Iranian nuclear deal, creating the prospect that the other parties to the deal, including our European allies, will continue to abide by it while giving Iran increased economic benefits — isolating America instead of Iran.
His reason for such shortsightedness? Political posturing. During the campaign, he rallied right-wing supporters of Israel by denouncing the Iran deal and now wants to appear tough. Equally political is his decision to recognize Jerusalem as Israel's capital by moving the U.S. embassy there, a gesture that serves as a gift to Syria, Hezbollah, and Sunni extremists, and which has roiled the region and diminished, perhaps permanently, America's role in attempting to broker peace between Israel and the Palestinians. In return, yet again, Trump received absolutely nothing.
Except, of course, for the approval of his base. This was not foreign policy, but a domestic pander to extreme Christian evangelicals — whose demented theology casts Israel as the canary in God's apocalyptic mine shaft — and rich right-wing Zionists like Sheldon Adelson.
This is the foreign policy of a narcissist fixated on the mirror. When Trump said, "I'm the only one that matters" in foreign policy he was, sadly, sharing his inner truth.
Richard North Patterson's column appears regularly in the Boston Globe. His latest book is "Fever Swamp." Follow him on Twitter @RicPatterson.