If one were to draw up a quick list of important American plays that deal with families in crisis, I'm pretty sure the following 10 dramas would rank near the top.
Awake and Sing! (1935) by Clifford Odets.
The Little Foxes (1939) by Lillian Hellman.
The Glass Menagerie (1944) by Tennessee Williams.
Death of a Salesman (1949) by Arthur Miller.
Long Day's Journey Into Night (1956) by Eugene O'Neill.
The Subject Was Roses (1964) by Frank D. Gilroy.
A Delicate Balance (1966) by Edward Albee.
Buried Child (1978) by Sam Shepard.
Fences (1983) by August Wilson.
August: Osage County (2007) by Tracy Letts.
While each of these dramas deals with weighty issues, it's no surprise to hear the audience frequently laughing during the performance. Is it because one man's tragedy is another man's comedy? Or because human beings, in their most fallible moments, are a constant source of wonder and entertainment?
Following her trip to the magical land of Oz, Dorothy Gale learned that there's no place like home. But in some dramas, a threat to a family's real estate (whether or not the actual residence has been a warm and loving home) can provide the catalyst that launches a painful family conflict. In 2010, Bruce Norris brought new meaning to that theory with Clybourne Park, a play set in the home purchased by Chicago's Lena Younger in Lorraine Hansberry's groundbreaking play, A Raisin in the Sun (1959).
In Clybourne Park, audiences first see the home in 1959, as its previous owners are preparing to make way for the Younger family to move in and then, again, in 2009 after the neighborhood has gone through several waves of gentrification. Like most dramas that involve a conflict of interests, you can learn a lot by following the money.
* * * * * * * * * *
The California Shakespeare Theater opened its 40th season with a deeply moving production of A Raisin in the Sun. At the time of its world premiere, Lorraine Hansberry was the first African American (and African American female) playwright to have a play produced on Broadway. In the two years following its opening, Hansberry's drama was translated into 35 languages.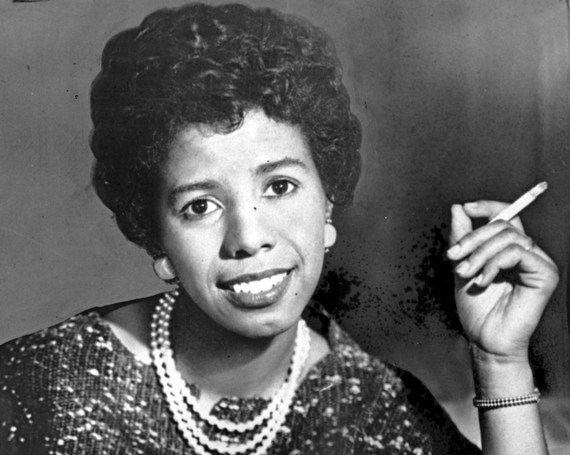 Lorraine Hansberry
Much of the play's tension comes from her experience as an eight-year-old girl, watching what happened when her father, Carl Hansberry (a real estate agent), purchased a home in an all-white neighborhood at a discounted price. In her posthumously published book entitled To Be Young, Gifted, and Black, Hansberry wrote:
"Twenty-five years ago, [my father] spent a small personal fortune, his considerable talents, and many years of his life fighting, in association with NAACP attorneys, Chicago's 'restrictive covenants' in one of this nation's ugliest ghettos. That fight also required our family to occupy disputed property in a hellishly hostile 'white neighborhood' in which literally howling mobs surrounded our house... My memories of this 'correct' way of fighting white supremacy in America include being spat at, cursed, and pummeled in the daily trek to and from school. I also remember my desperate and courageous mother patrolling our household all night with a loaded German Luger (pistol), doggedly guarding her four children while my father fought the respectable part of the battle in the Washington court."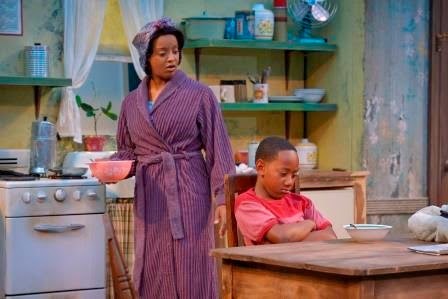 Ruth (Ryan Nicole Peters) feeds her son Travis (Zion Richardson)
his breakfast in A Raisin in the Sun (Photo by: Kevin Berne)
In Hansberry's play, the child is a boy whose father desperately wants to become a role model for his innocent, young son. Despite facing huge obstacles caused by racial segregation, the Younger household is nevertheless bursting with ambition.
Walter Lee (Marcus Henderson) is a hot-headed fool employed as a white man's chauffeur who has dreams of investing in a liquor store. Unfortunately, the deck is stacked against him.
Walter's son, Travis (Zion Richardson), wants to become a bus driver when he grows up.
Walter's sister, Beneatha (Nemuna Ceesay), wants to go to medical school but has trouble resisting the attention of an exchange student named Joseph Asagai (Rotimi Agbabiaka), who paints a very different vision of what her life could be like as a proud black woman in his home country of Nigeria.
Walter's wife, Ruth (Ryan Nicole Peters), wants to escape from the dilapidated, rat-infested tenement in which the Younger family has been living.
Walter's mother, Lena (Margo Hall), wants to make the best possible use of the $10,000 insurance check she is about to receive following her husband's untimely death. Her goal is to provide for the future of her children and maybe even have a little money left over for small garden of her own.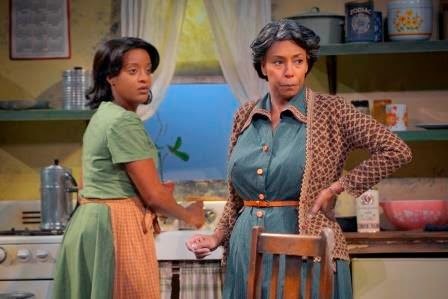 Ruth (Ryan Nicole Peters) and her mother-in-law, Lena (Margo Hall)
in a scene from A Raisin in The Sun (Photo by: Kevin Berne)
Written in 1957, A Raisin in the Sun deals with many of the issues faced by families around the world: an unexpected pregnancy, the desire to move to a better location, the hope that one's children can receive a better education than their parents did, the need to retain one's sense of personal dignity, and the fact that a fool and his money are soon parted. What Hansberry's play accomplished, however, was to let mainstream audiences see how the same, familiar drama played out within a contemporary African-American household.
A Raisin in the Sun was nominated for four Tony Awards and won the New York Drama Critics' Circle Award for Best Play of 1959. Sidney Poitier and Claudia McNeil starred in the stage and film versions of the play.
In 1973, the musical adaptation of Hansberry's play (Raisin) won the Tony Award for Best Musical.
During the decade following the Broadway premiere of A Raisin in the Sun, while America struggled with the growing tensions of the Civil Rights movement -- as well as the assassinations of President John F. Kennedy, Robert F. Kennedy, and the Reverend Dr. Martin Luther King, Jr. -- Broadway audiences got quite an education about racism and anti-Semitism:
After September 22, 1964 (when Fiddler on the Roof opened on Broadway), the show's producers and creative team were surprised and deeply gratified to discover that non-Jewish audiences often responded to Tevye's tsuris as if it represented their own ethnic struggles.
In November 1966, when Cabaret premiered on Broadway, audiences were brutally confronted with the rampant anti-Semitism in Germany's Weimar Republic.
In April 1967, Hallelujah, Baby! followed its ambitious and ageless heroine through the first half of the 20th century. The show won five Tony Awards, including Best Musical, Best Leading Actress in a Musical for its star (Leslie Uggams), and Best Featured Actress in a Musical (Lillian Hayman).
On November 12, 1967, Pearl Bailey and Cab Calloway took Broadway by storm with an all-black cast of Hello, Dolly! (I was lucky enough to be in the St. James Theatre that night). Many theatregoers had never seen so many talented African-American performers on one stage.
In 1968, when Hair moved uptown and settled into the Biltmore Theatre for a long run, Broadway audiences saw black and white actors performing (and disrobing) together.
Sadly, Hansberry was diagnosed with pancreatic cancer in 1963. Her only other play to be produced during her lifetime was The Sign in Sidney Brustein's Window, which closed after 101 performances on January 24, 1965 (the night Hansberry died at the age of 34). Had she lived, Hansberry would have been astonished to watch America elect an African-American President in 2008 and see the Obamas attend this year's revival of her play (starring Denzel Washington) in New York.
Directed by Patricia McGregor, the California Shakespeare Theater's production of A Raisin in the Sun helps Bay area audiences return to the source and experience Hansberry's drama anew. While racism is still very much a problem in America -- and the clumsy attempt by Karl Lindner (Liam Vincent) to buy off the Younger family in order to prevent them from moving into Clybourne Park is still shocking -- most theatregoers are a lot more enlightened than audiences might have been in 1959.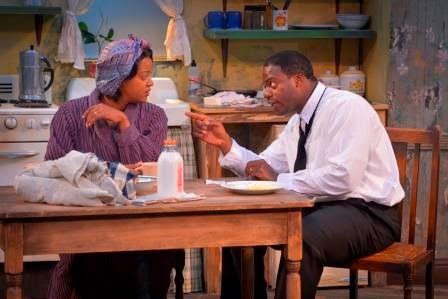 Ruth (Ryan Nicole Peters) argues with her husband, Walter Lee
(Marcus Henderson) in a scene from A Raisin in the Sun
(Photo by: Kevin Berne)
McGregor has a top-notch ensemble at her fingertips and the results of their work are quite admirable. Marcus Henderson gives a powerhouse performance as Walter Lee while Ryan Nicole Peters (Ruth) and Nemuna Ceesay (Beneatha) bring depth and dignity to their characters. Rotimi Agbabiaka does some beautiful work as Joseph Asagai. York Walker does double duty as Beneatha's date, George Murchison, and Walter Lee's hapless friend, Bobo.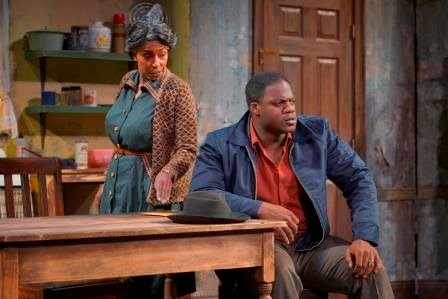 Lena (Margo Hall) and Walter Lee Younger (Marcus Henderson)
in a scene from A Raisin in the Sun (Photo by: Kevin Berne)
While many people think of A Raisin in the Sun as a star vehicle for the man who portrays Walter Lee Younger, the play gets its real dramatic strength from the actress portraying his mother, Lena. As expected, Margo Hall delivered the goods with a performance of deep inner strength, unconditional love for the son she suspects to be a fool, and the iron will to inspire him to stand up for his family and not "sell out to the man." Her portrayal of Lena is one in a long line of memorable performances by one of the Bay area's most gifted actors.
* * * * * * * * * *
Berkeley Repertory Theatre recently presented the West coast premiere of Tony Kushner's intense family drama entitled The Intelligent Homosexual's Guide to Capitalism and Socialism with a Key to the Scriptures (iHo). Directed by Tony Taccone, it is a mammoth achievement which puts a massively dysfunctional Italian-American family on display, warts and all.
Clocking in at nearly four hours in length (with two intermissions), iHo is the kind of play one could love or hate. But this much is certain: With so much emotional baggage fighting for the spotlight, you'll never be bored.
If I have one reservation, it's that Kushner sets up numerous passages in which rival conversations/arguments take place simultaneously, making it nearly impossible to understand anything being said. After several of these schizophrenic scherzi (which resemble the shape-shifting and frenetic buzzing of swarms of bees), one gets used to the fact that this is a family where everyone talks but no one really listens. Having accepted that baseline of dysfunctionality, one develops a much better understanding of the family dynamic.
When push comes to shove, how can you not love a play whose first act builds to a breathtaking climax with the precision of an operatic Rossini ensemble and whose conclusion could rival that of Frank R. Stockton's 1882 short story, The Lady, or the Tiger?
The protagonist in Kushner's play is Gus Marcantonio (Mark Margolis), a retired dockworker who enjoyed a second career as a union organizer. A life-long Communist, Gus is now in his early '70s and convinced that he is developing Alzheimer's. In order to maximize the estate he can leave to his children, he has decided to sell the family home in the Carroll Gardens section of Brooklyn to an undisclosed buyer.
Gus is also determined to commit suicide and has contacted an old friend, Shelle O'Neill (Robynn Rodriguez), whose husband suffered from amyotrophic lateral sclerosis (Lou Gehrig's disease). Gus knows that Shelle can help him with the details of how to kill himself.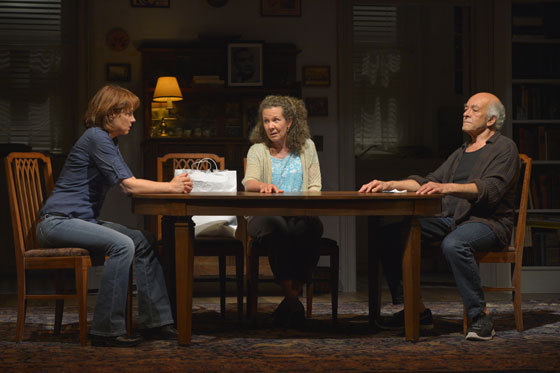 Empty (Dierdre Lovejoy), Shelle (Robynn Rodriguez), and Gus
(Mark Margolis) discuss the properly methodology for committing
suicide in The Intelligent Homosexual's Guide to Capitalism and
Socialism with a Key to the Scriptures (Photo by: Kevin Berne)
Kushner's play takes place in June of 2007, at the height of the real estate bubble, when cashing out makes sense to Gus. Although he loves his children dearly, they often drive him crazy. In fact, Gus often feels as if their narcissism and emotional neediness are what's killing him.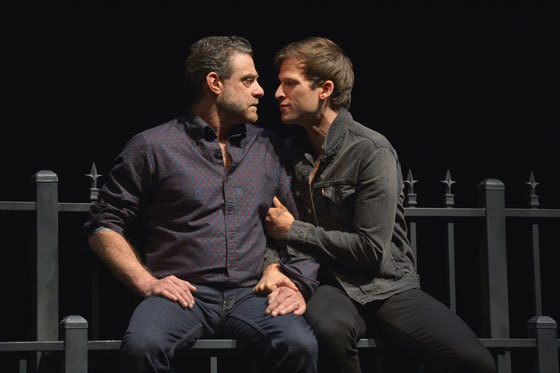 Pill (Lou Liberatore) thinks he is in love with Eli (Jordan Geiger) in
The Intelligent Homosexual's Guide to Capitalism and Socialism
with a Key to the Scriptures (Photo by: Kevin Berne)
Pill (Lou Liberatore) is a deeply conflicted gay man who, despite being in a long-term relationship with a theologian (Tyrone Mitchell Henderson), has spent $30,000 of his sister's savings on Eli Wolcott (Jordan Geiger), a male hustler whose vulnerability touches him. The sad truth is that Pill enjoys sex much more when he has to pay for it, a fact which does not sit well with his partner at all.
When Pill suggests that he and Paul move Eli out to their home in Minneapolis and welcome him into a thruple arrangement, his devoted partner erupts, delivers a scathing takedown followed by an ultimatum, and gets ready to head back to the Midwest -- with or without Pill (short for Pier Luigi) by his side.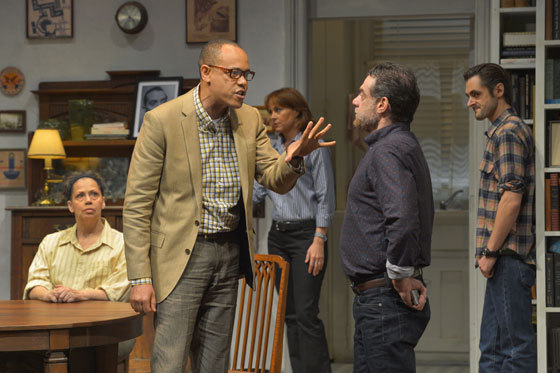 Paul (Tyrone Mitchell Henderson) lays into his lover,
Pill (Lou Liberatore) in a scene from The Intelligent Homosexual's
Guide to Capitalism and Socialism with a Key to the Scriptures
(Photo by: Kevin Berne)
Empty (Deirdre Lovejoy) has always been Gus's little girl. He coached her in Communist theory, labor relations, and watched as his daughter evolved into a nurse and then switched career tracks to become a talented labor lawyer. Empty (a nickname for Maria Theresa) used to be married to Adam Butler (Anthony Fusco), who now lives in Gus's basement apartment.
Since coming out as a lesbian, she has gotten into a relationship with Maeve Ludens (Liz Wisan), who is now nine months pregnant and about to go into labor. Curiously, Empty shows little concern for Maeve (also a theologian) and is more intensely focused on pleasing her father.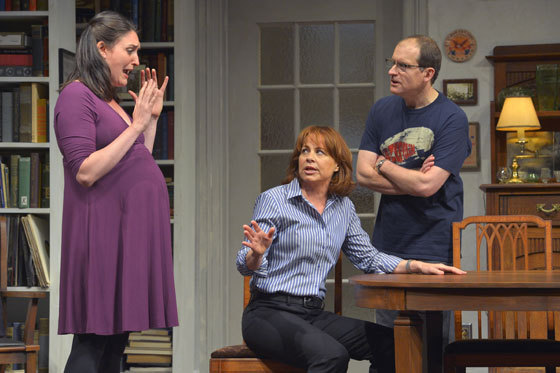 Maeve (Liz Wisan), Empty (Deirdre Lovejoy), and Adam
(Anthony Fusco) get into an argument in a scene from The
Intelligent Homosexual's Guide to Capitalism and Socialism
with a Key to the Scriptures (Photo by: Kevin Berne)
Vito (Joseph J. Parks) is Gus's youngest child. Mechanically gifted but dangerously short-tempered, he is married to Sooze (Tina Chillip), an attractive young Asian-American who has mastered the art of communicating her displeasure with a royal stink eye. When, in a burst of anger, Vito shoves a bust of Garibaldi through a wall and discovers an old attaché case, Sooze can't wait to learn what is hidden inside.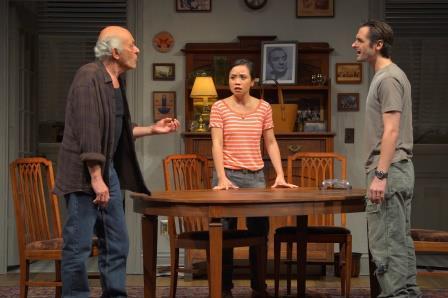 Gus (Mark Margolis), Sooze (Tina Chillip), and Vito (Joseph J. Parks)
in The Intelligent Homosexual's Guide to Capitalism and Socialism
with a Key to the Scriptures (Photo by: Kevin Berne)
Watching Gus's emotionally needy children and their spouses from a jaundiced, "seen-it-all" point of view is Gus's sister, Clio (Randy Danson). After a colorful past that included several years as a nun, Clio has finally learned how to let go of things she can't control. Despite her brother's determination to commit suicide, she knows it is time for her to move on.
Working on Christopher Barecca's jigsaw puzzle of a set, Tony Taccone has done quite an impressive job of staging a complex work about politics, passion, prostitution, and priorities in which the most lucid character turns out to be a well-educated hustler (the whore who speaks the truth). Above all, Berkeley Rep's production of The Intelligent Homosexual's Guide to Capitalism and Socialism with a Key to the Scriptures offers Bay area audiences a chance to marvel at the craft of a master playwright and how his characters have been brought to life by a gifted ensemble.
To read more of George Heymont go to My Cultural Landscape