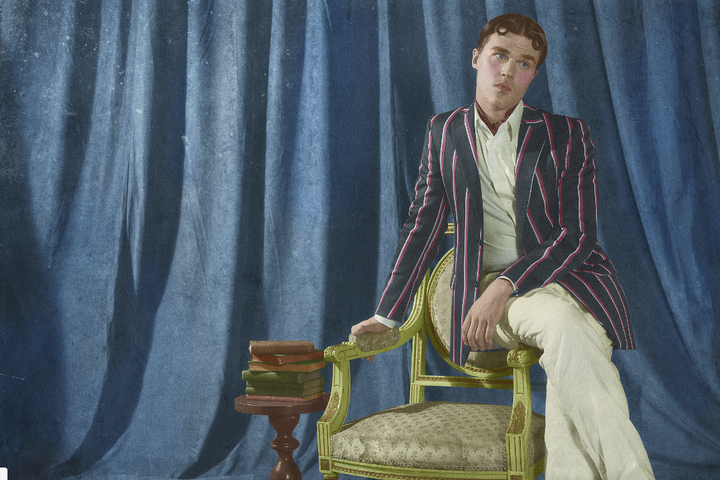 "American Horror Story: Roanoke" took its time introducing us to fan-favorite Evan Peters' character, but it was worth the wait.
In Wednesday's episode, Peters is Edward Philipe Mott, the Colonial-era gentleman who built Shelby and Matt's Shaker-style mansion in 1792. If the name sounds familiar, that's because he's the ancestor of Dandy Mott, Finn Wittrock's character in "Freak Show." Like his relative before him, Dandy was also a deeply spoiled man; he simply fancied circus culture instead of art.
Edward Mott purchased a lot's worth of fine art at auction in Philadelphia and brought it to North Carolina along with his male lover. As a society man with severe social anxiety, he abandoned his wife and children for walls full of paintings in the remote South. He didn't last long in his new home, though. During its construction, workers experienced accidents and odd events, and, upon its completion, a mysterious entity destroyed his beloved collection in the dead of night. Mott retaliated by locking all of his servants but one (his lover, of course) in the cellar, but Kathy Bates' Butcher soon caught up with him. She ordered him impaled and burned; the only free servant was jailed for presumably killing his master, and the remaining servants died of starvation.
According to a historian in the episode's documentary segments, the Mott line survived through Edward's children. That is, until 1952, when the last one died after a scandal in Florida. Dandy Mott, as we know, was drowned by the few "freak show" troupe members he hadn't murdered.
Lucky for Matt, Shelby and Flora, though, Edward Mott's ghost carries a lot of guilt. He was quick to help them escape the house through a secret tunnel system, and, later, to make their "grrrand escape" from The Butcher's angry mob. 
In the episode's final moments, the little family is safe in a motel room and their horror story seems to have come to an end. And that makes us all the more ready to watch the big twist unfold next week in Episode 6.
"American Horror Story: Roanoke" airs Wednesdays at 10 p.m. ET on FX.
BEFORE YOU GO
PHOTO GALLERY
A Ranking Of Wise TV Narrators