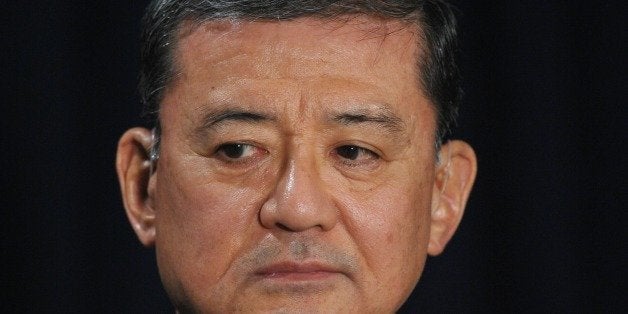 Amid the recent calls from the American Legion and Koch brothers-backed Concerned Veterans for America for Secretary of Veterans Affairs Eric Shinseki to resign, I will admit that Secretary Shinseki kind of stinks at one particular thing -- public relations.
Throughout his tenure, whenever his leadership was getting attacked by Republicans, Secretary Shinseki never made it about himself. He never really tried to defend himself, or take a more aggressive posture toward promoting his strengths in the public eye. In fact, I'd venture to say that the overwhelming number of Americans has no idea who the Secretary of Veterans Affairs is.
That, more than any deficiency at a given VA outpost, is hurting him a lot. But it also says a lot about the kind of person that he is. He's not a typical Washington operative. Throughout all the attacks on him, he's kept his head down, and kept working for veterans.
When many complained that the backlog of disability claims among veterans was unacceptable, and that Shinseki was the man to blame for it, he didn't much offer a personal defense. No, Shinseki just went about his job, and the backlog has seen a pretty significant dent in it, as a result. Just last month, it was reported that the claims backlog was reduced by 44 percent.
And on the health care front, year after year, according to an independent survey VA services continue to outrank private hospitals in customer satisfaction and out-performed the private sector benchmarks on several widely accepted measures of effective care such as reduction in rates of hospital associated infections where VA is a leader and the private health care industry is struggling.
This isn't to say that what's been reported at the Phoenix VA facility, and others like it, is acceptable. Far from it. It makes my skin crawl and my blood boil to hear that possibly as many as 40 veterans may have died, waiting for care from that facility. As someone who lived in Pittsburgh after returning from my first tour, it made me furious to hear about the Legionella outbreak at the facility there. We cannot accept substandard care for veterans whether that is in VA hospitals or private sectors hospitals.
Yes, Secretary Shinseki does owe us an explanation. But he owes it after a thorough investigation of these serious allegations is able to determine exactly what happened. Shinseki has stated that if the investigation substantiates allegations of employee misconduct, swift and appropriate action will be taken.
I'm not one to shy away from calling him to step down. I backed the calls to have Secretary Jim Nicholson resign, under President Bush, when it turned out he had grossly mismanaged budget requests to Congress, and ended up having to come back to beg for billions of dollars in emergency funding. But, in that case, Secretary Nicholson was intimately involved with budgeting the agency. That was a huge chunk of his job. We have no idea to what extent VA health officials at an individual VA facilities -- of which there are 151 hospitals, 820 community clinics, and 300 vet counseling centers alone -- passed information about their challenges locally up their chain.
Also, it is rank hypocrisy for those on the right to be raising a ruckus. Senator Bernie Sanders introduced a very sensible piece of veterans legislation that was defeated by Senate Republicans, in February. The bill would have put just a little over $20 billion into expanding and improving VA health care services. Nearly every single veterans group, except the Koch-backed Concerned Veterans for America, supported it. That includes the American Legion. There's one reason that the bill didn't pass, and that's because of Mitch McConnell and his caucus. Something tells me that, right now, they are trying to do everything they can to deflect attention away from their February votes, a month before Memorial Day.
In the end, there will be accountability for the issues we're seeing at VA centers. But, we need to wait and see what an investigation finds. For, while it could be that VA senior leaders are to blame, we also may find out that these VA centers desperately could have used more staff and funds. In that case, Senate Republicans will have to explain their vote to deny funding for veterans, when they derailed the Sanders bill.