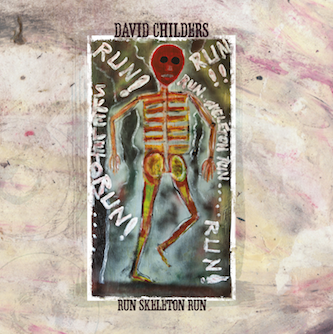 I first heard of David Childers in December 2014, at an Avett Brothers show in Myrtle Beach, South Carolina. As soon as Scott Avett sang the opening verse—"It was a New Years Day at the seaside bar / there was a special on PBR / the ocean roared outside the door / no one but us and some hardcore drinkers / lost in the stormy day / how blue were the blue of your eyes / against the sky of grey"—a good segment of the crowd cheered and began to sing along. I hadn't been to many Avett shows yet, so I was lost. I turned to my equally clueless sister and said: "that isn't an Avett song, whose song is that?" We looked it up on the way back to the hotel, discovered it was called The Prettiest Thing, and immediately downloaded Childers' excellent 2011 album Room #23. I realize now that The Prettiest Thing is a wildly popular part of the Avett Brothers live show. They have played it almost 100 times in the past five years and the 10,000 member Facebook group Avett Nation recently voted it as the top cover song performed by the band. The beauty and narrative power of David Childers' music was clear to me the first time I heard his work. Based on my preview of his new album, Run Skeleton Run, Childers is poised to win even more fans—if they have the opportunity to hear his music. So consider this your heads up.
David Childers is a poet/visual artist/songwriter/musician from Mount Holly, North Carolina, a small city just west of Charlotte. Childers' interest in music began in his teens. "My girlfriend had left me for one of my best friends and I was all shook up and needed an outlet besides drinking and fighting," he recalls. "As soon as I learned my first chords on a guitar, I knew I had a friend who would never betray me."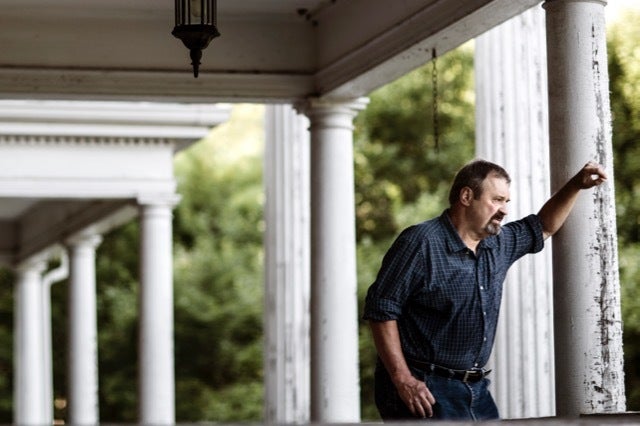 But Childers did not embark on a music career at a young age. Instead, he attended college and law school at the University of North Carolina and put his artistic endeavors on hold for several years as he focused on his legal career and family. He recorded his first album in 1998, when he was in his late 40s. A few years later, the Concord, North Carolina-based Avett Brothers released their first album. In those early years, Childers and the brothers played many of the same venues in and around Charlotte, sometimes appearing on the same bill. But while the Avett Brothers, then in their early 20s, quit their day jobs to focus solely on music, Childers struggled to balance recording and touring with his full time obligations.
Childers has left the practice of law behind to focus on his music; his connection with the Avett Brothers continues. Bob Crawford has worked with Childers on a number of projects, including two albums recorded as the Overmountain Men. Crawford was the co-executive producer, along with Dolph Ramseur, of Childers' most recent effort, Run Skeleton Run, set to be released by Ramseur Records on May 5, 2017. Crawford calls Childers "a great friend, a great thinker and a great man … a true North Carolina treasure." Scott Avett is also a big fan of Childers and contributes vocals and banjo to four songs on the album.
Run Skeleton Run was produced by Don Dixon at Mitch Easter's Fidelitorium Recordings in Kernersville, North Carolina. Dixon and Easter have built solid reputations in recognition of their long and storied careers. To this die-hard R.E.M. fan, their contributions to the legendary Chronic Town (1982), Murmur (1983), and Reckoning (1984) recordings immediately come to mind. Portions of the Avett Brothers' most recent album True Sadness were also recorded at the Fidelitorium. Dixon had worked with Childers on the aforementioned Room #23 (2011), and Crawford suggested that Childers collaborate with Dixon again on Run Skeleton Run. "I've made records in my living room and been perfectly happy with it," Childers recalled, "[b]ut I think ol' Bob wanted to give it one more shot." The result is a sophisticated, layered, and varied collection of songs, many co-written with other songwriters, yet all fit together into a cohesive album.
The title track leads off with a dramatic spoken word introduction by Scott Avett that recalls Johnny Cash's song The Man Comes Around (2002). (Childers is also a published poet.) Once the spirit of Cash is invoked, whether intentional or not, it is difficult to ignore. The song Run Skeleton Run has the same timeless, category-defying quality as Cash's music, blending rock 'n roll, Americana, country, and traditional Southern music with a driving beat.
With Russia appearing in the news on a daily basis, the second track, Radio Moscow, could be easily mistaken for a commentary on modern political controversy based on its title. Instead, Childers explains that the song speaks to his teenage years.
"I was very alienated from everyone around me in my mid-teens—absolutely the worst time of my life. When I was not in school, or playing football or basketball, I spent most of my time in an attic listening to music and reading. My parents gave me a shortwave radio for Christmas in 1965 and I eventually started listening to Radio Moscow every night. I flirted with the idea of being a Communist, mainly because it seemed cool and very romantic in some way; but, when I realized that's who the boys from our town were fighting against, and being killed by in Vietnam, I backed way off of my Bolshevik leanings. I kept that radio for a long time. It was great for listening to ball games and music on AM radio stations all over the USA."
Childers was kind enough to share this exclusive first listen of Radio Moscow with us.
Other notable songs on Run Skeleton Run include Greasy Dollar, which begins with an upbeat instrumental and yet tells the stories of men exhausted by the Sisphyean toil of dead end jobs. "Digging ditching all day out by the freeway / with a backhoe and a shovel crew / what good is living and what good is dying / if this is all I'm ever gonna do." The refrain again contrasts with the catchy tune, and the combination is evocative of the best of traditional country music—"Some say the world is made for fun and frolic / and so say I, indeed, oh so say I / but I've got to go and earn my greasy dollar / so I can keep on workin' 'til I die."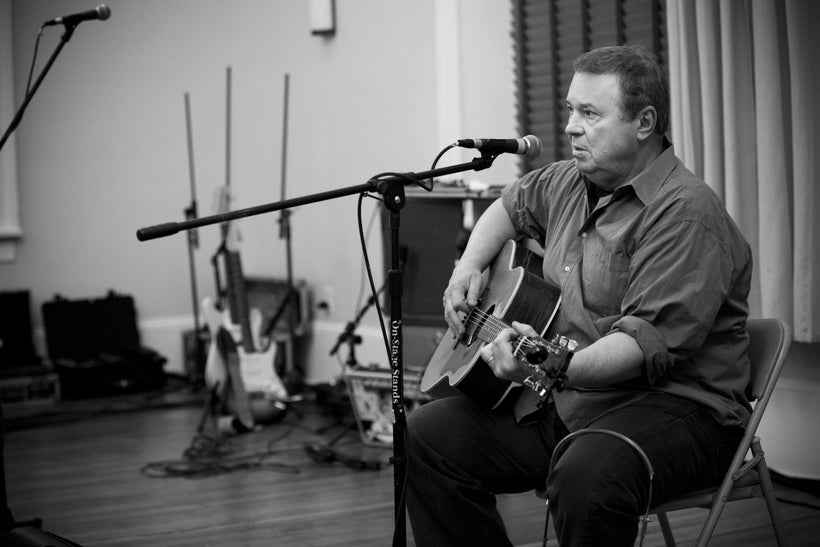 The album closes with Goodbye to Growing Old, a song Childers wrote with Theresa Halfacre. "I used to be afraid of growing old," Childers relates, "but now I wouldn't trade where I am for all the lean fury of my youth." The lyrics suggest both that struggle and acceptance.
"I saw that old man looking through the glass / I thought that I might cry but that soon passed / although he is alone, he will not be for long / and he won't waste time on chasin' what he lost / So I guess I'll say goodbye to growing old / keep your memory held to me close / I'll get on with the game, I ain't about to fold / guess I'll say goodbye to growing old."
One benefit of growing older is the opportunity to work with one's children and to embrace them as colleagues. David Childers' son Robert played drums/percussion on Run Skeleton Run and created the album cover art with his father. Both father and son have much to be proud of in this new album.
Run Skeleton Run will be released by Ramseur Records on May 5, 2017.
This post was published on the now-closed HuffPost Contributor platform. Contributors control their own work and posted freely to our site. If you need to flag this entry as abusive,
send us an email
.