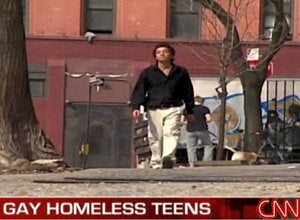 CBS's "As the World Turns" won for outstanding daily drama. The show had gained a lot of attention over the past year for including a gay romance in its main storyline. This is not the first time "Turns" has featured gay characters, however. Back in 1988 it was the first American soap opera to feature a gay male character.
In other news, singer Rufus Wainwright bagged his third GLAAD Media Award for 2007's "Release the Stars." The organization also honored openly gay MTV Networks president Brian Graden with the Vito Russo Award, and Judy Shepard — the Executive Director of the foundation started in the name of her murdered son, Matthew Shepherd — with an Excellence in Media Award.
Only twenty-six of GLAAD's 40 awards were presented last night. The rest will be distributed at three upcoming awards ceremonies: at the Seminole Hard Rock Hotel & Casino in South Florida on April 12, at the Kodak Theatre in Los Angeles on April 26, and at the San Francisco Marriott in San Francisco on May 10.
CBS' prize-winning "Don't Ask, Don't Tell" clip: