By Andrea Gargotta
Recently I have had quite a few occasions to host parties. Over the course of one month I will have my daughter's First Holy Communion, my son's elementary-school graduation, and several family events to celebrate both. For me, when the emotions start to get the best of me and I am crying buckets at the thought of my babies growing up, I start planning parties. It is my way of keeping some sort of center while celebrating their incredible achievements and rights of passage.
Use what you have to create something special
In planning my events I love to create my own floral arrangements. With all the beautiful bounty of my home garden I filled different size mason jars with lemons and then bouquets of fresh herbs around the house. This also makes a sweet take-away gift for guests.
Find special events that you can accent
Coming up this week is an event at my children's school. It is a special graduation luncheon for students as well as their puzzle partners they had in kindergarten. At their school each year the younger children are paired with an older student to act as a big buddy and learning partner. The incoming kindergarten children are paired with the graduating sixth graders. The six graders create individual handmade puzzles for the kindergarten students. It is a very special and long-lasting bond that is created between the kids. So it is with great excitement that we invite these former sixth graders to share a magical memory and return for a luncheon, as the former kindergarten partners have now become the graduating sixth graders.
Add a special, unique touch
For this event, I really wanted to do something whimsical and special. My son is an avid collector of vintage pencil sharpeners and pencils. So immediately I went to that thought, How can I incorporate this in the florals?
Then it came to me: pencils! I purchased small square glass vases from a craft store. I then used foam floral decorating square and cut it to fit the vase leaving a slight gap in between the glass and the foam.
I then stuffed mini-colored pencils in between the foam and the glass. I went with some points up, some points down. But you could pattern any way you like.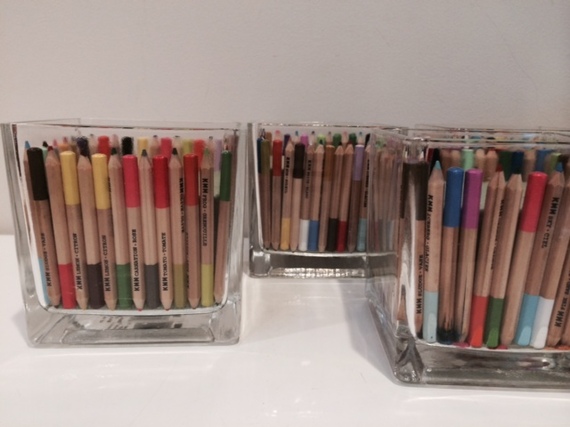 At my Sunday farmers market I purchased many varieties of florals so that each vase would have one color theme. I had five arrangements to create and went with white, red, pink, purple, and yellow. I cut all the leaves off and cut down the flowers so I could fill the foam with a tight assortment of flowers.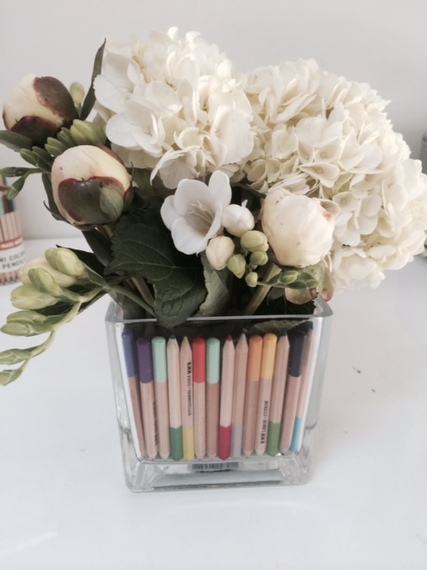 Continue the theme, and be creative
I love how it came out so much that I am already planning what to do for my son's family grad party. I have selected my favorite school photos over the past years, cut them down and laminated them. So instead of pencils I will use photos in the vases! My point is this: In order to create a truly unique and memorable piece, you should allow yourself the freedom to get creative.
It's all in the details
I also believe that to make a party memorable every detail must be remembered. Sometimes we think, "Oh it's only family" and we don't put in the extra thought. I always want my guests--and especially my family--to feel my love so I put the love into everything I do in my parties. I hope this inspires you to have fun and share the love.
Ciao!
Professional chef and party planner Andrea Beth Gargotta has built a career on effortlessly dishing up a variety of healthy, exotic dishes. She is known for her art of detail in every aspect of the culinary experience -- from menu development to shopping to clean up. She opened and ran her highly acclaimed craft-services company, Andrea's Craft Service, with the goal of creating a healthier food experience on the film set, gaining admirers such as Tim Allen, Mary J. Blidge, Michael Bay, Joe Pytka, Adam Sandler, Jane Seymour, and countless other A-listers. She is at work on a book about her culinary experiences.