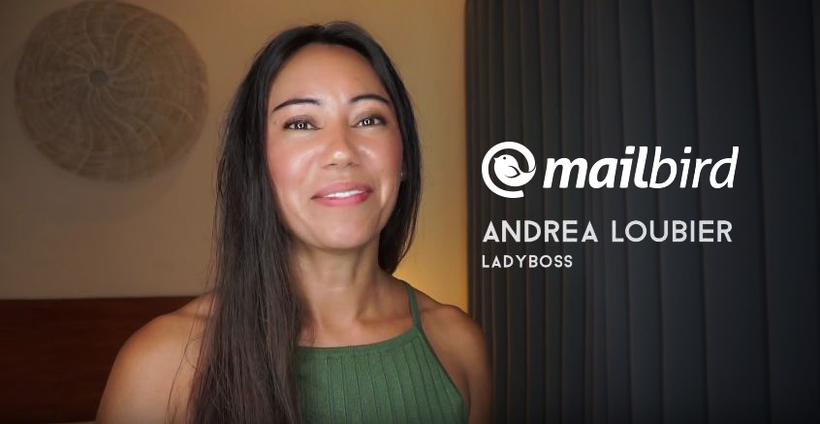 Andrea Loubier is the CEO of Mailbird, an email platform that unifies personal and business communication into one beautiful tool. Andrea is a third culture kid, a true world citizen who's passionate about female leaders, entrepreneurship and starting businesses from the ground up.
Today is a great day to check out Mailbird. One of the most requested email features is coming with Andrea's company, and it will beautifully sync both personal and business contacts into one place.  Mailbird, recently acclaimed as the best email client ever, is releasing Contact Sync Tuesday April 25th, 2017.
1) How have you developed as a leader forming and working at Mailbird?
At my first professional career right out of college, I worked at a market research firm. Here I was promoted and entered into management roles with both people and projects. So the foundation for leadership was instilled from there. After that, it became more second nature for me to take the lead in different situations, both professionally and personally in life. Perhaps the fact that I also grew up as an only child, you learn to take decisions and life into your own hands. You learn how to be independent, resourceful and creative in achieving what you want.  As the CEO of Mailbird, over the last 5 years, I've learned more than ever and am always looking at ways I can improve my leadership skills. I'm empathetic, direct and results oriented. I've learned to prioritize, as timing is the most critical thing when building a business, as well as your drive and dedication to the bigger purpose and vision of what you are doing. 
2) What were the highlights and challenges of creating and developing your company, Mailbird?
Highlights was our first public launch where we were being chased down by major tech journalists. It was epic. The best public launch of my first software company ever. Exactly how I imagined it. On top of that, the amount of vulnerability, risk-taking and learning that was expedited over that first couple of years was incredible. The next highlight is having the flexibility and freedom to build an incredible business and email tool that people around the entire globe would be using, that would make their online communication and productivity life so much better. Seeing our growth in terms of users and revenue continue to improve every week, month and year. Awesome. Best of all is the fact that I've been able to assemble and lead an incredible team of people who I can consider my family and colleagues. We are all in it together. The challenges we've faced include entering into new markets where we dont have presence or experience in. Even though we have Mailbird available in Mandarin/Chinese, marketing in that country is significantly different than in our primary English speaking markets. Other challenges are understanding the impact of listening to customer demands versus prioritizing our current road map. Learning to say no has been a challenge when talking to potential partners and even customers. You can't do everything, and that can be tough sometimes. 
3) How does the mission of Powers Education speak to you and why do you think it is important for Powers Education to exist? 
It's awesome to connect with change makers in tech that just so happen to be women. I think this is incredible to have education that has women first, addressing issues of lack of confidence and lack of inclusion in STEM fields. Having a support and educational infrastructure for women that encourages a strong foundation for success in science, math and tech is awesome. When I started Mailbird with my two co-founders I learned to manage my own learning, productivity and confidence. I'm the CEO of a tech company, and even though I took a couple of programming classes in college, I would have never thought that it would be my path.  That's the beautiful thing about it, that even if you are not trained in technology or science, doesn't mean you cannot pursue it and lead it. I'm a big believer in learning by doing. Support for women in fields that were not commonly inclusive of women can make all the difference in empowering more women to do awesome things in some of the most important fields out there.
4) Which female leaders do you admire and why?
Marissa Mayer because she is incredibly smart, experienced and bold in what she does and leading two of the most successful tech companies in the world. In Southeast Asia, Huang Shao Ning who is the founder of JobsCentral which was later acquired by Career Builder is also an incredible lady in tech. These women are paving the way and inspiring more women to unleash some brilliance into the world. Strong and confident.
5) To follow that, what advice can you offer women who want a career as entrepreneurs in the tech industry?
Don't be afraid to do it, even if you have no clue where to start or how you will do it. Just start. Create a plan where you map out the business, build your network of strong women around you, learn from those who've succeeded and make yourself be heard in the tech industry, as still today it is very unbalanced in terms of gender diversity. Know that even if you don't know a thing about tech, you will learn and you don't have to do it. Remember that you don't have to do it alone, that you have the power to build an incredible team that supports the business. Remember that you are the one to establish and lay the foundation for  balance and happiness within your business and don't be afraid to talk to people about it and get feedback. 
6) What do you want Mailbird to achieve in 2017?
I want to launch our first mobile version of Mailbird and work more with partners and app builders that we can integrate into Mailbird, that unifies the most popular tools that we need to work and communicate today. I want to launch in at least three new markets outside of our primary top five. I want to grow our team for local presence in our top performing geographic regions. Finally, I want to launch new revenue channels and potentially fund raise to invest in growing our team and developing product into the best damn email client that finally unifies email communication into one beautiful application.
7) What is the number one quality that you think each leader should posses? 
The ability to be flexible, to learn and persevere. You need to do this in order to keep the motivation high, lead by example and grow. The most critical thing, is to have grit and never give up, remembering that most startups, about 90% of them fail out of the 50 million that are launched each year.  
This post was published on the now-closed HuffPost Contributor platform. Contributors control their own work and posted freely to our site. If you need to flag this entry as abusive,
send us an email
.