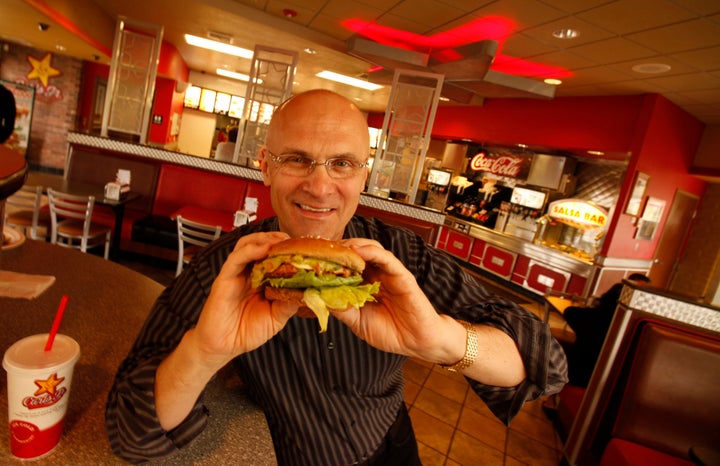 WASHINGTON ― Andy Puzder carried an extraordinary amount of baggage as Donald Trump's labor secretary nominee. The fast-food executive had once personally employed an undocumented worker. He had years earlier faced an allegation of domestic abuse. And he had served as CEO of a fast-food company that ran sexist ads and repeatedly stiffed workers on pay.
But in an interview Thursday with Fox Business host Neil Cavuto, Puzder said it was a different piece of baggage on the cart that ultimately doomed him: Education Secretary Betsy DeVos' confirmation. In Puzder's telling, he would have survived his ill-fated nomination had DeVos' successful nomination not fired up the left.
"I have been told by some of my Republican senator friends that that actually is what killed it," Puzder told Cavuto in a friendly interview. "A lot of the senators who were a little bit nervous about getting re-elected went home and they had protesters and demonstrators at their offices and their events that they had really never seen before. And they began to waver."
Puzder sort of has a point.
DeVos' disastrous confirmation hearing galvanized rank-and-file liberals and independents all over the country, making some Republicans uneasy. As Trump's Cabinet began falling into place ― stocked with extraordinarily wealthy people, several of them hostile to their agencies' very missions ― Democrats zeroed in on the most vulnerable nominees, with DeVos and Puzder at the top of the list.
After DeVos squeaked through by a single tie-breaking vote from Vice President Mike Pence, Democrats and labor groups brought extraordinary pressure to bear on Puzder's nomination. Once it was clear that at least three Republicans might not back him, Puzder threw in the towel.
As Puzder told Cavuto, "When the left sensed there was wavering and my hearing kept getting delayed, that was the death knell."
But Puzder glossed over what made him so vulnerable in the first place. His employment of an undocumented worker ― first reported by The Huffington Post's Ryan Grim ― and his past support for immigration reform apparently gave some conservatives pause over his nomination. And shortly before Puzder's hearing, Politico's Marianne LeVine dug up a chilling clip from "The Oprah Winfrey Show" in which Puzder's ex-wife spoke in disguise about domestic abuse.
Puzder is clearly still smarting from that coverage. In his interview with Cavuto, he argued that the Politico stories weren't fair game because, as Politico noted, his ex-wife recanted the allegations, although they had been documented in court. (Puzder had previously claimed he was a victim of a "tsunami of fake news.")
So far, Puzder is the only nominee to Trump's Cabinet who has had to withdraw.
"You do see in this experience why good people don't go into government," he said. "I hope it won't discourage people."