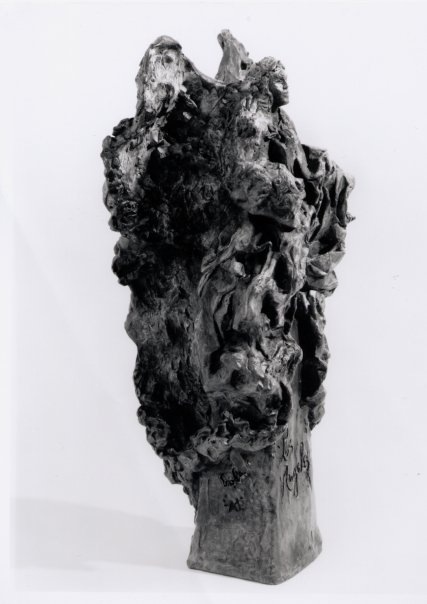 Los Angeles
Cofounders: Billie Weiss and Lin Evola
The Angel of Peace Award is a highly esteemed peace award given in Los Angeles by the Violence Prevention Coalition of Greater Los Angeles to individuals who do "exemplary work" in preventing violence.
Billie Weiss, MPH, is currently the Associate Director of the Southern California Injury Prevention Research Program at the UCLA Fielding School of Public Health, former director of the L.A. County Department of Health Services Injury and Violence Prevention Program and founder of the Violence Prevention Coalition of Greater Los Angeles. She is currently one of the partners in the national UNITY initiative funded by the Centers for Disease Control and the California Wellness Foundation. She has authored numerous papers, and four book chapters. She received a BS from California State University Fullerton, and MPH in Epidemiology at UCLA. She has served on Executive Committee of Safe States Alliance (formerly STIPDA), has been a member of the Board of Directors of (Society of Violence and Injury Prevent Researchers (SAVIR), leadership of APHA/ICEHS, and Board of CALCASA.
Ms. Weiss' research emphasis is "Violence: A Public Health Issue", including the epidemiology of gang homicides/assaults, intimate partner violence, pedestrian injuries, iron poisoning, drowning, and program/strategy evaluation. Ms. Weiss focuses on research related to policies to reduce and prevent violence and the evaluation of such policies. Ms. Weiss received the Regional Public Health Hero award 2001, from UC Berkeley and APHA Injury Control and Emergency Health Services Section Public Service Award, The California Wellness Foundation California Peace Prize, 2008, KCET TV Heroes award 2012, and awards from Southern California Public Health Association, California Police Chiefs Association, Brady Center to Prevent Handgun Violence, Black Probation Officers of Los Angeles, and the Milton Roemer Award from the California Public Health Association among many other awards.
Billie and her colleagues predicted this epidemic of violence that we are experiencing now globally. Based on what an epidemic is: Spreading rapidly and extensively affecting many individuals in an area or a population at the same time. They realized that it would take many efforts and several approaches to curb the epidemic of violence which was also influencing global communities from various influences all at once, i.e. Violence in all aspects of society that have influence over humanity's consciousness.
Now it is so intertwined that as a knotted set of particles under a microscope, setting blame or fault is a daunting and unfruitful task.
Physician Gary Slutkin, Founder of Cure Violence gives a terrific presentation on TED TALKS about treating violence as a contagious disease. I highly recommend it. Dr. Slutkin shows graphs and diagrams comparing the disease of violence with that of any other disease. To interrupt the cycle(s) of violence they have to be interrupted at various points. It takes real people with real community experience to engage these situations to be successful.
There are heroes who dedicate their lives to this work in the community, government, business, the arts, sciences, medical and technology fields.
Those are the people that we are interested in receiving the highly esteemed Angel of Peace Awards.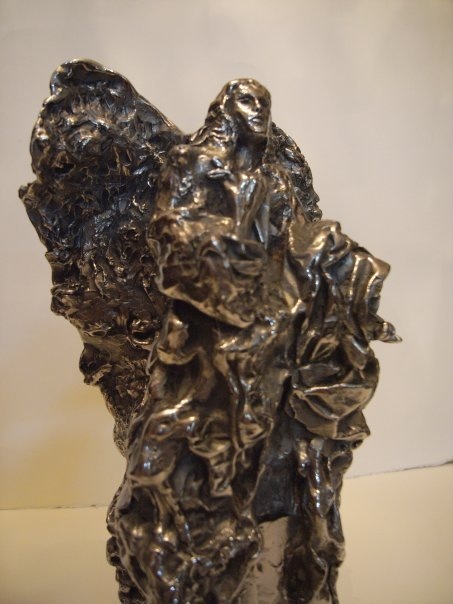 My name is Lin Evola. I am Founder of the Peace Angels Project whose sole function is to melt down weapons indigenous to a region, and create Peace Angel monuments to strengthen the power of place. Transcending local discord, Peace Angels shift consciousness, and remind human beings that we create the weapons and destruction, and we have the power to create art, beauty and peace. In other words, we have the power of choice.
And, in our realm of choices we can shift consciousness by developing or adopting a new or other consciousness. It is called awareness. In fact, the only thing that can change overall consciousness is a new and different consciousness.
That is what the Peace Angels Project is -- a new awareness. It is a shift from the epidemic of violence to implement beauty as a vehicle to peace.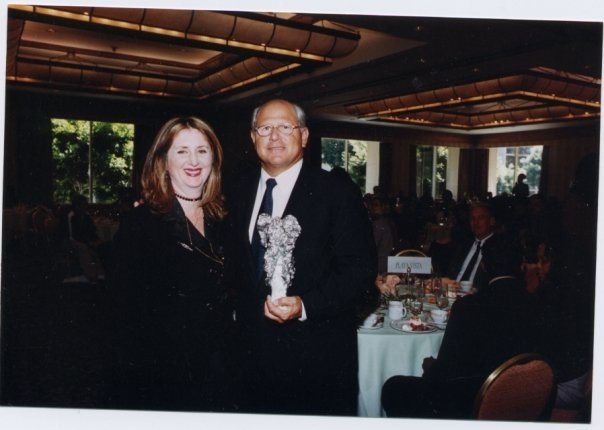 Stephen Soboroff, previous Award winner, with Artist Lin Evola
To find out more about my work globally, a quick look at Wikipedia will suffice. I use my career as a platform to cause awareness on transcendence from violence to peace.
Billie Weiss and I met in 1994. She had a vision to make an award in Los Angeles for the heroes that she witnesses who continually risk their lives and careers in a world that rewards violence.
When Billie saw the 3 foot waxes of the Peace Angels sculptures for the first time, she told me that she knew what the Peace Angels were about -- real Love.
Billie has witnessed first hand the devastation and pain caused by the unrelenting, vicious and ever expanding cycle of violence. I recognized that she knew what the Peace Angels Project really is: a profound interruption of violence, a permanent rail track switch, a shift in human evolution.
All species begin with violence. As the species develops, the violence gives way to creation. The first evolutionary biologist to recognize the Peace Angels Projects' position in this evolutionary scenario, was Elisabet Sahtouris in Dubrovnik at a Praxis Peace Conference soon after the Balkan war in 2000.
I joined Billie bringing in the Peace Angels Project. Together we formed the highly esteemed, Angel of Peace Awards.
The Angel of Peace Award sculptures were originally based on the same weapons mix as the Peace Angels. They are now poured only in guns and other street weapons. They represent safety, protection, public and private health.
Those who have received the Angel of Peace Awards throughout the years are 1995 to 2013 include: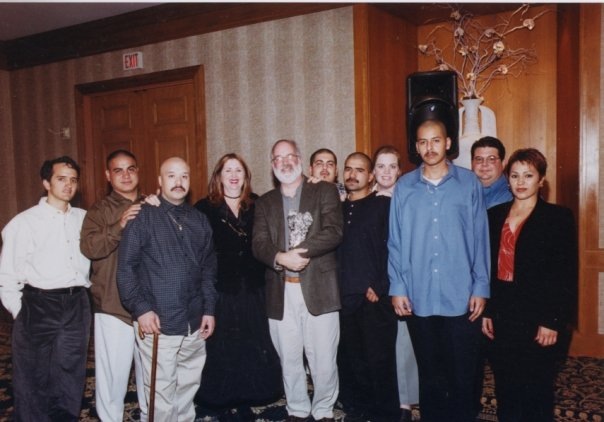 Father Greg Boyle and Homeboy Industries youth, previous Award winners
Fr. Greg Boyle, S.J., Homeboy Industries
Sarah Brady - Brady Campaign
California Wellness Foundation, Board of Directors

Youth of the Community Wellness Partnership - Pomona
Michael Dowd

Lorranie & Jerry Factor

Michael Feuer
Youth of Inner City Struggle
Elaine Leader, Ph.D., Youth of Teen Line
Mary Leigh & Charles Black, Million Mom March Los Angeles
Attorney General Daniel Lungren
Linda Otto & Leslie Lipton
Michael Moore & Jim Czarnecki, Bowling for Columbine
Deborah Prothrow-Stith, MD
Peggie Reyna, Project Direct, Deaf and Disabled Services, LACAAW
State Assemblyman Mark Ridley-Thomas & Avis Ridley-Thomas
William "Blinky" Rodriguez, Communities In Schools
Stephen Soboroff, Playa Vista
South Central Youth Empowerment Through Action - Community Coalition
Stephen Teret, J.D., M.P.H.
Connie Watson, People Who Care Youth Center
Zev Yaroslavsky, Los Angeles County Board of Supervisors

Saundrea Young, Loved Ones of Homicide Victims
Connie Rice, Advancement Project
Billie Weiss, UCLA Fielding School of Public Health, Founder VPC
National Center for Injury Prevention and Control Centers for Disease Control and Prevention - Division of Violence Prevention

Judge Michael Nash, Los Angeles County
Youth Justice Coalition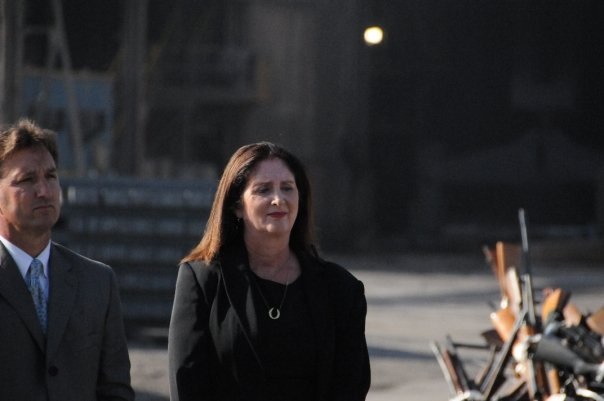 California weapons destruction
As we gear up to build the 32 foot Peace Angel monument for downtown Los Angeles created from nuclear stainless and street weapons, the Peace Angels Project will be asking for those who are interested to donate street weapons to their own local law enforcement agency. The monument is estimated to be constructed of 100,000 weapons.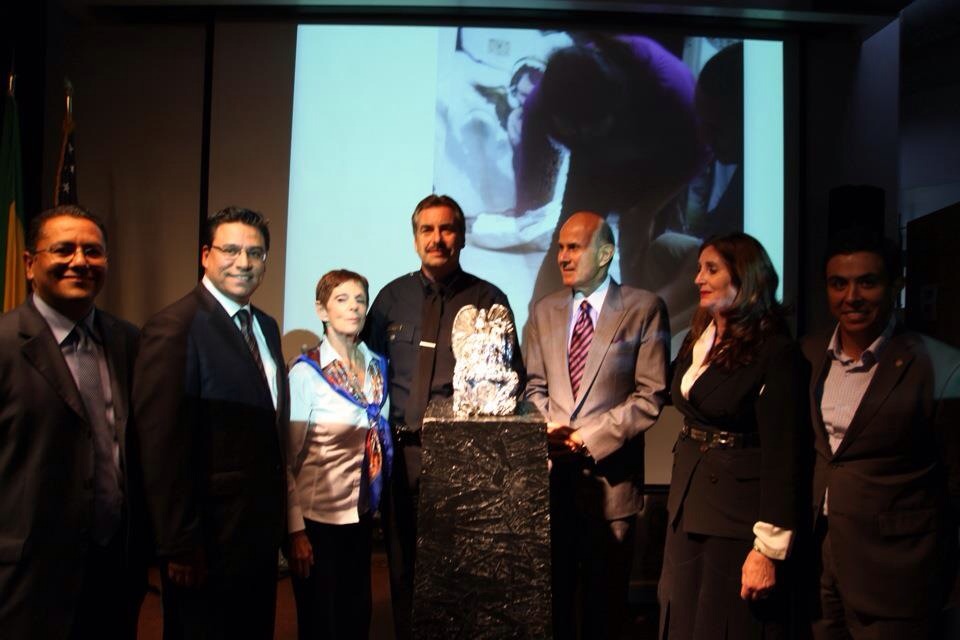 Unveiling the maquette of the California Peace Angel Monument for downtown Los Angeles (L to R) Robert Sainz, Asst General Manager of Community Development, Los Angeles; Councilman Jose Huizar; Billie Weiss, MPH Dept of Epidemiology, UCLA School of Public Health; Chief Charlie Beck, LAPD; Sherrif Leroy Baca, LA Sheriff's Dept; Artist Lin Evola, Founder Peace Angels Project; Ozzie Lopez, Executive Director Boyle Heights Tech Center.
In a world where the balance of protection and peace is always a moral issue, we hope to have a very difficult time choosing future Angel of Peace Award recipients. We hope the line of heroes is very long.