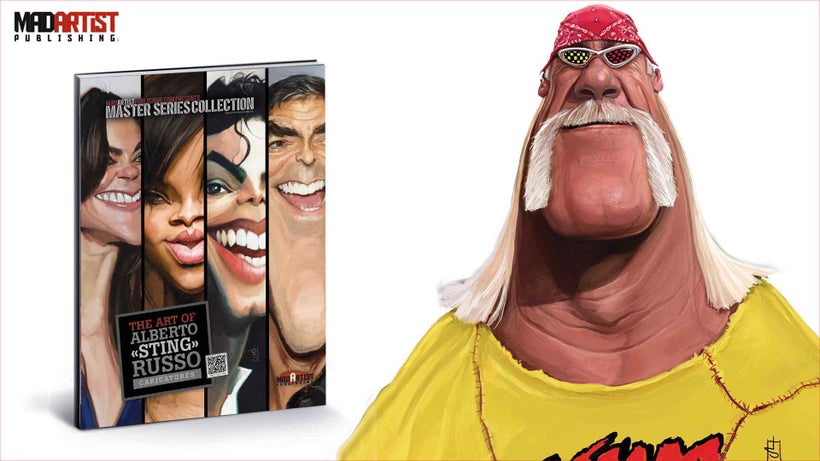 Learn From Master of Illustration and Caricature
Caricature is the satirical illustration of a person or a thing, but a cartoon is the satirical illustration of an idea. In this innovative book brought to you by the folks at MadArtistPublishing.com, you'll enjoy a collection of hilarious celebrity illustrations and learn about the concepts and inspiration that drives Creative Director, Illustrator, Caricaturist Alberto Russo to achieve them.Learn professional caricature and illustration techniques from a master, read tips and advice and be entertained by a great selection of playable videos right from the book.

About the Author Alberto Russo
Alberto is a creative director and illustrator from Lausanne, Switzerland. He first started to draw portraits and play with caricature while doing graffiti in 1991. The Hip hop culture was a great way to develope his style and his passion for drawing and painting. In 2000,after studying Graphic design at Ecole d'art de Vevey and Eracom. Switzerlandm Alberto started his own agency to focus on illustration and type treatments. His clients including Nike, Puma, Universal Music, and various music artists. Since 2010 he decided to focus on potraits and caricatures, Alberto has been one of the most recognized winners of caricaturama show down 3000 drawing and painting challenges.
" I am continually trying to find new techniques to paint and draw while mixing digital and traditional techniques. It is a great challenge everyday." ~ Alberto Russo
What fellow artists and celebrities are saying
"Alberto is, to me, one of the few who has this talent to create powerful and iconic pieces of art." ~ Thomas Lebeltel
"Every painting or drawing by Alberto shows his love for art, and facial architecture. His caricatures are breathtaking, original, and funny. Looking at his work always makes me want to paint!" ~ Wouter Tulp 
"Browsing through Alberto's work is a lust for the eye. He always gets a great likeness, but his art goes far beyond that... just look at the brush strokes or the pencil lines: they are always honest, like sketches should be. All the sketches are great, and my preferred ones are the 'roughest' ones, dynamic compositions with a lot of structure and light-dark contrast in it.This is real art!" ~ Jan Op De Beeck 
"I had great pleasure in admiring the incredible evolution of Alberto's work. He has really created a unique style, varying virtuosity with different techniques and the mastery of distortion to create good caricatures. The perfect alchemy he creates will enable him to become one of the top people in this area." ~ Anthony Geoffroy 
"There is some magic about doing caricature that artists can not tools and even the resemblance. Is a mix of that "everything" in perfect balance, and "that" my colleague Alberto Russo, has it." ~ Jota Leal
"Alberto Russo's work brings a freshness and excitement to the art of caricature! Caricature set aside, his drawings are full of life and that is key to capturing solid character. His work, filled with a gritty and edgy mood pulls me in and leaves me wanting more!" ~ Jason Seiler

"Alberto Russo's many graphic researches in pencil prove that he is perfectly capable of leaving his computer behind when he draws caricatures. Not many people can say the same today even though the quality of today's images is higher than ever thanks to the challenges created by Facebook for people drawing caricatures. The risk is that finalising them in a realistic photographic way with the computer creates monotony and uniformity of style. Only adepts of traditional drawing will make a difference, and Alberto is one of them." ~ Jean Mulatier
This post was published on the now-closed HuffPost Contributor platform. Contributors control their own work and posted freely to our site. If you need to flag this entry as abusive,
send us an email
.