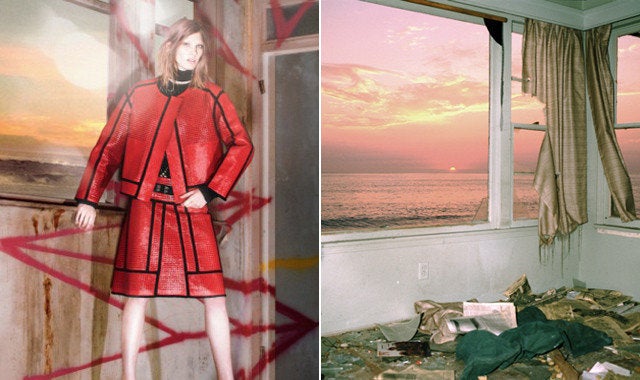 Proenza Schouler's Lazaro Hernandez and Jack McCollough have misappropriated John Divola's name and work -- or so claims the Los Angeles-based artist.
Reached for comment, Divola said, "[Proenza Schouler is] using my images, and my name, to directly promote their products" -- without his authorization. Indeed, there are similarities between the brand's promos and Divola's "Zuma" series, a collection of photographs depicting a hyper-saturated So Cal seediness, lensing themes of abandonment and architectural decay. In Proenza Schouler's spring '13 campaign, David Sims photographed models in dilapidated beachfront homes vandalized with graffiti -- strikingly similar to Divola's own deserted abodes. While the label's angular spray-painting differs from the artist's squiggly marks, parallels can be seen in the stained walls, the garbage-strewn floors, and the paradisiacal vistas.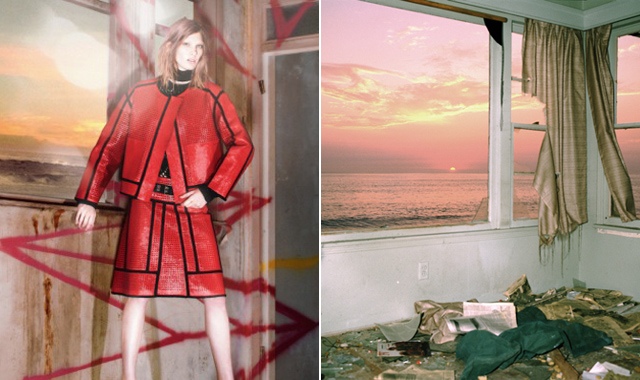 Left: Spring/Summer 2013 Proenza Schouler advertisement, Right: from John Divola's "Zuma" Series (1977)/ Courtesy of Proenza Schouler, left, Courtesy of John Divola


Yet Divola's bigger gripe is with Proenza Schouler's use of his moniker and his artwork in hyping and selling its products. "They are intentionally promoting their stuff using my identity," he says. Hernandez and McCollough have distributed an exact photograph (above, left inset) from Divola's aforementioned series -- with its periwinkle-blue painted room, replete with runic scribbles, broken glass and a sherbert sunset -- to the press, citing it as a source of their inspiration. Yet they did so without communicating with Divola, who says, "They have made absolutely no effort to contact me to get my permission."
The is-it-or-isn't-it copying continued into fall '13, this time on the clothes themselves. "[They've used my work] in juxtaposition to their clothing," said Divola, "indicating it has some relationship to the clothing's patterns." On the runway, Proenza Schouler's accessories in particular appeared to reproduce the burn marks on the walls in Divola's "An Intervention" series, from 2007. From the artist's viewpoint, the likenesses are too close for comfort.
This isn't the first time Divola's imagery has been repurposed. VMAN, in their September 2012 issue, published an editorial dubbed "Beach House," shot by Josh Olins. There's no question Divola's "Zuma" series was the reference point, not only spatially, but also in silver graffiti marks along the walls, shattered windows, and squatter detritus. "Images were clearly replicated as a fashion background. I have no idea if there is a relationship to Proenza Schouler, but it does seem like an odd coincidence," said Divola.
The extent to which creative license is invoked will always and forever be a gray area (see another fall '13 example here, between Jeremy Scott and Jimbo Phillips). And as Divola says, "I have no problem with someone saying that my work was an inspiration. It is flattering." His problem is in the direct use of his images and namesake in order to promote and sell a product. In so doing, there occurs a dilution of the artist's message. It becomes impossible for the copycat version, in any format, to convey the original's meaning. "Had they contacted me," Divola concludes, "I would have refused, as it is not the contextual desire [I have] for my work."
More of Today's News from BLOUIN ARTINFO: