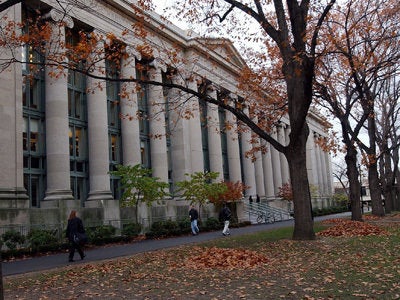 Cambridge, MA - Two top organizers behind Barack Obama's campaign huddled with political techies on Wednesday, discussing the future of the Obama movement at a Harvard summit on web politics.
Marshall Ganz, a veteran labor organizer who advised the campaign from his perch at Harvard, emphasized that the transition team needs more time to study how Obama's supporter movement can move beyond campaign mode. Ganz had previously called on Obama's aides to create more "public space" to transparently debate these issues, but he struck a different note today. "I think I was impatient," he said, "the process of learning that's going on is very important."
Jeremy Bird, who ran the campaign's field programs in several states, outlined three big planks in that process, ranging in scale and transparency. First, aides are already reviewing half a million responses to an extensive survey that was emailed to every Obama supporter after the election. Second, several hundred field organized gathered in Chicago last weekend for a private debates. Finally, in what may be the largest post-election campaign gathering besides inaugurals, tens of thousands of supporters are gathering in coordinated house parties across the country next week. (Meanwhile, today the transition team launched a new feature, "Open for Questions," encouraging citizens to post governance questions on Change.gov.)
There are other Obama campaign staff attending the two-day summit, sponsored by Google and eBay, including New Media Director Joe Rospars, blogger Sam Graham-Felsen and the social networking specialist Chris Hughes (Facebook/MyBO), along with Internet luminaries like Yochai Benkler, Jonathan Zittrain, Ethan Zuckerman, Jay Rosen, Steve Grove and Dan Gillmor.
Ganz and Bird spoke in a public presentation that will be posted online - live blog available here - but most of the sessions are private, to allow more blunt exchanges between the practitioners, scholars and writers gathered here. (I'll be reporting more on the public sessions, including a session I'm doing Thursday with Joe Trippi, both here and for a January article in the magazine.) This week, Harvard is also hosting public debates over the summit's "working hypothesis" on their Publius Platform. There are several responses already posted -- former Clinton Internet Director Peter Daou explores the explosion of online commentary beyond blogs; Professor Dana Fisher tracks bottom-up mobilization; and I try to answer why campaign volunteering rates declined from 2004 to 2008.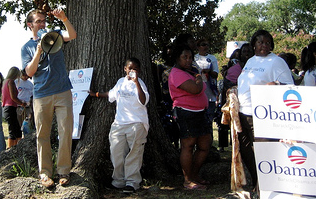 Obama campaign aide Jeremy Bird works the bullhorn. (Credit: Obama Flickr.)