On a recent trip to see a first-run movie, I received an ugly reminder of why there is so much resistance to gun control. It's not just the virulent lobbying of the NRA at work. It's also the way violence, bombs, paranoia, blood, gore, and conspiracy theories (the essence of terrorism) have become a staple of popular entertainment.
Having untethered myself from cable television several years ago, I find more and more of my entertainment coming from stage presentations, foreign films and documentaries. However, in 20 minutes of coming attractions (not to mention a James Bond-style commercial for beer), I saw more money poured into glamorizing explosives, weaponry and commercialized violence than I'd witnessed in quite some time.
For those who live on a steady diet of such entertainment, my sense of revulsion might seem childish, amateurish, or downright pathetic. However, when a person has weaned himself off a steady diet of that genre, a sudden reintroduction to it can be disturbing and disheartening. Thankfully, there were more emotionally satisfying (and infinitely more docile) stories on hand with which to entertain myself.
* * * * * * * * * *
In 2007, TheatreWorks Silicon Valley unveiled its 50th world premiere, a musical adaptation of Jane Austen's 1815 novel, Emma, with book, music, and lyrics by Paul Gordon. A comedy of manners set in Highbury (south of London), the story pokes fun at Emma Woodhouse, a meddlesome and arrogant young woman with much less talent than Dolly Gallagher Levi, who is so proud of the matches she aims to make for friends that she remains utterly blind to the love of the good man who has been her best friend since childhood.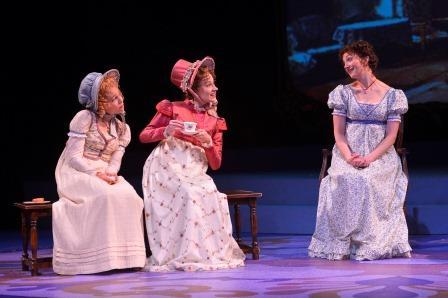 Lee Ann Larkin (Harriet Smith), Lianne Marie Dobbs (Emma
Woodhouse), and Sharon Rietkerk (Jane Fairfax) in a scene
from Jane Austen's Emma (Photo by: Kevin Berne)
In the following clips, Patti Murin and Andrew Samonsky perform three of the shows songs during a National Alliance for Musical Theatre (NAMT) Songwriter Spotlight held on April 28, 2014 at Feinstein's/54 Below in New York.
With attractive period costumes by Fumiko Bielefeldt and scenery by Joe Ragey, TheatreWorks Silicon Valley revived Jane Austen's Emma for its 2015 holiday show. A chance to restage a successful and beloved home-grown musical offers new opportunities. As the show's director, Robert Kelley, explains in his program note:
"This year we reprise, and reinvent, a musical premiere that delighted all of us almost a decade ago. Jane Austen's Emma (the novel was published exactly 200 years ago, in December 1815). Emma was TheatreWorks' 50th world premiere (we have since created 15 more!) First staged at the Mountain View Center for the Performing Arts, Emma remains one of TheatreWorks' best-loved and highest-attended productions. We've reassembled the acclaimed designers who created that production, re-imagined the scenery and costumes to grace the much smaller stage of the Lucie Stern Theatre. Most importantly, author Paul Gordon has returned to revise the production with new scenes, songs, and lyrics. As the director, I am thrilled to spend the holidays with this enchanting, favorite friend."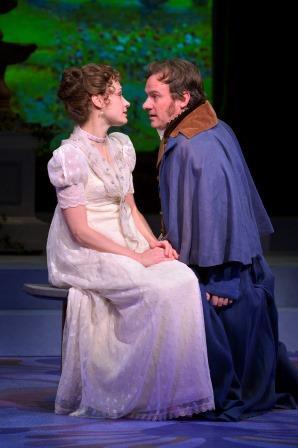 Lianne Marie Dobbs (Emma Woodhouse) and
Timothy Gulan (Mr. Knightly) in a scene from
Jane Austen's Emma (Photo by: Kevin Berne)
In addition to "I Made The Match Myself," and "Emma," Paul Gordon's score includes such delights as "Mr. Robert Martin," "Badly Done," "This Is How Love Feels," and "Stranger Things Have Happened." However, my hands-down favorite number from his score is Harriet Smith's "Humiliation" which, as strong as it seems when first heard in Act II, becomes even more delicious in its reprise.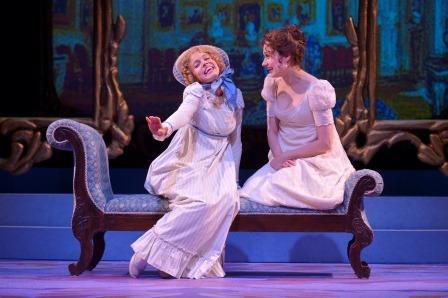 Lee Ann Larkin (Harriet Smith) and Lianne Marie Dobbs
(Emma Woodhouse) in a scene from
Jane Austen's Emma (Photo by: Kevin Berne)
The romantic leads were strongly cast with the original Emma Woodhouse (Lianne Marie Dobbs) and Mr. Knightly (Timothy Gulan) repeating their roles. Sharon Rietkerk was a demure and quietly distressed Jane Fairfax with Lee Ann Larkin easily winning the audience's sympathy as Harriet Smith.
The large cast included Robert Easley as Mr. Woodhouse, Lee Ann Payne as Mrs. Weston, Richard Frederick as Mr. Weston, Nick Nakashima as Robert Martin, Brian Herndon as Mr. Elton, Lauren Cohn as Miss Bates, and Travis Leland as the dashing, yet emotionally unavailable Frank Churchill. Michelle Drexler doubled as Mrs. Bates and Mrs. Elton. With musical direction by William Liberatore and some excellent sound design by Jeff Mockus, the production retained every bit of its original charm.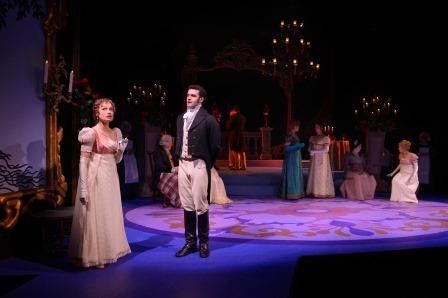 Lianne Marie Dobbs (Emma Woodhouse) and Travis Leland
(Frank Churchill) in a scene from Jane Austen's Emma
(Photo by: Kevin Berne)
* * * * * * * * * *
When Shotgun Players first announced that its 2015 season would be devoted to showcasing the work of female playwrights, I was surprised and delighted to see Agatha Christie's name pop up alongside Aphra Behn (1640-1689) and more contemporary writers such as Caryl Churchill, Sarah Ruhl, Anne Carson, and Jackie Sibblies Drury. Whereas many people are familiar with Christie's 66 murder mysteries, her short stories, her most famous detectives (Miss Jane Marple, Hercule Poirot), and the numerous movies based on her work (Murder at the Gallop, Death on the Nile, Murder on the Orient Express, The Mirror Crack'd), one of her most famous plays has never been filmed because of a clause in its original production contract which states that "No film adaptation can be produced until the West End production has been closed for at least six months."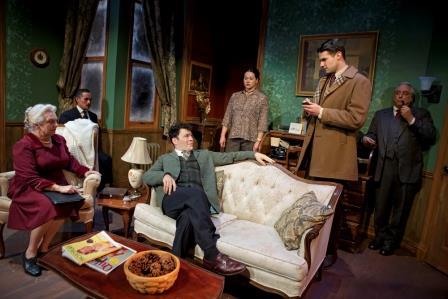 Detective Sergeant Trotter (Adam McGill) begins to question
the suspects in The Mousetrap (Photo by: Pak Han)
In 1947, the British Broadcasting Corporation sought to pay tribute to Queen Mary's 80th birthday by offering her a special broadcast of her choice. The Queen requested a new play by Agatha Christie, who crafted a 30-minute radio drama entitled Three Blind Mice.
The Mousetrap (the two-act play which evolved from Three Blind Mice) received its world premiere production from the Theatre Royal, Nottingham (where it opened on October 6, 1952). After a brief tour, the production opened at London's Ambassadors Theatre on November 25, 1952.
In March of 1974, the production moved next door to the St. Martin's Theatre where it is still being performed today.
Although Christie doubted that the play's initial run would last more than eight months, the original production has kept going for 63 years, during which time more than 400 performers have appeared in the cast.
Two members of the original cast (David Raven as Major Metcalf and Mysie Monte as Mrs. Boyle) stayed with the production for its first 11 years.
On December 16, 2000, the production celebrated its 20,000th performance.
At a 50th anniversary performance on November 25, 2002 attended by Queen Elizabeth II and Prince Phillip, Richard Attenborough (who portrayed Detective Sergeant Trotter when the play opened in 1952) returned to give its famous curtain speech.
It is estimated that, barring the unlikely closure of the current production, The Mousetrap will celebrate its 30,000th performance sometime in 2024.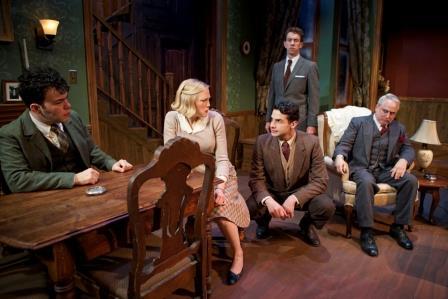 Detective Sergeant Trotter (Adam McGill) starts to examine Mrs. Ralston
(Megan Trout) in a scene from The Mousetrap (Photo by: Pak Han)
At the very least, this Shotgun Players production offers audiences a jolly good time. More impressive, however, is the craft with which the playwright baits each member of the audience in a way that plays on their personal prejudices. By the time a murder is committed, every one of the obvious suspects has a well-defined motive.
Throughout my life, I've been a total failure at guessing the identity of the villain in crime fiction (I first noticed this lack of talent as a child, while watching Raymond Burr's performances as Perry Mason). As the company's founder, Patrick Dooley (who directed this production) notes:
"The key to the success of any whodunit is how successful the writer is in keeping the murderer a mystery. Christie excels because of her ability to prey on our prejudices and undermine our instincts. She uses subversion, not gimmickry, to reveal that the truth was always there if only we had allowed ourselves to see it. While colorful, and often eccentric, her characters are also dynamic and complex -- appealing to our sympathy with their charms and vulnerabilities. What makes her stories most captivating is how she's able to stir up the fear many of us hold deep in our hearts. No matter how much we think we know someone, everyone keeps secrets. Usually, it's as benign as a sneaky cigarette habit. Sometimes it's something much more grim and macabre."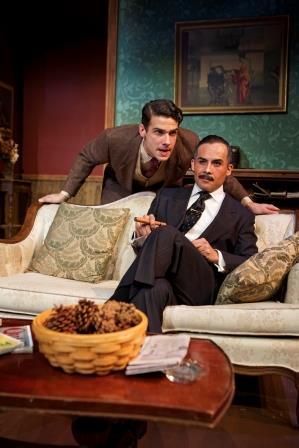 Adam McGill and Alex Rodriguez in a scene from
The Mousetrap (Photo by: Pak Han)
The Mousetrap takes place inMonkswell Manor, whose new owners -- the snowbound Giles Ralston (Mick Mize) and his wife of one year, Mollie (Megan Trout) -- are attempting to turn it into a bed and breakfast. Among their initial guests are:
Christopher Wren (Nick Medina), an extremely nervous and easily agitated young man who claims that his parents named him after one of Britain's most famous architects.
Mrs Boyle (Trish Mulholland), an old battle axe who finds fault with everything and everyone who crosses her line of vision.
Major Metcalf (David Sinaiko), an army veteran who can't stop himself from snooping around the cellar.
Miss Casewell (Karen Offereins), a fairly neurotic woman whose bizarre behavior may have been caused by child abuse.
Mr. Paravicini (Alex Rodriguez), the only guest who arrives without a reservation. With his fake foreign accent and wearing enough makeup to make him look older than his age, the smug Paravicini oozes a strange combination of eccentricity, expectation, and egotism.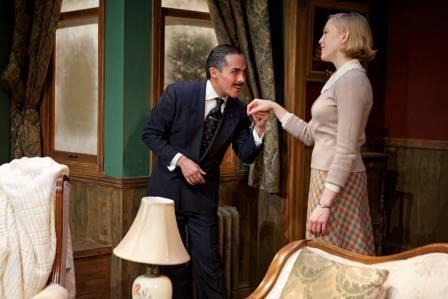 Alex Rodriguez and Megan Trout in a scene from The Mousetrap
(Photo by: Pak Han)
It's a measure of Christie's skill that the only clue to the murderer's identity is a casual "Oh, it's you," uttered by Mrs. Boyle moments prior to her death. And that, at intermission, everyone in the audience is trying to figure out who the murderer could be.
Shotgun's staging of The Mousetrap benefits from Mark Hueske's unit set and lighting design (along with Valera Coble's costumes and the excellent sound design by Matt Stines). It's obvious from start to finish that Dooley and his ensemble had a blast putting this production together. Not only are accents handled handsomely, the spirit of Christie's thriller remains intact throughout the evening.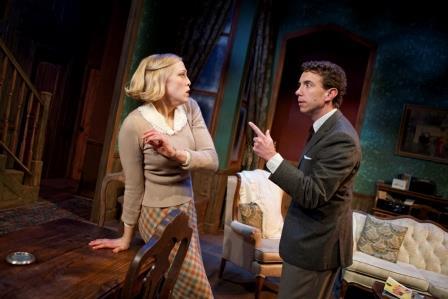 Megan Trout and Mick Mize in a scene from The Mousetrap
(Photo by: Pak Han)
I was particularly taken with the performances by Trish Mulholland as Mrs. Boyle, Megan Trout as Mollie Ralston, and Alex Rodriguez (whose smarmy portrayal of Mr. Paravicini was an absolute delight). Mick Mize, Nick Medina, David Sinaiko, Adam McGill, and Karen Offereins offered solid support as the play neared its surprise ending.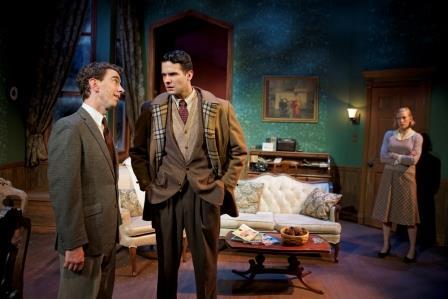 Mick Mize, Adam McGill, and Megan Trout in a scene from
The Mousetrap (Photo by: Pak Han)
In an era when so many stage productions are weighted down with too much glitz and overamplification, Christie's whodunit harkens back to a time when audiences were sufficiently thrilled with intriguing characters and superb plotting. Here's the trailer:
To read more of George Heymont go to My Cultural Landscape