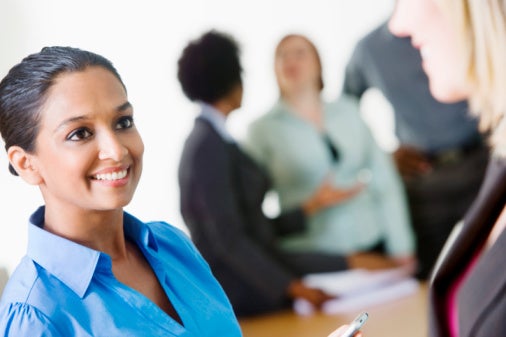 "Authenticity" is the accessory to have right now. It's the Birken bag of 2016. So get on a waiting list and… sign up for a training course?
Where's this coming from? Well, simply put, authenticity drives trust, which notches up followership, employee engagement, and ultimately our finest business results. Sold yet? Ready to register for the class? Well, before you do… ask yourself this: What does it mean to be authentic? And can someone else really teach me how? And why are we finding it hard to be real?
Previous leadership development trends have included such gems as being inspiring and charismatic, or developing and empowering your teams, or… you get the point. And throughout the years, we've seen myriad workshops and lectures and the like providing the requisite education on how to do these things.
But authenticity? Really? We need workshops? Trainings? On how to be… real? How has that happened? How has being real evolved to be at odds with success in the workplace?
What if we let all that go and just grounded ourselves in being, well, ourselves? How would our ​teams experience that? And what are we so afraid of?
Well, if I were delivering training on authenticity, it would last approximately four minutes. And it would include such messages as:
Models belong in magazines.
Pick up any gossip mag and you'll find shiny, beautiful people with glistening skin and glowing locks. But they're a display. And we're the real thing. For me, the same principles apply to leadership models. Let them be your display. Take your makeup tips from them if you must. But ultimately set them aside. You've got this.
Being authentic is about being humble.
It's about saying, "I don't know" when you don't know. It's about asking questions, and really hearing the replies. Know your team, and let them guide how you support them. Be who you are and who they need – and not whoever some model tells you to be.
Let the ugly into the light. 
A leader is not defined by how much she knows or by always having the right answer. A leader is defined by the solutions she can cultivate by harnessing the power of her team. Being authentic means sharing what you know – but asking for what you don't. And this form of authenticity brings greatness to the table. You'll make mistakes along the way – we all do. Let your team see these. And learn from them together.
RSVP yes. 
Being real means being there. Seriously. Sometimes just showing up, letting your team know they are a priority for you, is the greatest show of authenticity you can offer. So clear space in your calendar to spend with your team. Ask a couple of great questions, and leave the rest to them.
Well, there you have my four-minute long training on Authentic Leadership. Now the mission critical question is: What will you do with the remaining 56 minutes of the hour?
This article previously appeared on ​Medium.
Rachel Cooke is the founder of Lead Above Noise - a consultancy dedicated to making work work better. Rachel believes that that great organizations are grounded in great leadership. And her passion is to partner with leaders who believe the same, and are seeking simple (but not easy!!) strategies for evolving their work, and in turn, their ability to deliver delight. For more, please visit www.LeadAboveNoise.com where you can connect with Rachel and sign up for her email newsletter.
Ellevate Network is a global women's network: the essential resource for professional women who create, inspire and lead. Together, we #InvestInWomen.
This post was published on the now-closed HuffPost Contributor platform. Contributors control their own work and posted freely to our site. If you need to flag this entry as abusive,
send us an email
.