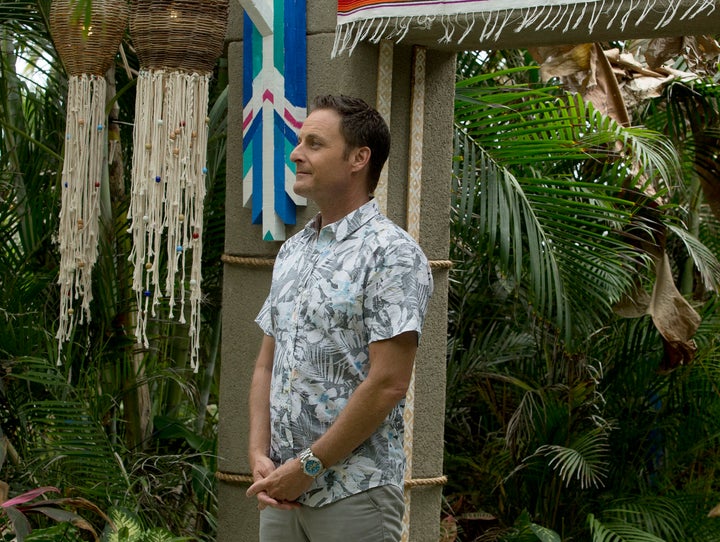 The media, a favorite target of President Donald Trump's complaints, now is being blamed by the cast of "Bachelor in Paradise" for a scandal that temporarily shut down production of the TV show.
On the second night of Season 4's two-night, four-hour premiere, host Chris Harrison gathered the cast for a taped conversation about allegations of sexual misconduct that led to an unprecedented production hiatus and an outside investigation that cleared the cast of wrongdoing.
One message came through loud and clear: "Bachelor in Paradise" has nothing to apologize for ― but the media does.
In the group conversation aired on Tuesday night's episode, returning cast members agreed the investigation had reached the right conclusion. Several spoke out about the damage inflicted not by any internal report of misconduct, but by media coverage.
"It was just hard going back home and seeing the media blow it so out of proportion," said Alexis Waters, who appeared on Nick Viall's season of "The Bachelor." 
Alex Woytkiw, who appeared on JoJo Fletcher's season of "The Bachelorette," chimed in: "I think there was a lot in the media regarding the producers, as if they're not our friends, and they're just using us to make us do things, like we're just gonna do whatever they say."
"Maybe you can explain what really does happen," Harrison suggested to cast members during the conversation that aired Tuesday. 
"I think there's a weird perception that exists out that we're not in control of ourselves when we're here, and that there's this puppet-master thing occurring," said Derek Peth, who also appeared on Fletcher's season. "We are here to make our own decisions and develop real relationships with everybody."
Taylor Nolan, who appeared on Viall's season, emphasized that the contestants, not the producers, are responsible for their choices ― even ones that might be risky. "We're responsible for ourselves, what we say, how much we drink, who we kiss," she argued. "We're not here to be babysat by production."
Harrison commented that slut-shaming of Olympios took place "in the press," though social media trolls were widely rebuked in various media outlets. 
Cast members, who voted unanimously to continue filming at the end of the conversation, seemed to push back against new rules governing alcohol service on the show imposed in the wake of the controversy.
"If we order a drink, we order that drink," said Peth. Nolan agreed, noting that she never drinks and has never been offered a drink by production staff.
Notably, Harrison also raised the issues of consent, and race. (Jackson is a black man; Olympios is a white woman.)
With that, the cast jumped back into the show's usual flow: dates, rose ceremony jitters, and drinks by the pool. 
We haven't seen the last of ABC's reaction to the controversy, however. Harrison also taped interviews with Olympios and Jackson, which will air during the show in coming weeks.
Do people love "The Bachelor," "The Bachelorette" and "Bachelor in Paradise," or do they love to hate these shows? It's unclear. But here at "Here to Make Friends," we both love and love to hate them — and we love to snarkily dissect each episode in vivid detail. Podcast edited by Nick Offenberg.
Want more "Bachelor" stories in your life? Sign up for HuffPost's Entertainment email for extra hot goss about The Bachelor, his 30 bachelorettes, and the most dramatic rose ceremonies ever. The newsletter will also serve you up some juicy celeb news, hilarious late-night bits, awards coverage and more. Sign up for the newsletter here.
BEFORE YOU GO
PHOTO GALLERY
Tweets About "Bachelor In Paradise" Season 4, Episodes 1 & 2