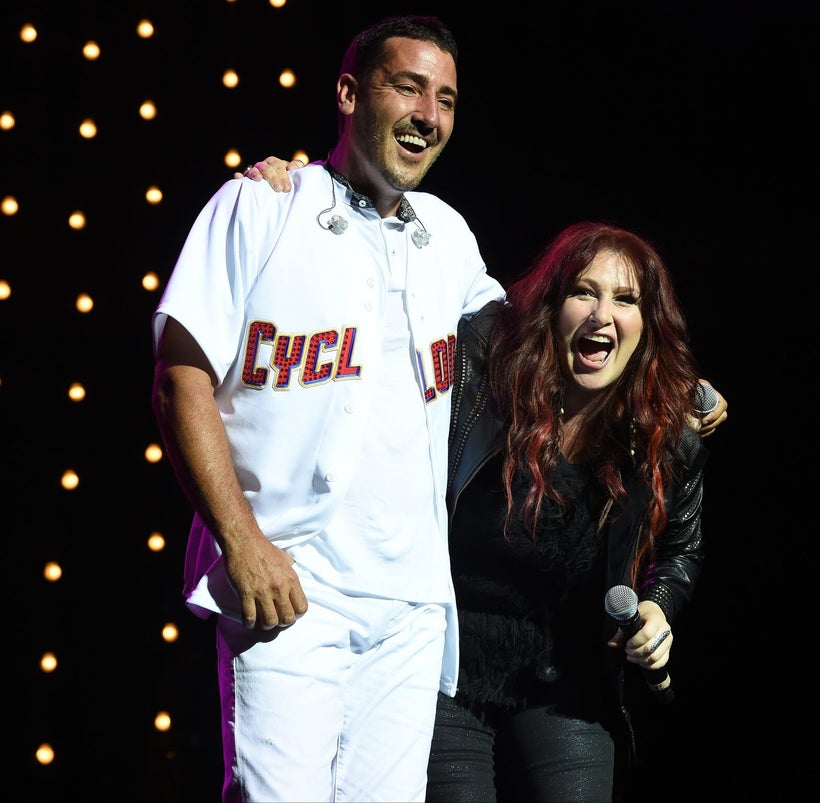 A wish came true last night for every nostalgic millennial heart out there; The truest throwback Thursday that could have ever happened occurred and everybody's favorite pop dream, Tiffany, reunited on stage with one of the most iconic boy bands of all time, The New Kids On The Block, for the first time in twenty-five years. At the Ford Amphitheater at Coney Island, the famously ginger-haired vocalist took the stage alongside Joey McIntyre, Donny Wood, Donnie Wahlberg, and Jonathan and Jordan Knight while fans met them with uproarious applause, showing just how little things change over time.
      Even though all the variables of the act had dispersed over the years on to their own separate paths, once joined together again it was as if nothing had changed from their younger days as they were still the same group of energetic performers that fans threw themselves at. And the love and respect also seemed to remain the same, not only between the fans and their on-stage idols, but amongst the performers themselves. After all, it was Tiffany who gave The New Kids On The Block their first shot opening up for her before they broke out to super-stardom. Band member Jonathan Knight praises Tiffany by saying;
      "Tiffany is a huge part of the success of NKOTB! It has always been my dream to perform with her again! Last night that dream came true!"
     Tiffany has come A Million Miles from those days though- literally, with an upcoming album and tour appropriately titled as such to prove it that will be kicking off the 24th of August in Nashville. Having been one of the biggest touring sensations of all time, dominating malls all over the globe, the fiery singer has already been through it all and she is ready to start back from the springboard- and there was no better way to do it than performing alongside The New Kids On The Block, taking her A Million Miles back to where she started from.
     The raspy-voiced talent sat down to talk about what it was like to be reunited with the boy-band that once performed in her dressing room, some of her fondest memories on stage with them, and what she has planned for her new album and her upcoming tour!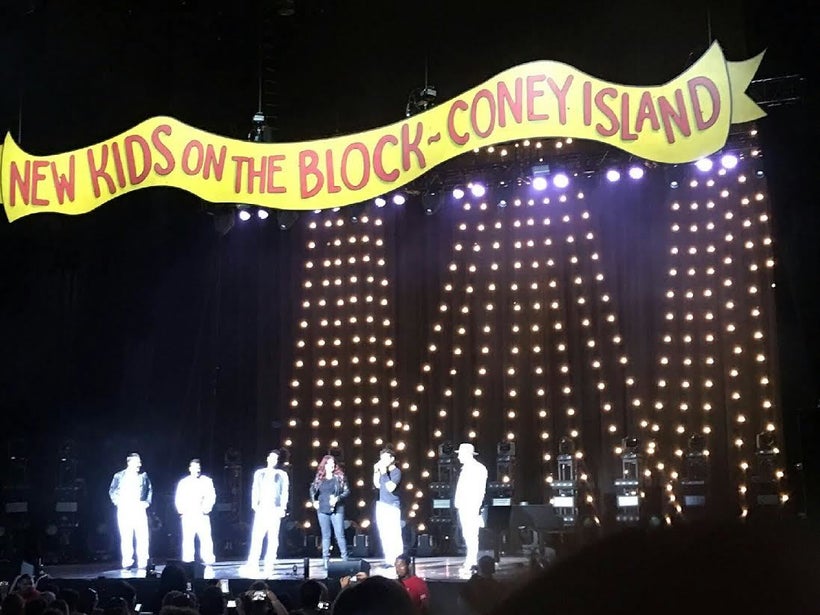 How was it performing again with The New Kids On The Block for the first time in twenty-five years? Have you all kept in touch?
Actually, no, we haven't kept in touch! We do have mutual friends, and we've been keeping up with each other because you see what people are doing; like you see one another back on the road, or I saw they were doing their cruise, or I've been doing my movies or what-not, and we really do know so many people in common. But, as far as just sitting down and talking? We haven't talked in a long time. It really just happened naturally and organically. I did a show in New York at The Cutting Room, and a lot of my friends kind of rallied together and came and supported me, and one of those friends was Jonathan Knight. So, the next night we had dinner and I got to meet Harley [Rodriguez of The Amazing Race, and Knight's husband] and it was so awesome. So, he pitched this idea to me asking me if I was busy on August 4th, and I didn't even really know- but he told me that he knew I wasn't because they already reached out to my manager to see if I could perform with them as a special guest at their show! [Laughs] So, of course I thought that was great, and it was just a fantastic feeling to be a part of last night's show. A lot of great memories and the Kids were talking about how it all got started and how they came to my dressing room and...not really auditioned for me, but sang and did their show. We had a mutual agent who thought we were a good pair and at the time I didn't have an opening act, so I was like; "Well, if you're not doing anything tonight!" [Cracks up] It really just happened that organically back in the day, and it really happened that organically again last night. It was truly magical and it really touched my heart.
You were the one who gave the guys the chance to initially open for you! Do you have any specific memories from when you used to perform together when you were younger that sticks out?
Well, Please Don't Go Girl is my favorite song by them. I always loved being on stage with them and watching them perform that song- it has a lot of memories for me. And I guess I gave them their start? I sort of look at it that way, but not really. I think they were on their way, and again, it all just sort of made sense. I knew the fans would love it. When I heard the screams from the girls from backstage that night, I knew I made the right decision. And I actually got into some trouble by my manager because I didn't even talk to him about it, but it just seemed so natural and real, and the fans were so happy- so, I was thrilled- I knew I did the right thing. I remember my manager telling me; "You don't make decisions without me, and there's a whole business side!"  But, I stick by that decision. And they have such good personalities and they are such good people, so again, I know I did the right thing- I've watched them grow into fathers, husbands and successful businessmen on many different levels and it's always nice to see your friends flourish. And to watch them last night, still performing and loving it thirty years later is an awesome feeling.
When we last spoke, it was beginning of summer and you were getting set to tour internationally for your new album A Million Miles- how has it been so far, and what has it been like getting back into touring? 
Well, it's been a lot of fun going into production. It's a little different for me now since I wear so many different hats. I'm very much an active part in my management team, so there's the whole business side. And then there's the whole artist side- I co-produced the album, I wrote the songs. Now, it's so much a part of my heart out there on the road and I want to be a live artist because that's where I shine the most. So, taking it to the next level and making sure that I'm at those intimate venues that really lends itself to be able to stretch the songs a bit, and open it up, and maybe do things a little different and really have fun with it. I just got back from England and it's been really awesome. It's been so great to reconnect with all my fans, and hanging out with Rick Astley, Kim Wilde, Samantha Fox- these are people I grew up watching and grew up being a part of their world when I was just 15-16 years old. And now, to be 44 and see them and how they are all doing so great is amazing. I got to congratulate Rick on his album and he's just such a stand-up guy. It all really creates such a warm feeling in my heart to know that we're all still doin' it and enjoying it- and I think that's the key; to love what you're doing. I can't even explain it. It's a great feeling.
What else do you have coming up next that you can tell fans about, and where can they see you next? Any more opportunities to see you perform with The New Kids On The Block?
I don't think there is anything coming up with The New Kids. I will actually be going on my own tour, so that's exciting. I am finishing production now and we're in rehearsals, I got my band working overtime and we start out the 24th of August in Nashville- that's where I live, so it's a nice little hometown kick-off. Then I keep going with the Million Miles tour. We'll stop for the holidays and pick up for the next year, but it's going to be a whirlwind of events. It's a seventy minute show, and I really want this to be a dynamic evening; my guitar player and my drummer are amazing, they are working really hard, and they're so excited to go out and blend twenty-eight years of music together- which has been a fantastic challenge to make it all make sense, and it's been quite a musical journey. And it's going to be a lot of fun, and I'm glad I got to perform and talk to the Kids as I started to springboard this. And of course, mostly I'm excited about seeing my fans. I wanted to keep it small, with small venues for the reason of the music. I love the idea of being able to sit and talk and tell stories behind the songs and be spontaneous, and if there are requests? I want to be able to take them. I always want constant interaction with my fans. They always come first.
     Clearly, after thirty years, nothing changes. Undoubtedly, the number one request fans will most likely be shouting out to Tiffany is that she tours and makes albums more often...and of course, reunites on stage with some very special old friends.
     For more information on the Tiffany's touring info and where to get her new album, A Million Miles, sign on to her website at www.Tiffanytunes.com to learn more!
This post was published on the now-closed HuffPost Contributor platform. Contributors control their own work and posted freely to our site. If you need to flag this entry as abusive,
send us an email
.