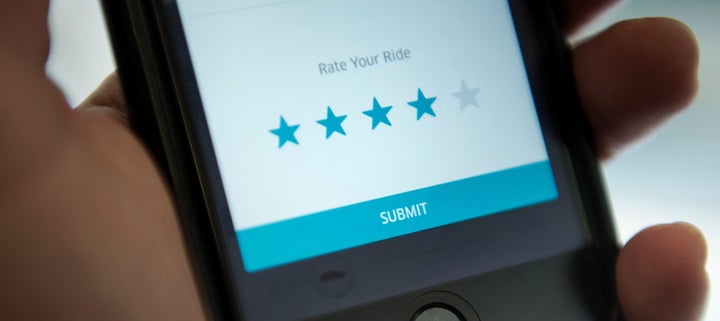 Uber drivers and passengers may be paired together over and over again, even if they don't like one another.
This can lead to safety concerns and reveals a substantial quality-of-life gap between Uber and Lyft's star rating systems.
Lyft representatives told The Huffington Post that a driver and passenger will never ride with one another again if either party gives the other a rating lower than four stars after their trip. But with Uber, it appears that pairing can happen repeatedly, despite a bad experience, unless one party carries out the inconvenient task of reaching out to customer service and identifying the bad driver or passenger.
One driver said she was harassed several times by the same customer after the app continued to pair them up.
While it may sound like nitpicking a technical issue, HuffPost has spoken to several drivers who have been paired with a bad customer, only to inadvertently pick them up again.
One driver said she was harassed several times by the same customer after the app continued to pair them up. She also said she knew of another customer who gave a driver a low rating after being harassed and stalked by him, only to be paired with him again. The system technically allows either situation to happen.
The drivers who spoke to HuffPost wish to remain anonymous, and Uber didn't respond to repeated calls for comment.
"We've heard plenty of those stories in California, stories of drivers who have been re-paired with people when one party or the other had problems," said driver advocate and International Teamsters Vice President Rome Aloise. "We need to have an entity so that drivers can speak with a single voice to Uber about these problematic things."
Indeed, the general inability to organize has been a huge issue for Uber drivers over the years. The company has allowed associations to crop up all over the country, allowing a bit of unification -- but not unionization -- among drivers.
The company agreed to start a guild for 35,000 drivers in New York in May, which advocates hailed as a small step in the right direction for workers' rights. But contractors say their inability to unify and communicate among themselves has exacerbated smaller problems like the star rating issue.
Uber's star ratings system could spell trouble for passengers, too. That said, Uber drivers do need to keep a stellar rating to stick with the company. Internal documents leaked in 2015 showed that drivers are expected to keep an average rating of 4.6 stars or above, lest the company consider kicking them off the force.
Note: The Huffington Post's Editor-in-Chief Arianna Huffington is a member of Uber's board of directors, and has recused herself from any involvement in the site's coverage of the company.