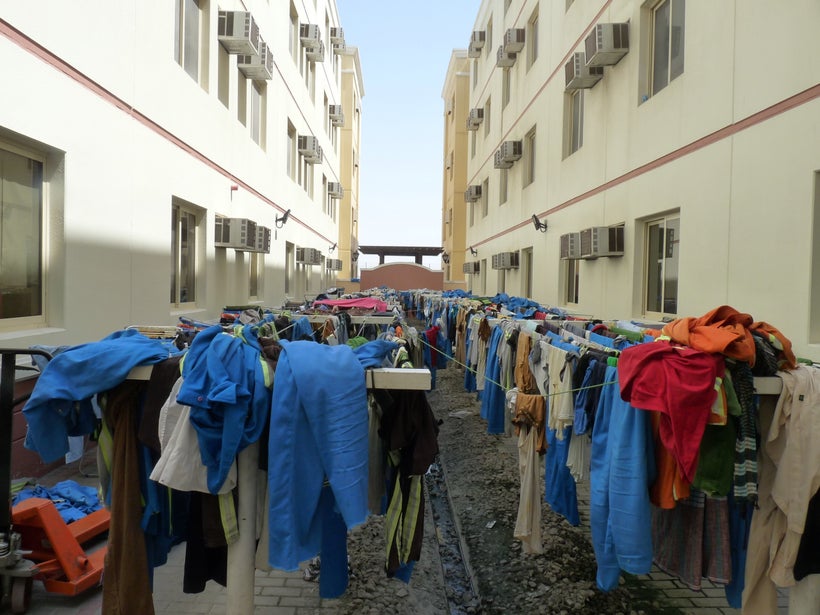 Forced labour, debt bondage and slavery. Sound like notions from the past? Think again.
These crimes are all too real, and they can and do pervade through the supply chains that feed our global economy.
The risk for business is also real - it is one I have seen first hand, including through a labour audit I led in the Middle East. The company we audited, a large British publicly listed company, was manufacturing components for use by an Australian company on Australian soil.
Like many large multi-nationals, the company relied on labour recruiters in South Asia to secure their workforce requirements in their Middle East operations.
Interviews with workers on their factory floor confirmed some had paid the equivalent of two years' worth of wages in recruitment fees, borrowed at rates of up to 60% interest, in order to access the "opportunity" of work.
In line with standard operating procedures, their passports had been routinely taken and centrally stored by the British company.
The audit team spoke to one man – I'll call him Rakesh - who had been made redundant part way through his first two years by the British PLC in the economic downturn. Three years after having returned from the Middle East to India, he still owed money to the recruiter – and could not pay for his daughter's wedding. Rakesh had no way to repay the loan on local wages, and could not afford to migrate again as he couldn't pay the fees.
Tackling modern slavery is no small feat but this is a challenge that faces governments and businesses worldwide. The inaugural Bali Process Government and Business Forum (Perth Forum) is an ambitious opportunity for public-private collaboration to do just that.
The Perth Forum, commencing later this week in Perth, Western Australia, bring together business leaders, government officials and other international stakeholders from across the Indo-Pacific region. Business and Government participants will share experiences about what business needs to address this issue. It is likely that the challenges of ethical recruitment of migrant workers will be a key focus.
The Asia-Pacific is particularly prone to the risk of modern slavery. It is estimated that worldwide 45.8 million people are victims of modern slavery. Over 66% of these victims are located in the Asia-Pacific region.
The Forum is an unprecedented and hugely significant opportunity for governments and businesses in our region. The aim is to inspire leadership and action, not just talk. Many leading businesses are taking action on this issue – as seen by the participation of Walmart, Adidas, Konica Minolta and others at this event. Now, the need is to find ways to ensure that best practice becomes business as usual, so forced labour and slavery again become relics from the past.
This post was published on the now-closed HuffPost Contributor platform. Contributors control their own work and posted freely to our site. If you need to flag this entry as abusive,
send us an email
.