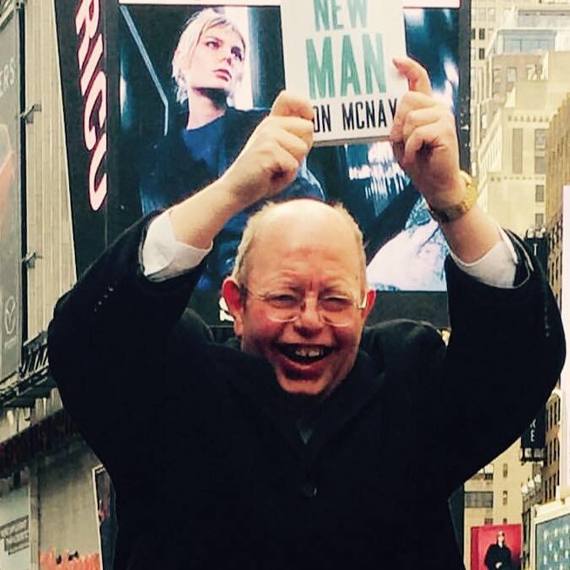 "I don't know if we each have a destiny, or if we're all just floating around accidental-like on a breeze, but I think maybe it's both." -- Forrest Gump
Forrest Gump's insight is a metaphor for how I physically became a Brand New Man, but is also an analogy for my journey to becoming a best-selling author.
Brand New Man is my eighth book, and my best one. My writing journey started on April 2006 at my mother's funeral. My daughters and I were reflecting on Mom's wonderful and wacky life, and a question was posed: "If you died tomorrow, is there anything you would regret?" I said I had never written a book. Like 270 million other Americans, I had thought about writing a book, but not one of the 80,000 people who actually got one published.
Right then, I set a goal to have a book published by the end of that year. Thus, The Unbridled World of Ernie Fletcher came to life.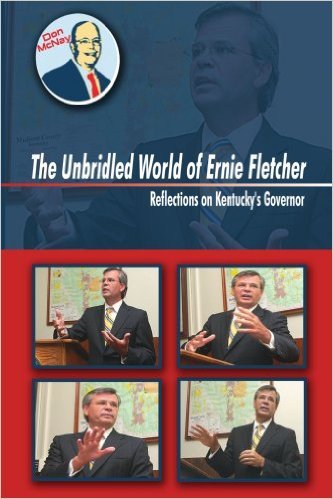 My decision to be an author was destiny or accident, but my decision was bad luck for Kentucky's Governor. Right after I made the decision, Governor Fletcher went through a period where he wound up being indicted for something silly. At the same time, I was going through the hardest period in my life when my mother and sister died and my marriage ended, all in a six-month period.
The Unbridled World of Ernie Fletcher allowed me to refocus my anger and angst into over-the-top, biting sarcasm. I didn't talk about the size of Governor Fletcher's hands, but it was about the only thing I missed. Like Donald Trump and others have discovered, there is an audience for saying outrageous things. The book was a hit.
One of the things I've learned about books is that it allows you to leave a permanent imprint on history. I didn't want ripping into Governor Fletcher to be my only mark. Over the years, I've apologized to Governor Fletcher and become a good friend of Jim Host, who gets slammed in the book. But without The Unbridled World of Ernie Fletcher, I would not be here today. I became an author, instead of someone who was thinking about being one. It's easier to get to the end zone once you have been there before.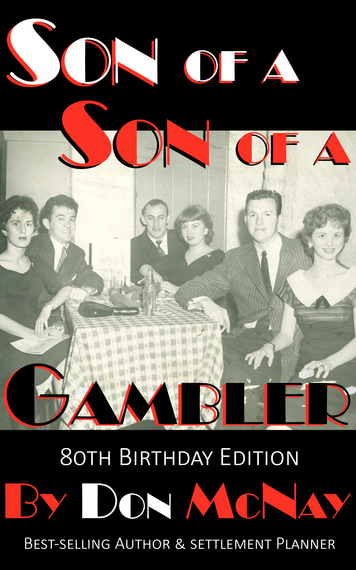 My family deaths caused me to reflect on growing up the son of a professional gambler in Northern Kentucky and inspired my second book, Son of a Son of a Gambler: Winners, Losers and What to do When You Win the Lottery. It was a complete flop when it was released in January 2008.
In another instance of destiny or chance, Gambler was headed for the dust heap when the media noticed the latter part of the title. My expertise in handling large sums of money gets called upon by media outlets around the world every time the jackpot gets hot, and every time I do that, my four lottery-related books start selling again. They often hit the three bestseller slots in the lottery category. As recently as this January, Gambler was back in the number one slot, eight years after it was first released. Another book, Life Lessons from the Lottery, was my best book before Brand New Man and had a nice write up in the New York Times.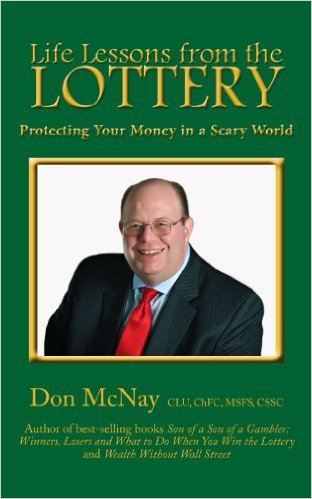 Although my books sold well and I completely dominated the niche of lottery expert, I never felt like I had written the kind of book that I was capable of writing. My books tended to be short and I would give myself artificial deadlines. My friend Ed McClanahan took 20 years to write his classic novel, The Natural Man. I can crank out 25 or 30 books in the same time period. Mainly because fatigue and burnout had taken over and I did not have the patience that Ed did. I had moved into the high reaches of morbid obesity and weighed 377 pounds. At age 55, the odds of making it to age 65 were between slim and none.
The idea of losing over 100 pounds and writing a book about it was not by accident. It was a deliberate act.
Even before I started losing the weight, I developed a plan to turn my life around and that I would devote as much time, research and honesty into writing the best book I was capable of writing. I wanted it to have a happy ending and the fact that I was sharing my story with the world gave me the kind of accountability to assure that was going to happen.
My goal was to write the best book ever written by someone considering weight loss surgery. That's a subjective goal, but I gave it everything I had and was not going to turn it over to the public until there was nothing I could do to make it better.
You're getting the best that I have and my journey to health and fitness has made me the best and happiest I have been in my adult life. Writing a book is not a singular act, and losing 100 pounds is not a singular act either. I write about how I was able to assemble a dream team to lose the weight and write the book and give examples of role models who inspired and motivated me.
Now I want to take what I have learned to inspire and motivate others.
Two things define my writing style. One is that I am a good imitator. My childhood models were writers like Hunter Thompson, Tom Wolfe and Mike Royko, and I can immediately pick up their style and it bounces around in my own unique fashion.
The second is that my knowledge of classic rock and roll became my writing trademark. I started off a couple of my early newspaper columns with a lyric of some kind without really thinking about it. Then I didn't do a song and the readers howled. For the next decade, I didn't write anything that didn't use a song lyric to kick it off.
Thus, the art of imitation and rock and roll play into one of my favorite parts of Brand New Man.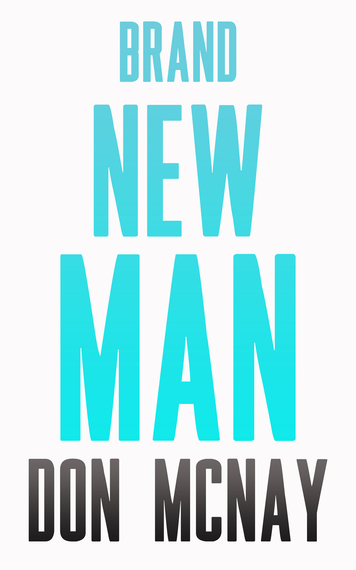 How I Got Fat (In Four Hundred Words)
Jimmy Buffett's book A Pirate Looks at Fifty is well worth owning just to read his chapter "My Life (In Four Hundred Words or Less)."
He gets most of his biographical highlights into a witty and insightful 400-word essay.
I could write an entire book tracing my early life and how I got past the point of morbid obesity, but Jimmy Buffett wrote two other lyrics that are appropriate to remember:
"Yesterday's over my shoulder, so I can't look back for too long." And "but I know it's nobody's fault."
Thus, here is the story of how I got fat in exactly 400 words:
My dad was a bookie and my mom worked in a potato chip factory. Everyone in my family was overweight and died at a young age. I was fit in first grade, but we moved to the suburbs and my parents got divorced. I got chunky, picked on and someone tried to cram cottage cheese down my throat. Then I had an early growth spurt and became a decent athlete. I did well academically my last year of high school and became semi-popular.
My skewed childhood gave me a sense of ambition, self-confidence and determination tempered with feelings of exclusion, irony and empathy with the underdog.
None of that has changed.
College at Eastern Kentucky University was wonderful, and my nonstop activity balanced my diet of fast food, Coke and frozen pizzas. I stayed at a good weight for five years. I started gaining 10 pounds a year in graduate school at Vanderbilt. I was at 270 pounds in 1989 when I went on a liquid weight loss program. I lost 90 pounds and eventually gained it back. I did the program several times, never lost less than 50 pounds and gained more every time. That went on for about 25 years.
I've slept with a CPAP for 20 years, been on blood pressure medicine for 30 years and stalled the move to insulin by staying on a low carb diet. I rarely drink, don't smoke and don't do illegal drugs.
I traveled frequently and have been to zillions of nice restaurants, but kept the stockholders of McDonalds happy along the way. I was married, divorced and married again. I started my own "fat guys" group. We stayed together for several years, but no one really lost weight. A hypnotist got me to stop eating potato chips. A shrink helped me deal with my childhood traumas, sudden family deaths and anything else that bugged me. A personal trainer helped my 377-pound body exercise, and I read more than 100 books on nutrients and diet. I became friends with some of the best doctors in Kentucky and occasionally listened to them.
I led a productive, high-profile life, but at age 55 my body was falling apart.
Then I did the weight loss surgery. I lost more than 110 pounds. I started eating correctly and taking lots of vitamins and supplements. I exercised daily. I embraced CrossFit. I even tried cottage cheese.
Now it is on to the post-obesity era.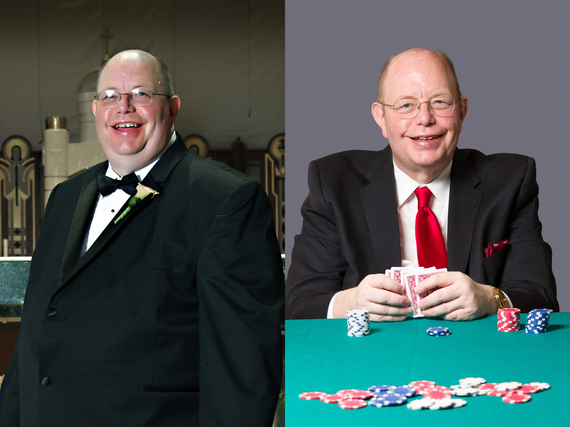 Read about Don in a Lexington Herald-Leader feature by Tom Eblen
Don McNay, ChFC, MSFS, CLU, CSSC is a financial expert, journalist and author of seven best-selling books. His new book, Brand New Man: My Weight Loss Journey, released on Feb. 27.
McNay is one of the world's best known experts on structured settlements and how lottery winners handle their money. He lives in Lexington, Kentucky, and you can learn more about him at www.donmcnay.com
McNay has a Masters Degree from Vanderbilt University and a second Masters Degree from the American College. He has four professional designations and is in the Eastern Kentucky University Hall of Distinguished Alumni.
McNay has been a Huffington Post contributor since 2008 and his insights have appeared in hundreds of publications, including the New York Times, Washington Post, Time Magazine, Los Angeles Times, Forbes and USA Today. He has appeared on television and radio programs around the world including CBS Morning News, CBS Evening News, ABC News Radio, AM Canada, CTV News and RAI Television in Italy.