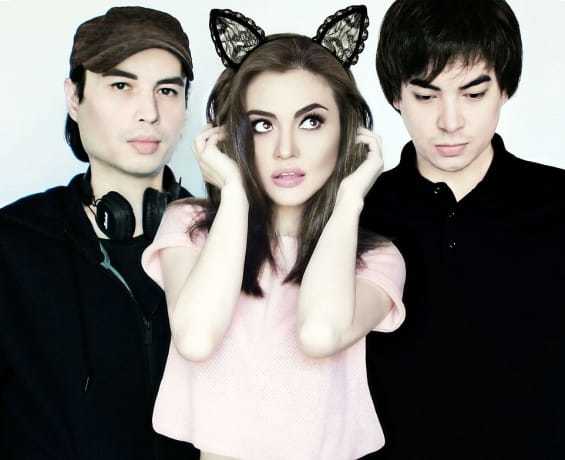 Who Shot Bukowski? is the name of the album. Jack of None is the name of the band. Recently, I had the opportunity to review the album. Frankly, it blew me away because of its Jovian potency, its emancipated creativity. So when the opportunity to interview the three siblings that form the band arose, it was like manna from heaven. And like their music, their answers exceeded my expectations. Not only are they talented beyond measure, but they are perceptive, witty and stylishly proto-cool.
Because of space limitations, I am running the interview in three parts. I didn't want to do my usual hatchet-job on this interview, chopping it down to a manageable size, simply because it's so good. So the only way to resolve the problem is to employ the tripartite methodology.
Q: How would you describe yourself?
A.G.: Shy and introverted are the first two words that come to mind. What I find surprising is that most of my friends disagree. I suppose I do a good enough job of hiding it. But really, I'm the type of person who weighs words carefully and thinks twice before saying anything. I also tend to keep myself up at night replaying conversations in my head and wondering if I should have said anything differently.
Maxine: A pyromaniac porcelain doll in a house of matchsticks. Translation: an extremely sensitive, introspective, and even fragile soul—wrapped in a courageous body of fire and energy.
Julian: A reformed hedonistic hooligan. I spent my early years indulging in all of life's pleasures and comforts. Now, I'm a simple guy who does his best to live mindfully. I like to think it's because I'm fundamentally a big-hearted person, and it was only a matter of time before I got all the foolishness out of my system. One day, when I have my way, I will live happily off the grid.
Q: What kind of guitar do you play? And why?
A.G.: My go-to guitar is a black ESP LTD EC-1000 (Eclipse model) that my Dad insisted on buying me for my birthday a few years ago. I affectionately call it Torkemada (yes, with a 'k'). It has an Evertune bridge, which means it never goes out of tune and has perfect intonation. Coupled with its clean and quiet active pickups, I find it perfect for studio use.
For this album, I wanted a chunkier sound and decided to add a 7-string to the mix. My wife Mica got me a white LTD FRX-407, which I call Ghost. I'm still learning to play it, and am finding that it isn't as easy as I thought it would be. You'll hear it in the chorus of "Strangest Bedfellows" and "Polyamorous Serial Monogamist", as well as most of "The Princess and the Pistol".
Lastly, I use a Line 6 Variax because I love the modeling technology. The acoustic guitar on "Tenderly, She Said" is one of its Martin models. I also love the way its virtual capo lets me mess around with out-of-this-world tunings.
My brother loves vintage instruments. I tend to lean towards newer designs that I feel are innovative. Some of my favorites have sustainer pickups, which I love to use to shape feedback. Those didn't get used in this record though.
I could go on forever talking about guitars, so I'll stop here! Maxine: A hot pink Fender Strat with a wooden angel wing for the fretboard and bone horns for the tuning pegs… In my dreams, of course.
Julian: I'm a guitar addict and gear-head so I play and own many - Fenders and Gibsons, mainly. For the second album, I played one of my favorites – a 1958 American Vintage Re-issue Fender Telecaster through my Fender '59 Bassman. Nothing beats a Telecaster for lead work and cutting through a mix. It's everything I need and nothing more.
There's also something special about the tradition and history of the Telecaster. It's one of those instruments that will never die out. I guess Leo Fender got it right the first time.
Q: What is the most trouble you've ever gotten into?
A.G.: This question sounds like it was meant to have a "fun" answer. For me, it's a little personal though. I became a Father when I was 18 years old. A lot of people thought my life was over. I graduated top of my class a few years later, then began my climb up the proverbial corporate ladder. I've had a relatively successful career in the IT industry since. I don't think my wife and I would be where we are today without the tenacity we developed in our effort to prove those people wrong.
Maxine: Cutting my skirt too short in the Catholic all-girls high school I attended, and learning how to smoke cigarettes (because it made me look "cool") at the age of 11. I'd like to think I'm my own justice system— paradoxically "cop" and "robber" within the brutal confines of my law-abiding criminal heart.
Julian: I can't tell you the most trouble I've ever gotten into. My parents told me I was a real-life Dennis the Menace for most of my life. When I wasn't harassing them or the household, I was raising hell in the neighborhood. I used to run around with my Daisy BB-gun and shoot out lamps. I'd also get into fist fights with other kids.
When I got older, my attention turned to girls. That was the start of a whole new kind of trouble.
I remember several regrettable incidents. One involved a girl, the underside of her bed, and her dad chasing me out of their house when I was 13. And when I was 19, I ran off with a girl my parents didn't approve of (with very good reason).
Find out more about Jack Of None here.
This post was published on the now-closed HuffPost Contributor platform. Contributors control their own work and posted freely to our site. If you need to flag this entry as abusive,
send us an email
.