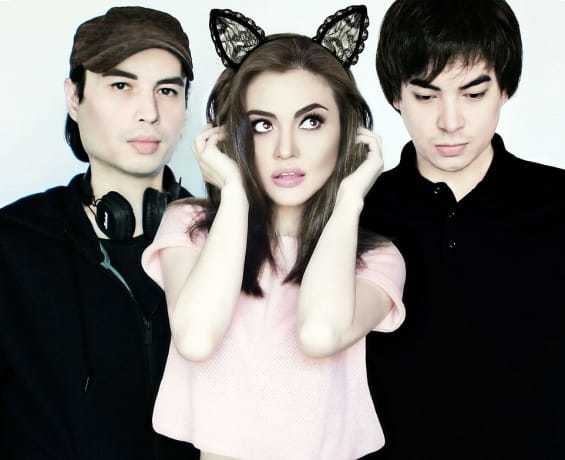 Q: What's your favorite song to belt out in the car or the shower?
A.G.: This is a little embarrassing, but if I'm being honest, it would probably be Dashboard Confessional's "Don't Wait." Hey, it's a great song! For the longest time, it was the only CD I had in my car. Traffic in Manila is a nightmare during rush hour, so my wife and I used to keep the windows closed and go nuts with it to relieve stress to and from work. Now we live in Chicago and don't have to drive through that kind of traffic anymore.
Once a year, when us sibs get together for Christmas, we also like to get really drunk and sing along to Four Non Blondes' "What's Up" – with me strumming 3 chords on an acoustic guitar and failing miserably at vocal harmonies. We usually have people playing the djembe and cajon too. It's lots of fun.
Maxine: "Rubber Ducky". He makes bath-time lots of fun (especially when I pretend to sing as Marilyn Manson, Zack de la Rocha, and Nina Simone all at once – it's a riot!). Oh, and "Maxine" by Donald Fagen, which is the song that I was named after.
Julian: "Simple Man" by Lynyrd Skynyrd - one of my all-time favorites.
Q: What singers/musicians influenced you the most?
A.G.: As a composer, it would probably be Trent Reznor. I'm a fan of everything he does – from Nine Inch Nails and How to Destroy Angels, to the more recent film scores with Atticus Ross. He's just always been a hero of mine. As a child, our parents were really into David Byrne and Brian Eno. I'd love to think that stuff influenced me as well since it's sheer genius!
Maxine: To my jazzist heart: Billie Holiday, Charlie Parker, Miles Davis, John Coltrane, Chick Corea, Dave Brubeck, Bill Evans, Thelonious Monk, Charles Mingus, Sonny Rollins, Wes Montgomery, Buddy Rich, Medeski Martin and Wood, Max Roach, and the rest of the godly brood.
To my sentimental rocker soul: Janis Joplin, Laurie Anderson, Lou Reed, The Velvet Underground, Talking Heads, The Cars, David Byrne, David Sylvian, David Bowie, Donald Fagen, Marc Almond, Yoko Ono, PJ Harvey, Thom Yorke and Radiohead, Sonic Youth, Marilyn Manson, Rage Against the Machine, Massive Attack, Portishead, Prodigy, The The, Adam Duritz, Dave Matthews, Damien Rice, Chad VanGaalen, Grizzly Bear, The Kills, The Lumineers, and the rest of the a**-kicking clan.
Julian: Charley Patton, Leadbelly, Robert Johnson, Son House, Howlin' Wolf, Lightnin' Hopkins, Muddy Waters, Albert King, BB King, Stevie Ray Vaughan, Eric Clapton, Django Reinhardt, Grant Green, Wes Montgomery, Charlie Parker, Paul Desmond, Miles Davis, John Coltrane, and Julian Lage, to name a few. I'm primarily a blues and jazz man.
Q: How do your influences affect and shape your approach to music?
A.G.: I remember reading an interview that Brian Eno did years ago where he called himself a "non-musician." I also remember Helmet's Page Hamilton (who is an incredible guitar player!) tell the story of how he told David Bowie that he considers himself more of a "sh*t sculptor" than a guitarist. Those 2 quotes really resonated with me because that's how I like to think of myself. When I'm composing, it's a lot of experimentation and manic trial and error to create a mood using the knowledge of sound that I possess. If I were to rate myself as a musician in the traditional sense of the word, I would barely make the grade.
Maxine: By posing questions for me to contemplate and answer. I like to think of it as "soulful syllabication". When something moves me, I react to it through my poetry. The entire process is a push-and-pull struggle that results in many accidents, recoveries and— if I'm lucky— revelations.
Q: Where do you find inspiration for your songs?
A.G.: When I feel like my well has run dry, I usually escape into film, TV, anime and graphic novels. Come to think of it, a lot of the music on this album was written immediately following a binge of the show Black Mirror on Netflix, which we all love. I also remember watching the NYMPH()MANIAC films by Lars von Trier with Maxine and discussing it between recording sessions. I also showed her a film called "I Am the Pretty Thing That Lives in the House" because I felt it had a similar aesthetic to the first album. Maxine: Books, film noir, music, visual art. Basically, human existence and what makes people tick. I'm constantly searching for things that move me, and I'm often shaken to the core by art that pushes boundaries. I admire artists who take lofty and quixotic ideas and strip them down to their bare core to reveal what truly lies within— regardless of how dark, disturbing or "ugly" it may be.
Q: What's the story behind the name Jack of None?
A.G.: I wish there was a better story behind it. We all agreed it sounded cool in a nihilistic sort of way. It looked good in print. And most importantly, it wasn't taken (according to Google). If I remember correctly, I had used it in a conversation with a colleague at work and emailed it to myself because I liked the way it sounded. I said something like "You've become a Master of All Trades. Me? I'm like the Jack of None."
Maxine: We wanted our band's name to be poetic and playful, just like our music. I feel like "Jack of None" embodies how we, as a band, are neither this nor that in terms of a specific genre. We create both music and poetry, which makes us "jacks," but the genre that falls under is still a gray area, which makes it "none." All we know for sure is that we're artists and not entertainers, and so we freely march to the beat of our own drum.
Find out more about Jack Of None here.
This post was published on the now-closed HuffPost Contributor platform. Contributors control their own work and posted freely to our site. If you need to flag this entry as abusive,
send us an email
.