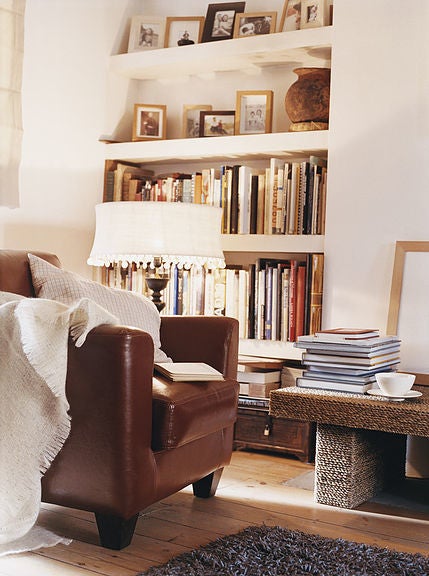 Do you find that you're dreading the colder weather because it means spending more time indoors? The state of your home can influence your sense of wellbeing more than you think.
Feeling overwhelmed by clutter and being unable to relax at home can be a real downer especially when coupled with shorter daylight time.
As a coach, I can safely say that the majority of my clients' moods and behaviors are impacted by the condition of their home environments. This includes mess, perfection, design, decoration, and even domestic relationships with roommates, neighbors and more.
While dwellings are only a small piece of the puzzle, I usually take it into consideration when working with clients because, for some, it's an easier area to start regaining a sense of control in life.
Plus, even a minor adjustment can boost mood drastically, which then improves attitude and outlook when attempting some of life's bigger goals.
I reached out to a few pros to get their best advice on how anyone can make simple and smart decorating adjustments to feel more energetic, inspired, comfortable and cozy this season.
1. Rearranging furniture for a new perspective
Brynne Rinderknecht is an interior designer at From The Inside whose work focuses on creating a more mindful space to express personal drive and spirit. In accordance with the Sacral Chakra, Rinderknecht suggests "rearranging your furniture in order to shift yourself into a new perspective at home and recharge your creative energy! Whether it be moving your desk to optimize more daylight hours for working on a new passion project or moving your sofa towards a better view outside the window for self-reflection."
This budget-friendly move (it costs nothing) can instantly lift your mood!
2. Get festive… with good energy!
Have you decorated your place with pumpkins yet? If you haven't, you'll want to do it asap. Here's why: Holistic & Integrative Health Coach, Miranda Popen, helps clients focus on their homes and one thing she suggests is to "celebrate the prosperity of fall" by surrounding your front and back doors with pumpkins.
"Pumpkins offer a great amount of protection against negative energy," explains Popen. And we can all use safeguard against negativity!
Put your green thumb to work all year round by maintaining household plants. According to Popen, there are many benefits to having plants indoors. They "naturally remove indoor toxins and purify the air, dispensing plenty of healthy breathing space for everyone. The more nature surrounding us, the more we are able to feel connected to our natural sense of well being."
This is particularly significant when spending a lot of time indoors and feeling slightly disconnected from nature.
Many of us are aware that aromatherapy can be useful for relieving anxiety and stress, boosting energy, easing headaches and more.
Anjie Cho, Architect and Author of 108 Ways to Create Holistic Spaces: Feng Shui and Green Design for Healing and Organic Homes, recommends embracing the scents of the season and inviting them into your space.
"There are a wide variety of essential oils that are perfect for fall diffusing. Oils like eucalyptus and rosemary are amazing at helping to improve the immune system and combat fall and winter sniffles, and other options like nutmeg and cinnamon can do wonders for making your space cozy and uplifting your mood."
This post was published on the now-closed HuffPost Contributor platform. Contributors control their own work and posted freely to our site. If you need to flag this entry as abusive,
send us an email
.