Streamline recommends "Sacred Games" as the new show to watch on Netflix this week.
As the first Netflix Original series from India, "Sacred Games" didn't need to be good to win media attention.
Set on convincing the entire world to stream shows, Netflix finally expanded into the large Indian market and that's notable by itself. But "Sacred Games" deserves attention in the United States beyond its distinction as a "first." 
In "Sacred Games," a police officer tries to save the city of Mumbai from a gangster with a particularly dubious moral code. And by save the city, I mean every single citizen, because this gangster credibly threatens to kill every last one of them.
Stories with wild stakes can often go off the rails, failing to find the right balance between realism and absurdity. "Sacred Games" handles this potential trap with confidence and competence.
Check out the trailer below. 
Also New This Week:
"The Joel McHale Show with Joel McHale" returns. I'm a fan of Joel McHale, but I'll be honest and admit that I don't understand the appeal of this show. Maybe someone out there considers this appointment-viewing, but  watching someone (even McHale) deliver lukewarm takes about pop culture doesn't work for me.
I haven't checked out the screener for this yet, but "Dark Tourist" could be cool. That's a show focusing on the tourism markets for landmarks of death ― like a serial killer's haunts or active battlegrounds.
And if you want to stay up to date with what to watch on a weekly basis, subscribe to the Streamline newsletter.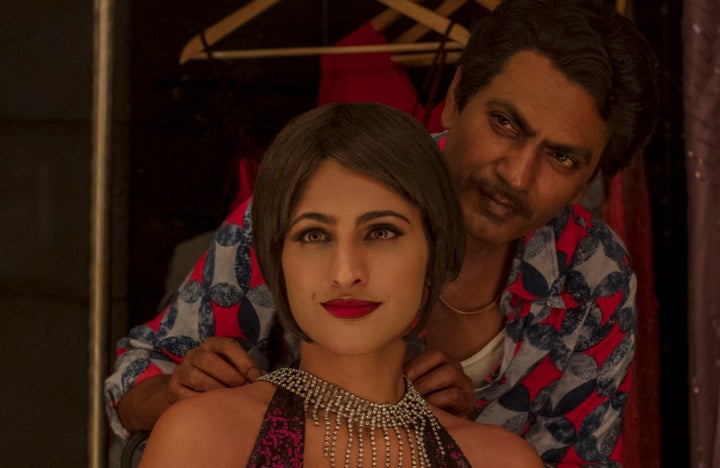 Here's the trailer:
Top 5 Netflix News Items From This Week
1. Netflix earned 112 Emmy nominations. That's more nominations than any other company this year and the feat broke HBO's 17-year streak at the top in regard to nominations. Netflix started competing in this space just a half-decade ago when the company debuted "House of Cards."
2. UBS downgraded a recommendation on Netflix stock from "buy" to "neutral." The Wall Street investment firm believes that Netflix's stock price, now just over $400, likely won't grow much more due to a period of overvaluation.
3. Perhaps related to the stock price, Netflix debuted a trailer for a comedy about a teen who accidentally cuts off his own penis. So, yeah, definitely click that link.
4. Netflix will release even more comedy next year. The company announced plans for 47 half-hour sets from comedians all over the world. Netflix will still debut longer specials as well.
5. And now you can turn on a "smart downloads" feature for some viewing devices. This option will automatically delete episodes you've already watched and download the next episode in a series as long as you're connected to Wi-Fi.

Random Netflix Tweet
The Netflix Twitter account is one of those try-hard media brands that like to make jokes. Streamline will present one a week without comment. 
One Weird Thing
Quick recap of Netflix history: In the early 2000s, Netflix CEO and co-founder Reed Hastings tried to convince Blockbuster to buy his company for roughly $50 million. Blockbuster, still a successful and ubiquitous company at that time, passed on the offer.
Then fortunes changed throughout the decade. Blockbuster filed for Chapter 11 bankruptcy protection in September 2010.
The bankruptcy meant that most Blockbuster stores closed, but not all of them. Since Blockbuster ran a franchise model, owners could choose to keep their stores running, despite the loss of a corporate partner. As of this week, only three stores remain: two in Alaska and one in Oregon.
And as Blockbuster slowly faded, Netflix grew to a market value of over $150 billion.
All right, you're caught up.
So with that context, you can appreciate the news that the two Alaska Blockbusters announced plans to close this year, leaving one Blockbuster on Earth. Blockbuster once had over 9,000 stores.
To create a narrative bow tie for this saga, Netflix should just buy this last store. As long as it gives the franchise owner enough money to also cover the loss in sentimental value, Netflix should then film a demolition of the store and release the explosive special to subscribers.
"Bonusfamiljen" (Season 2, Netflix Original)
"Going for Gold"
"The Joel McHale Show with Joel McHale" (Part 2, Netflix Original) 
"Amazing Interiors" (Netflix Original) 
"Dark Tourist" (Netflix Original)
"Deep Undercover" (Collection 3)
"Duck Duck Goose" (Netflix Film)
"Father of the Year" (Netflix Film)
"Fix It and Finish It" (Collection 3)
"Home: Adventures with Tip & Oh" (Season 4, Netflix Original)
"Jimmy: The True Story of a True Idiot" (Netflix Original)
"Last Chance U: EMCC & Life After" (Netflix Original)
"Last Chance U: INDY" (Part 1, Netflix Original)
"Luna Petunia: Return to Amazia" (Season 2, Netflix Original)