Streamline recommends "Maniac" as the thing to watch on Netflix this week. The new mini-series debuts on Sept. 21.
"Maniac" stars Emma Stone and Jonah Hill. Cary Fukunaga directed the project. All three have executive producer credits.
Netflix has been teasing this project heavily for a long time. Stone and Hill are full-fledged A-list movie actors. Netflix doesn't tend to get that caliber of fame to star in its shows, so this definitely stands out as a "television event."
The plot follows Stone's and Hill's characters as they agree to test out a potentially revolutionary new drug treatment. The creator of the drug promises to fix their respective lives without any side effects. As you probably guessed, there seem to be many side effects.
The story unfolds in an expansive, roller-coaster, genre-bending way that's hard to define. So far, this has polarized critics, with a few declaring "Maniac" as incredible, while others deem it a mess. You should check it out and see for yourself.
Check out the trailer below. 
Also New This Week:
Netflix has eight other Originals. That's a lot of content, but less than it had the previous couple of weeks.
Josh Groban (yes, that Josh Groban) and Tony Danza star in a new show called "The Good Cop." It looks like the kind of show that would have aired on USA during its "Characters Welcome" phase.
Rashida Jones co-directed a documentary about her father, Quincy Jones. It's aptly titled "Quincy."
You can read the full list of additions at the bottom of this page.
And if you want to stay up to date with what to watch on a weekly basis, subscribe to the Streamline newsletter.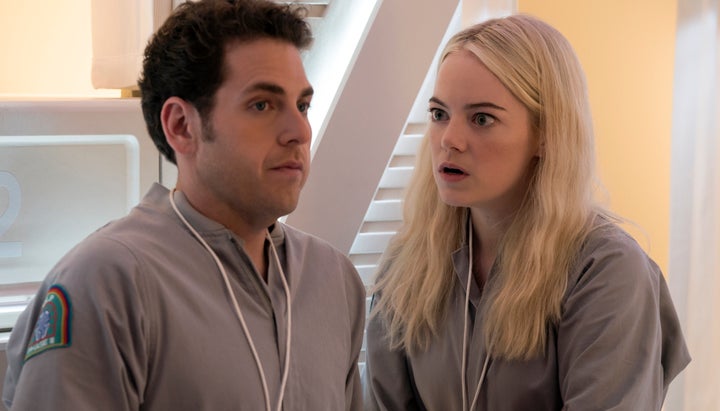 Top 5 Netflix News Items From This Week
1. "Queer Eye" won an Emmy for the Best Structured Reality Series category. This took place during the non-televised first round of the Emmys. Shauna Duggins of "Glow" became the first woman to win the stunt coordinator category. The "Black Mirror" episode "USS Callister" also won an Emmy.
2. Netflix finally won a major film festival award. Alfonso Cuarón's "Roma" won the grand prize Golden Lion at the Venice Film Festival. "Roma" is one of two possible major Oscar contenders Netflix has this year. The service also has a new Coen brothers movie debuting later this year ― you can watch the just-released trailer for "The Ballad of Buster Scruggs" here. 
3. In a "shots fired" moment, AT&T CEO Randall Stephenson compared HBO to Tiffany & Co. and compared Netflix to Walmart. This follows another AT&T executive (AT&T recently bought HBO) saying that HBO will soon compete more directly with Netflix.
4. Norm Macdonald essentially turned the press tour for his new Netflix talk show into an endless apology tour after he kept making terrible statements. Basically, he said celebrities such as Louis C.K. and Roseanne Barr are the real victims and then made a Down syndrome joke when apologizing for that. Welp.
5. And Netflix renewed its extremely popular fat-shaming show "Insatiable" for a second season. Never forget when CEO Reed Hastings defended the renewal of the company's extremely popular suicide-glorifying show "13 Reasons Why" by saying "nobody has to watch it."

Random Netflix Tweet
Netflix is one of those try-hard media brands that like to make jokes on Twitter. Streamline will present one a week without comment.
One Weird Thing:
As expected, Netflix's take on the "Sabrina the Teenage Witch" story will be much darker than the Melissa Joan Hart version. Here's the strange and creepy trailer:
"Inside the Freemasons" (Season 1) 
"Role Models"
"Scott Pilgrim vs. the World"
"American Horror Story: Cult"
"D.L. Hughley: Contrarian" (Netflix Original)
"Battlefish" (Netflix Original)
"DRAGON PILOT: Hisone & Masotan" (Netflix Original)
"Hilda" (Netflix Original)
"Maniac" (Limited Series, Netflix Original)
"Nappily Ever After" (Netflix Film)
"Quincy" (Netflix Original)
"The Good Cop" (Netflix Original)