As Timmy Sneaks ignites Boston's art scene, he is transforming more than a blank canvas with his unmistakeable pop style.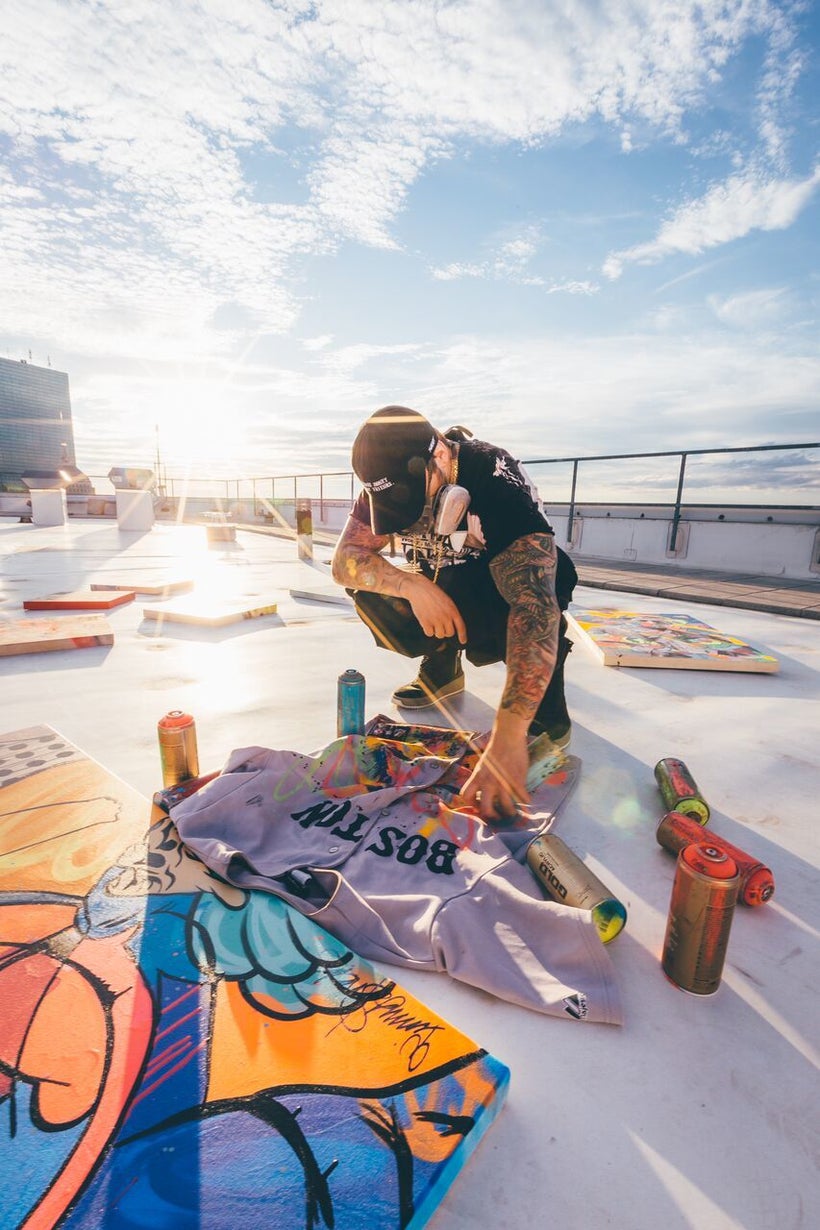 Walk into Timmy Sneaks' studio, or better yet, scroll through the artist's Instagram feed, and you'll be confronted by your favorite 90s cartoons in a colorful, graffiti montage.
"I think I pretty much have every character. I'm into 90s pop culture, I grew up in the 90s, so that's super important to me," explained the 27-year-old Massachusetts artist. "I use spray paint, I use collage, I use oil pastels, acrylic paints, oil paints; so, it's really a little bit of everything."
Often depicted behind a gas mask, with a name sparked from a passion for sneakers and an intrigue by nicknames in films like Goodfellas, Sneaks himself, is a little bit of everything -- and on a journey to create something from nothing.
Sneaks, more formally known as TJ Bransfield, had a knack for art since he was a kid -- drawing in notebooks at school, on napkins at restaurants and even on his younger sister during family vacations. Yet, even though he gravitated toward creativity at a young age, it wasn't until he attended Savannah College of Art and Design, that he began to take himself seriously.
"I majored in illustration but I accidentally ended up going the fine arts route," Sneaks explained. "In the beginning, I was doing portraits and then I started studying cubism, pop art and futurism." Taking inspiration from Warhol, Basquiat and Boccioni, Sneaks realized he could combine the styles to make something "new" and to make it "his own," which is exactly what he did. "I stumbled upon something that was working for me and I took it from there."
Focusing on style and honing in on skill for the last five years, Sneaks saw it all pay off with "Organized Chaos;" his first solo show last Friday at the W Hotel.
"The support from the city was unreal. You could hardly even walk in [The Gallery]," said Sneaks' manager, Mark Mastrandrea. "Selling paintings and commissioning new custom paintings felt great, but meeting existing clients that drove from across the Northeast was the one thing that really hit home."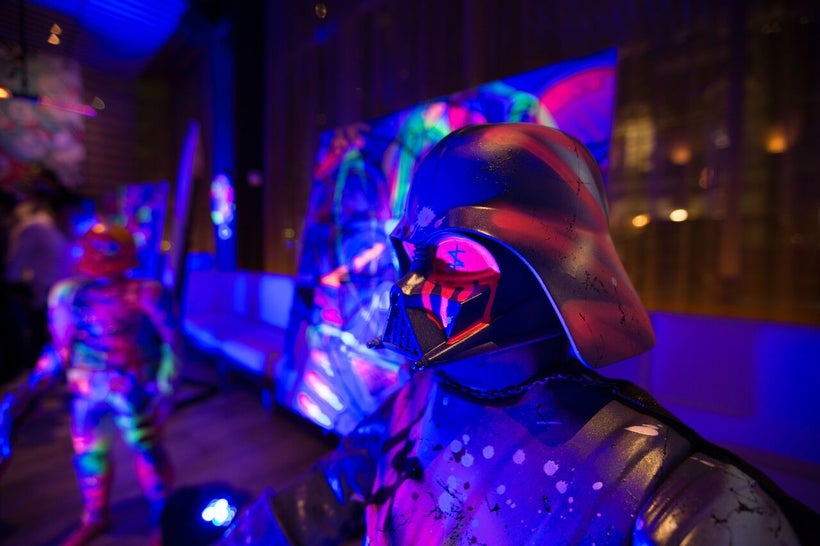 "It's so exciting to see how many paintings he has," beamed his sister, Briana, as she gazed around at the mixed media pieces adorning the walls and floor-level center piece, all played up by blue light. "He has been working day in and day out to get these paintings up and ready for tonight."
"Day in and day out" to Sneaks meant 16-hour days in the studio, for the past three months, turning out all new pieces to make sure everything was "fresh" and "perfect" for his first show. And, even though the uncharacteristically shy Sneaks remained humble as visitors crowded his collection, he was not afraid to admit how validating it was to witness how the hard work, stress, tunnel vision and dedication were all worth it. Especially since gallery space and artist shows are new to him. "I kind of like doing my own thing. In this day and age with social media, there's really no need to give a gallery a 50 percent cut, I can do it on my own."
With more than 41,000 Instagram followers and, now, a show behind his name, that's exactly what Sneaks did with the help of his two managers -- built a brand on their own.
"I knew he was talented," said Mastrandrea, reflecting on his first meeting with Sneaks. "When we started talking management, he made it clear he would do whatever it takes. When he actually tattooed "Whatever It Takes" on the back of his neck, I knew nothing would stop him."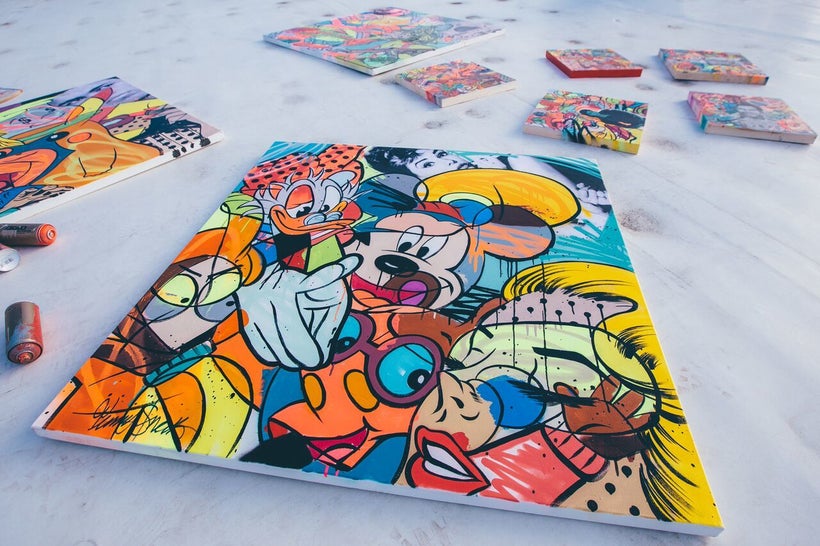 "I didn't have any connections in the art world," said Sneaks. "[Myself and my two managers] built it from $100 prints. It's because we believed that it could be something way more."
This motivation to create something from nothing kept Sneaks motivated over the past five years, and continues to motivate him as he plans to burst out of the Boston scene to do shows in New York, L.A. and Miami.
"I really wanted my first one to be in Boston because I really wanted to bring a focus for the people here. Just to show them something different," said Sneaks.
Although he kept the show local this time around, Sneaks already has quite the national, even international, recognition with commissioned pieces for stars like Kevin Hart, David Ortiz, 50 Cent and Real Madrid footballer, Karim Benzema.
"I try to put their ideas together and bring their ideas to life," said Sneaks, explaining how the best feedback he receives is when someone looks at a piece and sees something different each time. "That's what I like to do because when art is in your home, after a while it might get stagnant, it might get stale. But, I combine so many different things, I think every time you look at it you'll enjoy something you didn't before."
It's clear that "stagnant" just isn't a word in Sneaks' vocabulary, as even after the crazy months leading up to a successful show, he doesn't plan to end the hard work anytime soon. "If I take a break, I feel like I'm doing something wrong. I live to work because I enjoy it and it doesn't feel like work because I like doing it."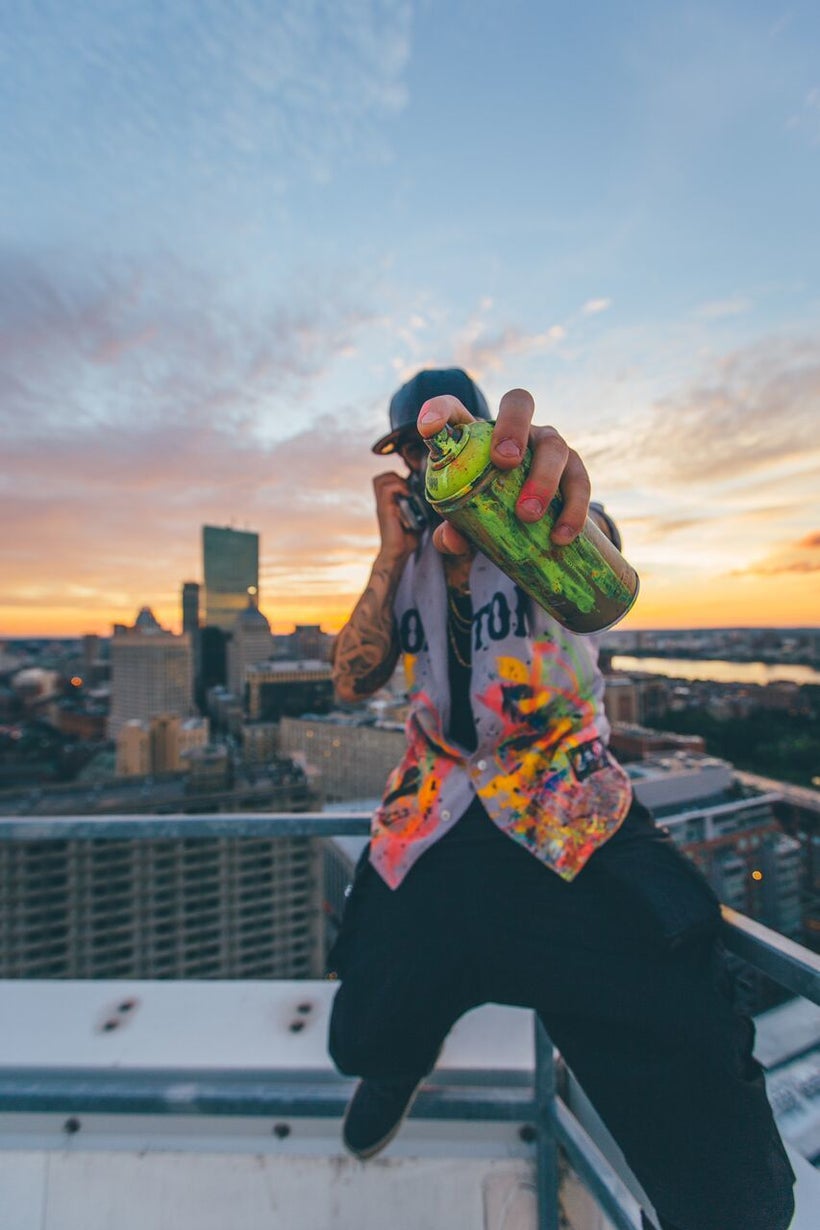 Stay up to date with Sneaks' latest pieces on Instagram (@timmysneaks), view existing pieces at The Gallery in the W Hotel Boston, or contact his manager for further inquiries (mark@timmysneaks.com).
This post was published on the now-closed HuffPost Contributor platform. Contributors control their own work and posted freely to our site. If you need to flag this entry as abusive,
send us an email
.