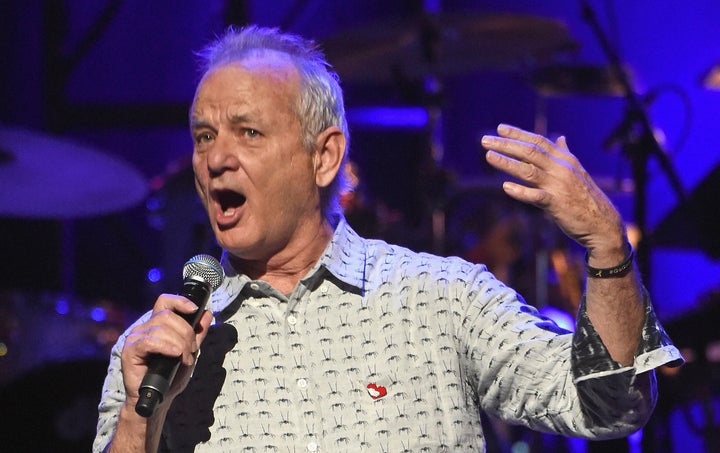 Bill Murray hasn't "given up on movies," as he assured a crowd about to watch his new band perform at TheTimesCenter in New York City on Thursday night. The longtime comedian, actor, party crasher and man-about-town simply wanted the opportunity to try being a musician as well.
"It's just, this was so appealing."
In this new group, Murray is the singer and reader of poems. He's accompanied by the cellist Jan Vogler, violinist Mira Wang and pianist Vanessa Perez. It's a bit of an unconventional setup, but with Murray projects that's par for the course.
"You feel pretty much like the Rolling Stones or something like that," Murray said when talking about being surrounded by the other talented musicians on this project.
The group will release an album in September called, "New Worlds."
They do all the work. I'm in charge of getting us across the streets at the lights. That's it.

Bill Murray, referring to his new band
According to Murray's retelling in a pre-performance panel moderated by The New York Times, he met Vogler in the security line for a flight to Newark, New Jersey. The intro happened when Murray jokingly expressed concern that Vogler's cello wouldn't be able to make it onto the plane given its shape and size. As Vogler is a renowned musician, the cello actually had its own first class ticket that got the window seat, to Murray's mock chagrin.
Then on the flight, a passenger began to panic, which caused Murray and Vogler to join in trying to calm her down. Murray claimed Vogler had every drug and vitamin "known to man on his body, so he was able to sedate this woman." Perhaps not the same kind of friend with a bag of drugs as Murray's late companion Hunter S. Thompson, but the comedian is older now, and this new duo were now a team.
The New York Times moderator expressed disbelief at all this and asked if the story was real. Vogler insisted it was. As with many Murray stories though, the truth is probably beside the point.
Murray was repeatedly self-deprecating when discussing his role among these world class musicians. At one point, the moderator questioned his work ethic and whether a famous improvisor could keep up with talent who had trained to be precise. "In a group like this, you need a squeaky wheel," Murray joked, after taking fake offense at the question.
When talking about a mini tour the group did, Murray said, "They do all the work. I'm in charge of getting us across the streets at the lights. That's it."
And as with any cultural event these days, the presidency of Donald Trump came up.
Murray commented on how Vogler is German, Perez is Venezuelan and Wang is Chinese. "We're trying to make America an immigrant country again," Murray said, a play on Trump's "MAGA" slogan. After Murray dominated much of the conversation in the initial panel, he remarked that his bandmates have learned to refuse answering questions.
"They've been interrogated at the borders."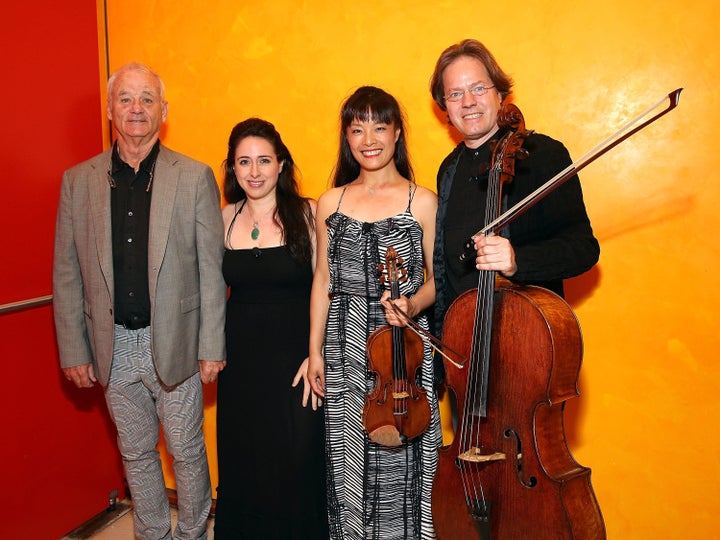 This isn't Murray's first band. When he was still a teenager, he was the lead singer for a group called the Dutch Masters. He explained to the crowd that he and his bandmates named themselves after a commercial for the cigar brand.
As you could expect, his voice has changed since then. Murray isn't necessarily a great singer now, but he's certainly a charismatic and charming one. At least in a live setting, the ensemble works. Murray's plan to go on some semblance of a United States tour with the group closer to the album release is welcome news.
If nothing else, Murray sure seemed to be having fun, which as always with his work, is intoxicating to see.
"When you sing, you are expressing yourself," said Murray during the panel. "It is a representation of yourself. So I guess that's what I like about it."
Watch the panel and performance below:
BEFORE YOU GO