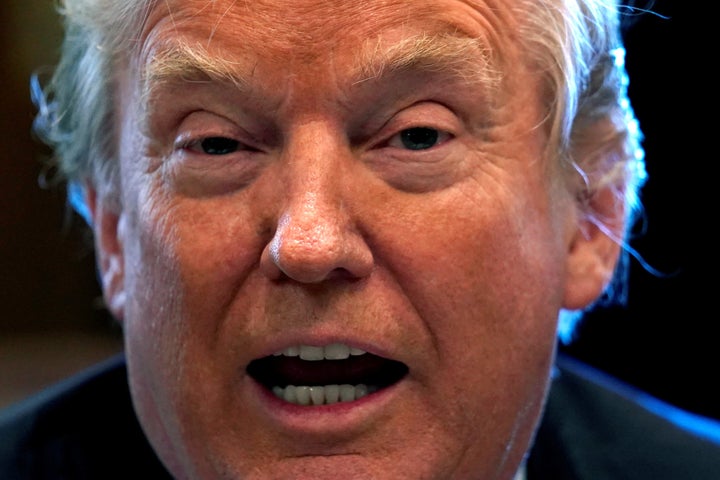 Actor Billy Baldwin snapped back at a tweet about Sen. Al Franken (D-Minn.) on Thursday, saying that President Donald Trump once "hit on my wife" at a Manhattan hotel. Baldwin also slammed the president as a "5th degree black belt when it comes to sexual impropriety allegations."
Baldwin jumped into the fray after the president's son Donald Trump Jr. tweeted about new allegations against Franken. He was referring to a HuffPost report published Wednesday in which two other women stepped forward saying Franken inappropriately touched them on the butt. That makes the third and fourth such allegations against Franken in the past week.
Baldwin responded with the quip about the president's "black belt" status, adding that Trump once "crashed" a Baldwin party at the Plaza Hotel and "hit on my wife" until she "showed his fat ass the door."
Baldwin has been married to Chynna Phillips, a singer with the band Wilson Phillips, since 1995 and the two have three children. The actor didn't reveal what year the Plaza party occurred; Trump purchased the hotel in 1988.
But Trump has publicly discussed hitting on married women. In the infamous "Access Hollywood" tape revealed in 2005, he talked about being attracted to a married woman and said he "moved on her like a bitch." He added: "But I couldn't get there; and she was married." He also said that as a celebrity, "You can do anything ... grab them by the pussy."
Some 16 women have accused Trump of sexual misconduct. Summer Zervos, a contestant on Trump's former reality TV program, "The Apprentice," is suing the president for defamation for calling her a liar after she accused him of groping her.
The president has slammed Baldwin's brother, Alec, a number of times on Twitter for his scorching portrayal of Trump on "Saturday Night Live."
Most Twitter responses to Donald Trump Jr.'s tweet were in the same vein as Baldwin's, with people calling out the president's son on his hypocrisy. One response called the president the "holy grail" of sexual impropriety.
BEFORE YOU GO