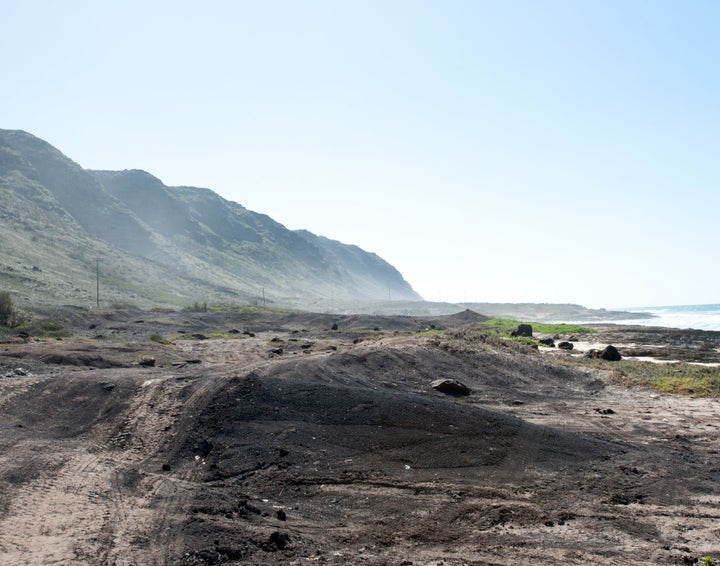 HALEIWA, Hawaii ― The U.S. Army and Coast Guard are searching on Wednesday for the five crew members of a downed Army UH-60 Black Hawk helicopter that crashed 2 miles west of Kaena Point on the Hawaiian island of Oahu, according to a Coast Guard statement.
Debris was first spotted around 11:30 p.m. PST on Tuesday. Responders were still searching for the missing crewmen as of 12:30 p.m. Wednesday, a spokesperson for the Coast Guard told HuffPost, adding that efforts were still search-and-rescue and not recovery.
Two of the missing crewmen are pilots and three are crew members.
The helicopter was one of two Black Hawks that were on a night training mission off the coast between Kaena Point and the Dillingham Airfield on the north shore of Oahu. 
Personnel at Wheeler Army Airfield on Oahu called the Coast Guard Joint Rescue Command Center in Honolulu shortly after 10 p.m. Tuesday to report that they lost communication with the aircrew on one of the Black Hawks. 
A search began immediately after the other Black Hawk lost contact with the other helicopter. Assisting in the efforts are Coast Guard aircrews on a HC-130 Hercules airplane and a MH-65 Dolphin helicopter, two Coast Guard boat crews, an Army aircrew and on-shore and boat patrols with the Honolulu Fire Department.
So far, a part of the helicopter's fuselage, debris and a helmet have been recovered.
The Department of Land and Natural Resources has shut down public access to Kaena Point State Park, less than 2 miles from the Dillingham Airfield, while search efforts are active.
Lt. Col. Curtis Kellog said during a press conference Wednesday afternoon that nighttime exercises for aircrews are routine and performed regularly so that aircrews can "maintain competency" for flying at night.
He added that the aircrew involved in the crash on Tuesday is an experienced certified Army aircrew. There was no immediate information about the cause of the crash. 
Kellog did not release the names of the missing crew members, but said their families have been notified of the crash.
This story has been updated with more recent information from the Coast Guard.
BEFORE YOU GO
PHOTO GALLERY
These Are The 12 Marines Killed In Hawaii Helicopter Crash