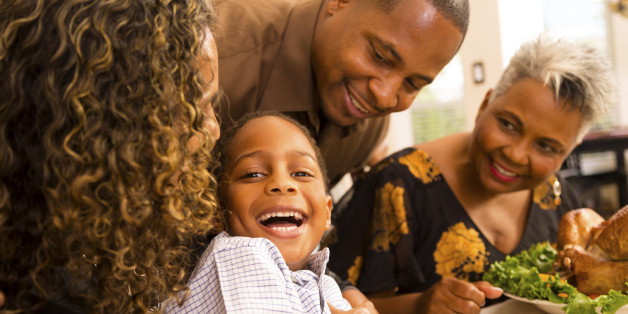 This year, Thanksgiving came at a time of great unrest in the black community.
Thousands of protesters disrupted calm across the whole of America as they expressed significant dissatisfaction with the Ferguson grand jury decision against indictment for the officer who shot unarmed teen Michael Brown on Aug. 9. Since then, and especially in recent days, police brutality, wrongful deaths and injustice have blared on radio channels, TV stations and newspaper covers.
But Thanksgiving is also a time that people come together with their loved ones and celebrate what they are thankful to have. We asked the Black Voices family what they are thankful for, especially during this time and place in history.
In light of recent national events but in spirit of tomorrow's holiday, we want to know: What are YOU most thankful for? #BVTellUs

— HuffPost BlackVoices (@blackvoices) November 26, 2014
See some of the responses we received below.
@blackvoices #BVTellUs I'm thankful that I'm Black. That I belong to such an amazing group of people. The world won't say it, but we know.

— Brit Ta ny (@Abencoado13) November 26, 2014
"@blackvoices: Happy to have raised 2 strong, resilient, intelligent black women! #BlackLivesMatter #BVTellUs"

— Erima Fobbs (@EFobbs) November 26, 2014
"I'm thankful for life and the growth I can experience everyday." -- Brandon White
"To be a young black man from St. Louis that made it to the age of 34. As we've seen, all of us aren't that lucky..." -- Marion J Bradley
"I'm thankful for the protestors in Ferguson." -- Jolene Gilkey
"My husband and our brand new beautiful baby boy." -- Crystal Meyer
"Thankful for just being alive to see this Day, and hoping to be blessed to see a 'Happy Thanksgiving'!" -- Barbara Millican
"Making it to adulthood." -- Jamal Connor
"Thankful for Jesus who guides my life, family, friends and the blessing of being 67." -- Thedra McMillian
"My ability to make it happen therefore providing for my family a great Thanksgiving!" -- Sharon McCreary
"I'm thankful that all my Black male relatives are present and accounted for." -- Sydney Thorpe
"Beautiful family." -- DesiBruce Hendry
"Thankful my breast cancer was found and my family hasn't left my side." -- Susan Goodman
"I am thankful for so much! My health, my family, my friends , a career in which I have continued to excel, a roof over my head and a car to drive, food to eat .. my future is so bright." -- Nicole Barnes
"Life, good health, and my wonderful family and friends." -- Jasmeen Bell
"Knowing God first before everything else, family, friends, and my health." -- Roteasha Shine
BEFORE YOU GO
PHOTO GALLERY
Thanksgiving Leftover Recipes