Kara Martinez Bachman has achieved something special with her debut book, Kissing the Crisis: Field Notes on Foul-Mouthed Babies, Disenchanted Women, and Careening into Middle Age. This uproarious collection of essays offers insights and heart along with sharp wit and pure entertainment.
Through a series of funny vignettes that take place at different parts of her life, Kara takes us on a journey that has the ups and downs of a roller coaster. From a tale of her past in which she turns down Brad Pitt to surviving Hurricane Katrina, Kara tends to find profundity in special and ordinary moments. After a contemplative ending to an essay in which she considers mortality, my heart broke for the plight of a childhood dog who takes Kara on an emotional chase that she later likens to the way she faces growing older.
Kara is completely in tune with the details and nuances necessary to create an enjoyable experience for readers. She does middle age her own way and offers a special and unusual voice. She backs that up with something significant to say on a topic that hasn't been adequately and fairly explored often enough in literature.
The people and places that fill most of the pages of Kara's book are remarkably Southern, yet the compelling narrative is universal. The well-formed essays could stand alone, yet they seem perfectly curated here. The threads that tie them together include well-matched quotes at the start of each chapter that sometimes seem to complement the text and at other times provide a bit of foreshadowing.
Real talk, banter, and anecdotes are plentiful in these snapshots from Kara's life. Infused with a remarkable honesty, Kara lets us know that the burdens that come with middle-age are no laughing matter, yet she finds plenty of ways to laugh anyway. I found myself wanting to read some parts of Kissing the Crisis aloud to friends, which hasn't happened to me since reading Pet Sounds by Quinn Cummings.
These are humorous essays, but they go deep beneath the surface to reveal jewels of wisdom. Although Kara bemoans middle age, she also embraces it. This group of essays is lawless and free, revealed with the able touch of a talented narrator who knows how much to reveal and what to hold back.
The well-mulled observations are sweet but salted with blunt truths. This book should be kept on hand for when you need a laugh or to check yourself when you are tempted to take inevitable life changes too seriously.
Ultimately, I think people of all ages can appreciate this book. Kissing the Crisis: Field Notes on Foul-Mouthed Babies, Disenchanted Women, and Careening into Middle Age will delight anyone who appreciates autobiographical essays told with playfulness and charm. The book is available from Amazon, Barnes and Noble, and independent book shops.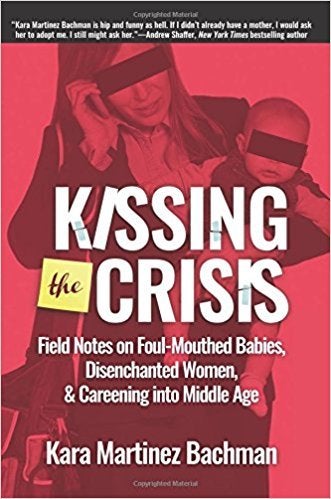 This post was published on the now-closed HuffPost Contributor platform. Contributors control their own work and posted freely to our site. If you need to flag this entry as abusive,
send us an email
.